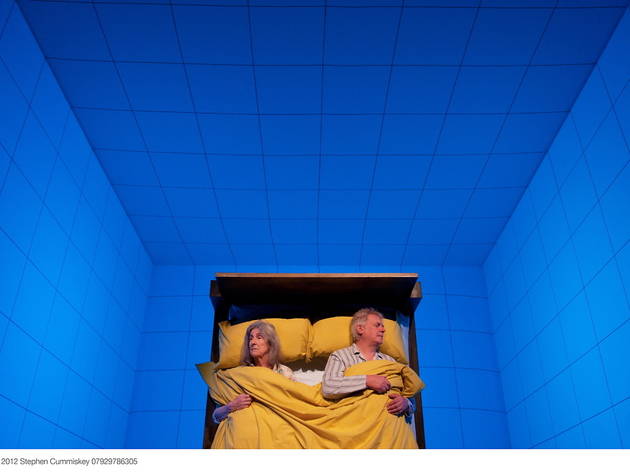 Caryl Churchill and Tom Stoppard are our greatest living playwrights. But while Stoppard is spending his seventies polishing dodgy film scripts ('Robin Hood') and writing for the telly ('Parade's End'), Churchill is spending hers evolving in the theatre, where her writing is still defined by its ability to change faster than a world which seems to be mutating faster than ever before.
Her new 110-minute drama deploys more than 100 characters in 60-odd micro-scenes – and James Macdonald's production, set by Miriam Buether in a white box, flicks brightly through them, using its lavish resources to make its 16-strong cast act in what looks and feels like a giant iPad.
The play – which shows a bit of love via a different bit of information in each scene – is totally alert to the increasingly byte-sized packaging of human content. And it's wide open to its director: Macdonald localises the high, repetitive concept and makes it funny wherever possible.
A play with no major character (and therefore no minor ones) is hostage to the inevitable unevenness of an ensemble of this size. Amanda Drew, Linda Bassett. Laura Elphinstone, Susan Engel and Sarah Woodward are so strong and different that I'd love to see them have dinner together in Churchill's 'Top Girls', which premiered here 30 years ago and remains theatre's definitive answer to Thatcherism.
Next to 'Top Girls', 'Love and Information' is a minor work by a major dramatist. The vignettes stand or fall on their punchlines: their tweet-length dialogue gives – and teasingly withholds – information but they struggle to convey love, which needs more time. The best scene, in which a woman (Drew) tries to memorise a series of lists and is surprised by a long-lost memory of her father, is one of the longest in the play.
Like Churchill's major plays, 'Love and Information' experiments vividly with time and space, and shows how the prevailing mental structures of our daily life (formerly capitalism; now technology) are fictions. And this play, like so many of her others, is genuinely different from anything she's written before.
Rating Breakdown
5 star:

0

4 star:

0

3 star:

1

2 star:

0

1 star:

0
Love and Information is not really a play, it is merely a writers rather uninteresting notebook dragged to the stage by an exceptional director, cast and crew. The content leaves the viewer empty and in desperate need of a very stiff drink. The acclaimed Caryl Churchill (up there with Stoppard???) has decided that this is a play and simply because she says it is a play the audience and the critics dutifully lap it up, disregarding the obvious contempt Churchill has developed for her audience. After an hour of repetition the production becomes tedious and a fair percentage of tonight's audience were watching their watches rather than the stage which was sad as the actors were giving far more than this non script deserves.