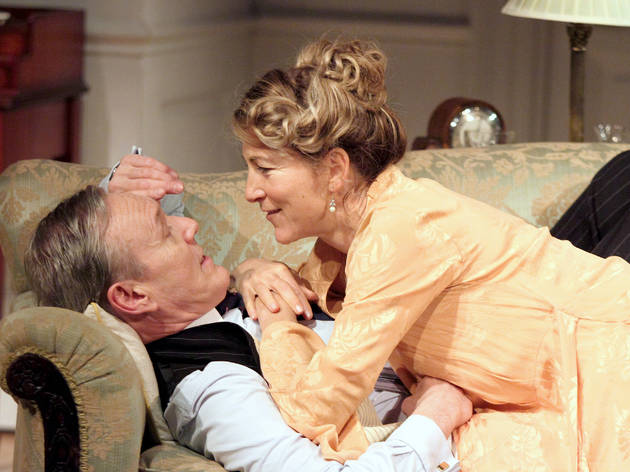 1/4
© Catherine Ashmore
Anthony Head (Sir John Fletcher) & Eve Best (Olivia Brown)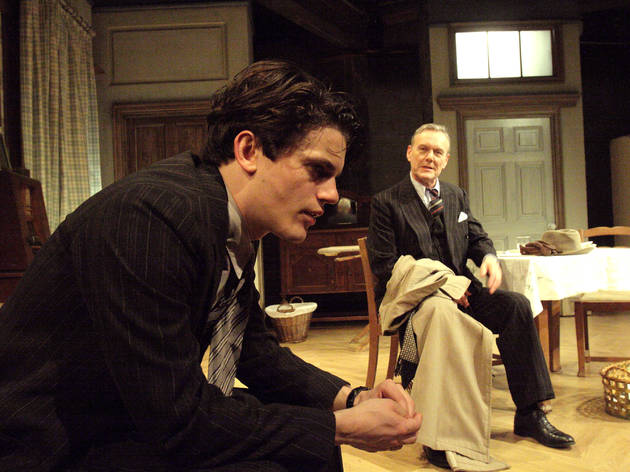 2/4
© Catherine Ashmore
Edward Bluemel (Michael Brown), Anthony Head (Sir John Fletcher)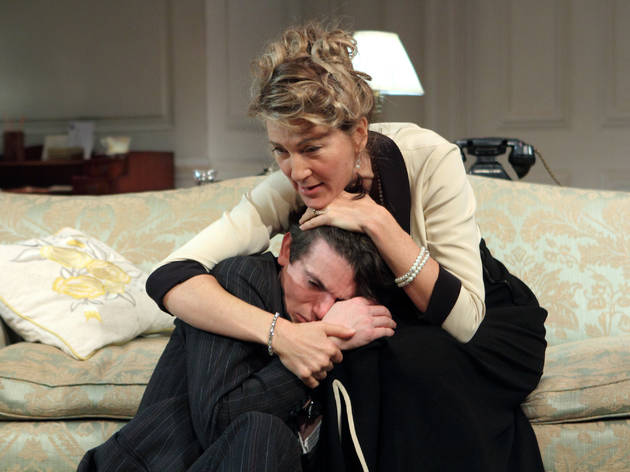 3/4
© Catherine Ashmore
Edward Bluemel (Michael Brown), Eve Best (Olivia Brown)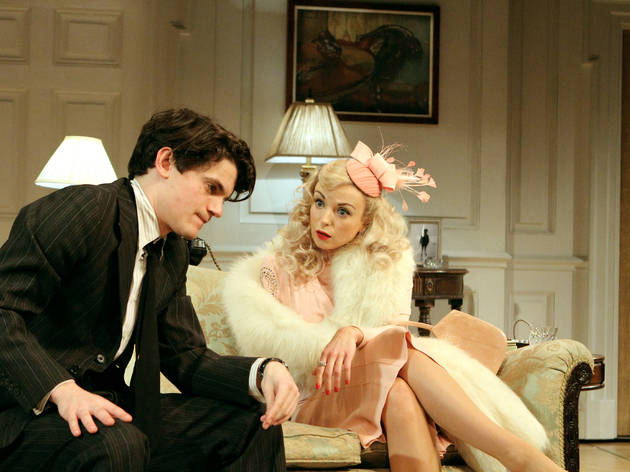 4/4
© Catherine Ashmore
Edward Bluemel (Michael Brown), Helen George (Diana Fletcher)
Time Out says
Trevor Nunn directs Rattigan's slightly lumbering wartime comedy
This review is from 'Love In Idleness's original run at the Menier Chocolate Factory in March
Still plugging away at 77, veteran director Trevor Nunn seems to have a mild obsession – maybe 'interest' is fairer – with the slightly naff wartime comedies of the great Terence Rattigan. Nunn revived 'Flare Path' in the West End a few years back and is now moving on to 1944's rarely-seen 'Love in Idleness' (in a new version that incorporates bits of an earlier draft called 'Less Than Kind').
It's a valuable-ish counterpoint to the recent reappraisal of Rattigan. Yes, on elegiac masterpieces like 'After the Dance' and 'The Deep Blue Sea' he was the English Chekhov. But 'Love in Idleness' kind of serves to remind you why he came to be seen as an establishment shill by many postwar playwrights.
Anthony Head – hamstrung by a pointless Canadian accent that was only written in because original '44 star Alfred Lunt was American – stars as Sir John Fletcher, a capitalist government minister who comes into conflict with his partner Olivia's idealistic son Michael (Edward Bluemel). It's an interesting window into the political atmosphere of a Britain that would soon dispose of its war leaders and vote in Attlee by a landslide. But Rattigan's tone is lightly condescending throughout, with Michael essentially undermined by his callowness and Fletcher's affability. Chekhov accurately predicted the downfall of Russia's aristocrats, but Rattigan seemed confident the old order would stand.
It's a funny play to revive in the ideological mess that is 2017, and even if you're after a counterpoint to British theatre's endless lefty writers, it's bloody long for a comedy, trundling on for almost three hours.
However, I've gone all this way without mentioning Eve Best, who essentially justifies the whole thing. One of our finest stage actors, she is phenomenal as Olivia. She is very, very funny in her portrayal of a woman plucked from obscurity by a wealthy partner and now having an indecently fun time reveling in the frivolity of her new life; but she's also devastating as a mother made vulnerable by her love, who allows Michael to destroy her happiness because she sees no other choice for her (which is actually pretty Chekhovian). It's a proper masterclass from Best, though I couldn't help occasionally think she would probably have been equally as good in one of the many, many better Rattigan plays.
Details
Average User Rating
4.5 / 5
Rating Breakdown
5 star:

3

4 star:

3

3 star:

0

2 star:

0

1 star:

0
The play opens with Eve Best's character Olivia on the telephone to one of her many socialite friends, putting on the posh 'phone voice' we all know we have, but deny when confronted. I could have watched this scene unfold for ages, as watching Best is a masterclass in acting, alas, the show must go on. The setting is during the Second World War and it seemed to indicate that the war didn't much affect the upper classes. This jarred with me a little, as there was a rolling commentary about war life seen in the videos played whilst scenes were changed over. This play from Terrance Rattigan is a simplistic, yet laugh a minute comment on family dynamics and loyalty.
Thoroughly enjoyable play, simple set with no stage trickery and very well delivered. Eve Best and Tony Head were wonderful to watch, you could see the enjoyment they had acting the parts. Light humour with some poignant moments thrown in. Edward Bluemel was frustratingly good as the young idealistic son who thinks he knows it all but alas is so so naive. Would definitely recommend.
Sigh. Perfection. How nice to see a professional production with actors who are in complete control of their characters, a straight forward staging and lovely, lovely words. Eve Best and Tony Head are always worth the price of admission.
It is always a joy to arrive at a theatre to see a play booked by someones else, for others who could not attend, and then be overwhelmed by something so joyful and beautifully acted. Three hours of theatre normal comes with a dip somewhere along the timeline, but not this one. Lovely acting, and clearly enjoyed by the actors themselves, this is a play not to miss.
Not peak Rattigan but seeing Eve Best is always a treat. A steadfastly old fashioned play with no fuss direction and staging. While I adore being challenged, sometimes it is comfortimg to just breathe in fabulous acting and sharp dialogue and a plot that goes from A to B. Maybe not a five star production as the play is a wee bit dated but given the presence of some lazy cynical and unprofessional productions such as the abomination currently at The Wyndham, a big vote for something which embraces thr audience rather than sneering atbthem.