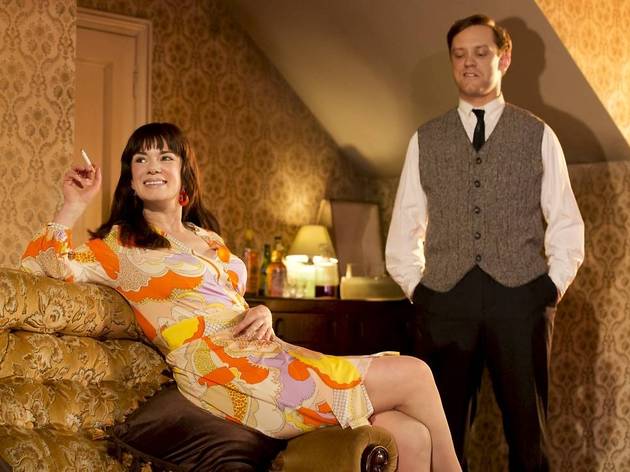 They retired early, to vast houses that their unlucky spawn will never afford, which they don't even bother to live in because they're off shafting the planet with cheap flights to sun 'n' plonk-drenched global beauty spots, now overrun by silver surfers just like them.
Since 2010, when Mike Bartlett's pointed black comedy about a pair of baby boomers premiered at the Drum Theatre in Plymouth, this perma-tanned generation has been pilloried in the papers for enjoying its pensioned, NHS-prolonged life while the rest of us graft and groan. But it's hard to work up outrage when the baby boomers in question – swinging '60s sweethearts Sandra and Kenneth – have most of the best lines and all of the fun.
Bartlett's comedy shows Sandra and Kenneth's lives in three acts. In the first – set in the summer of 1967 – the spectacularly stoned Sandra wafts into student Ken's life on the arm of his uptight older brother Henry, whom she ruthlessly dumps in the name of 'Love, Love, Love'.
In the second, it's booze, booze, booze as '90s Ken and Sandra, married with two kids in Reading, screw other people, their own relationship and their devastated teens with total abandon. In the third act it's 2011 and their 37-year-old daughter Rosie (Claire Foy), single, childless, and renting in London, turns up to demand not love, but some of their money, money, money.
Bartlett is a big talent and, although its arguments seem less fresh than they did two years ago, his play still sparkles in James Grieve's stylish, sexy production.
Victoria Hamilton is its star: she takes Sandra from hippy-chick 19-year-old to monstrous milf, to radiant retiree with extravagant conviction and an amazing voice full of vice, that oozes fag-smoke, wine and unrepentant pleasure.
She and Ben Miles's Ken are a suburban Taylor and Burton – their love hurts everyone around them but it heats up the stage. Bartlett exaggerates the damage they do to their children, probably to compensate for their charisma, but Rosie's critique of her parents sounds didactic and dull despite its accuracy.
In the final scene you're still rooting for the appalling duo as they float away from the demands of their kidults (for whose misfortunes they cannot be wholly blamed) on a cloud of nostalgia and booze-cruise wine, into their extended personal sunset.
Average User Rating
2.5 / 5
Rating Breakdown
5 star:

0

4 star:

0

3 star:

1

2 star:

1

1 star:

0
Cliched and clunky. This play for the first two acts is just a dated sitcom with no subtlety and very little properly funny moments. If you like middle of the road sit coms you will enjoy it. The final scene rescues the play (just) but overall this is a fail for me. Not well observed and dull.
Some great performances, particularly from Victoria Hamilton and Ben Miles. They do amazingly well to carry off the trick of playing the same character in three generations and their transformation from idealists to ageing pleasure seekers is very well done. Unfortunately, the same can't be said for the "children". They are credible - good, in fact - as teenagers. But as thirty somethings, notwithstanding the fact that they are supposed to be emotionally immature (in different ways), they just don't convince. Part of this is due to what they look like, but I think it is also driven by some real questions over the narrative. The set up is good - and in the first act, the contrast between the younger couple and the staid brother in the sixties particularly well done. But I felt this tension - between traditional thrift, hard work and social conservatism and the more creative, sparky, aspirational "sixties generation" - was thrown away too lightly in the rest of the play. The second and third parts really became quite boring debates about family life, spiced up with some punchy dialogue, but also rather too obvious jokes about where the idealists end up living. The play attempts to deal with this flatness by introducing an moment of (almost) tragedy at the end of part two, but this just felt like a melodramatic device. The same was the case in part three, with the big "reveal" being a massive let down, and just another middle class dinner table winge from the daughter. And as for her assertion that "no-one I know is as well off as their parents were", well, that is just nonsense. Yes, it is hard for young people at the moment (although this woman is supposed to be 37 when she makes the observation...) but there were plenty of people in the last generation for whom life was very tough, unglamorous and poor - and the fact that we see this in the character of the brother in the first act makes it even odder that this should be given to us as some kind of dramatic justification for the narrative at the end. I found the play confusing ultimately - it had no real central message, and ended up being a pretty bog standard, soap opera style story. Which is a pity, because the dialogue, the staging, and above all the two leading performances were excellent and deserved better.