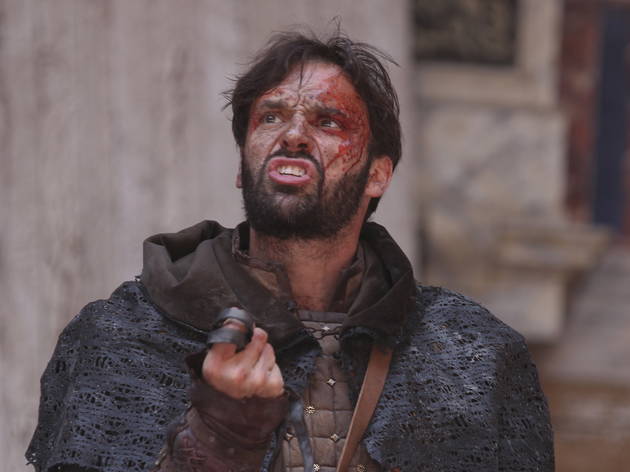 1/4
© Ellie Kurttz
2/4
© Ellie Kurttz
3/4
© Ellie Kurttz
4/4
© Ellie Kurttz
'It is a tale told by an idiot, full of sound and fury' may be one of the best known quotes from 'Macbeth', but Eve Best's production arrestingly begins in silence. The company stands before us holding drums, frozen in a tableau, before launching into a bellicose volley of beats.
This opening sets the tone for a vigorous staging of 'Macbeth' that ambushes you with intense moments of stillness. Samantha Spiro as Lady Macbeth and Joseph Millson as Macbeth give a rousing, frenetic portrait of a power-couple with a compulsion for bloodshed. But Spiro in particular can go from harridan-mode to haunted desperation, so that the audience suddenly become eavesdroppers on her most torturous thoughts.
This is a 'Macbeth' that is also played, counterintuitively, but successfully, for laughs. It's the directing debut of actor Eve Best, whose appearance as the Duchess of Malfi last year at the Old Vic was just the latest to mark her out as one of our most formidable actresses. Her tackling of one of Shakespeare's most tricky plays is shot through with both the dignified strength and intelligent humour that has distinguished her best performances. But it also, unsurprisingly, shows her as an actors' director – the cast are clearly having a ball.
Best cleverly uses the tricky device of the witches to make Macbeth and Banquo (clearly high on something) deal with their message as if it is a hallucination. Millson's constant disbelief at what he is doing is a source of much of the production's humour. But because he performs with such conviction, cumulatively it also packs a horrific punch – not least when he makes grasp for his wife's throat.
The brilliance of Spiro's performances lies in her anguish as she realises that her husband is even more suggestible than she anticipates, shown most clearly in her horror when he reveals he has killed Duncan's guards. And there are many other elements to savour here. Bette Bourne's glorious Drunken Porter and Philip Cumbus's amusingly foppish Malcolm all contributes to one of the warmest productions of 'Macbeth' you'll ever see, but one which still strikes the requisite chill to the heart.
By Rachel Halliburton
Rating Breakdown
5 star:

1

4 star:

0

3 star:

0

2 star:

0

1 star:

1
I hated this production-that any director who thinks adding your own words etc to Shakespeare's will improve it-is a definite mistake. This was Macbeth-a comedy-with few laughs. None of the main characters seemed to be able to give their characters any depth-the witches to me had no rhyme or reason, Banquo was boring and I left in the interval. Oh for Mark Rylance to return
Wendy
I first saw Macbeth at the Globe in July and it was absolutely magnificent, the whole production was fantastic and refreshing and the acting was amazing. Joseph Millson was outstanding as the charismatic Macbeth, he totally beguiles the audience with his persona and soliloquies and he's a kind of uber cool dashing Thane which the younger audience can relate to as he delivers his lines with such passion and clarity. Samantha was Spiro marvellous as the ambitious wife who slowly deteriorates into insanity. In fact the whole cast were superb. Also, the comical elements fitted in very well within the dark themes of the play. Its so cleverly done, you end up feeling some kind of pathos for the doomed couple as well. I loved the whole set, the music and the renaissance costumes. The unusual finale by the cast was absolutely brilliant and they got the audience whooping and applauding, it was clear everyone in that theatre was enjoying themselves. I wish there was an encore. I have seen quite a few productions of Macbeth but this one is by far the BEST version I have ever seen ( yes, even better the Kenneth Branagh's one). It was so good, I ended up seeing it again last month and the lady that sat next to me said it was her third trip seeing this play. A must see, even if you are not a great Shakespeare fan and see one play at the globe, you'll love this one and you won't regret the experience. If I could I would give it 10 stars.