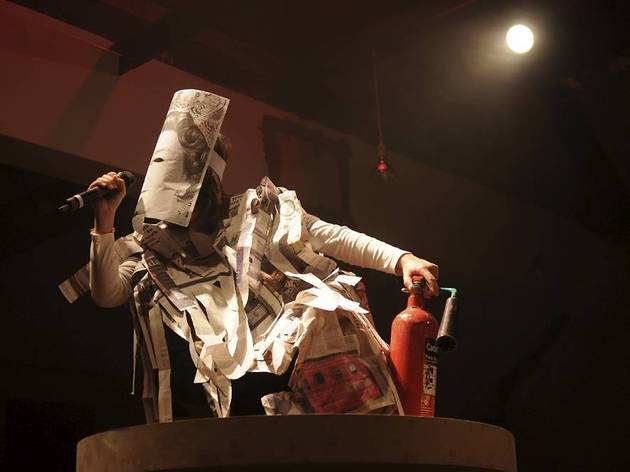 Bristolian live artists Uninvited Guests are responsible for one of the best shows I have ever seen: a 2009 performance of their overwhelmingly emotional 'Love Letters Straight from Your Heart' knocked the air from my lungs. Even then, though, it was apparent that a piece heavily based upon audience contribution was inevitably going to have off nights and maybe the opening night was one such night for the company's new show.
'Make Better Please' begins with the audience sitting around tables for tea, biscuits and a read of the papers. Each table is charged with finding a story that makes them really angry. Perhaps my team were a placid bunch, perhaps after days of Murdoch/Leveson/omnishambles the papers themselves were a bit bland, but the first hour of this show simply didn't fire me up.
It was only when the Guests took the reins properly that things moved into gear, with an increasingly impassioned series of rites that culminated in the company's Richard Dufty and Jessica Hoffman 'channelling' away all the pervasive worries of day to day British life – our government, the American government, Madeleine McCann – in one ecstatically loud rock'n'roll exorcism ritual.
So far, so much performance art, but the company's assured ability as emotional manipulators bears fruit in the sublime final sequence, where after an hour and a half of mounting anger and negativity we are invited to share good news with each other, an act of catharsis that sends endorphins singing through your veins. Running at two hours, 'Make Better Please' is slow to warm up, but the eventual payoff is supreme, an inoculation against British pessimism that sends you into the night feeling hopeful.