'Mamma Mia! The Party' review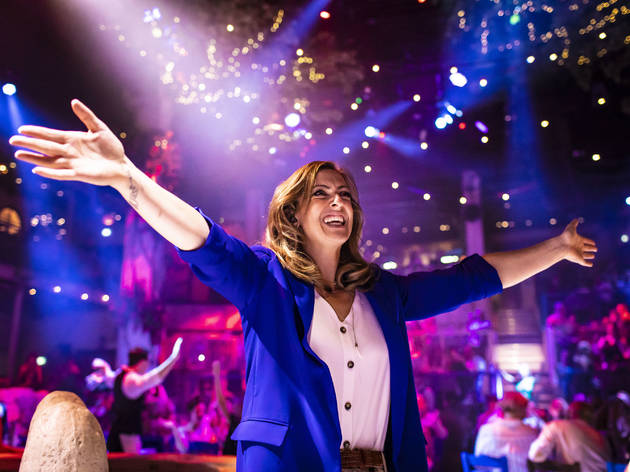 1/5
© Helen Maybanks
Steph Parry (Kate)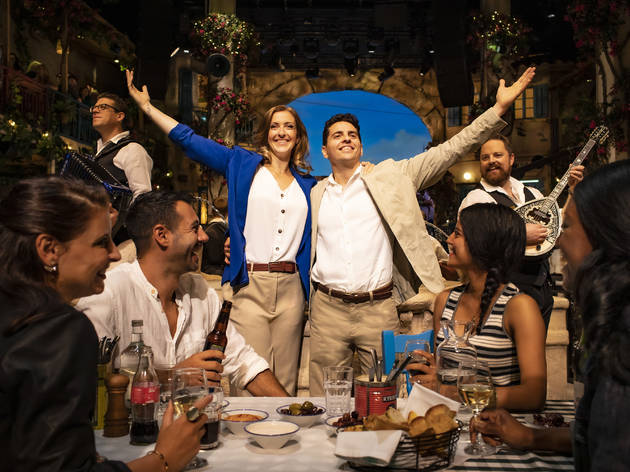 2/5
© Helen Maybanks
Steph Parry (Kate) & Fed Zanni (Nikos)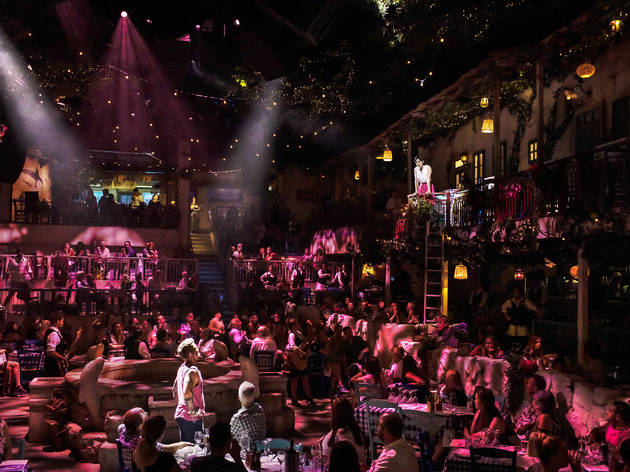 3/5
© Helen Maybanks
AJ Bentley (Adam) and Julia Imbach (Kostantina)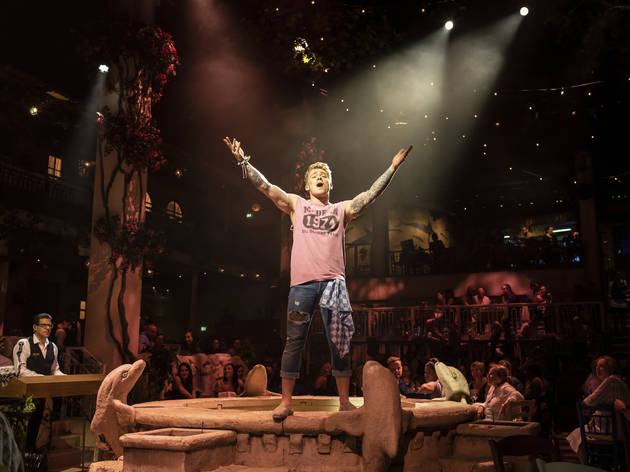 4/5
© Helen Maybanks
AJ Bentley (Adam)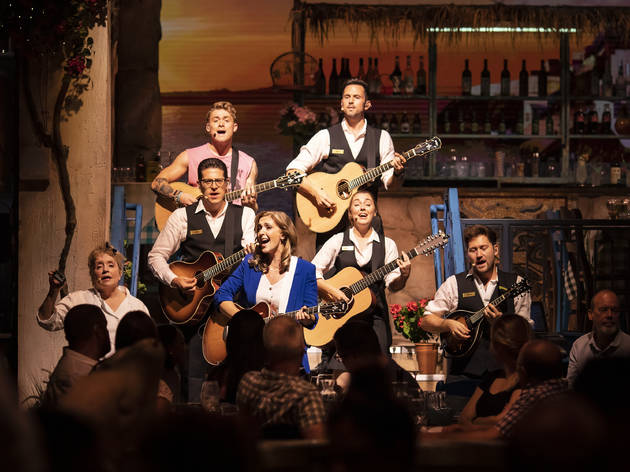 5/5
© Helen Maybanks
Time Out says
Friendly warning! We're working hard to be accurate. But these are unusual times, so please check that events are still happening.
Sandi Toksvig writes the script for Björn Ulvaeus's immersive (and expensive) Abba dining experience
For the price of a ticket to 'Mamma Mia! The Party', an immersive Abba-themed dinner experience set in a ropey taverna on an idyllic Greek island, you could fly out to an actual idyllic Greek island and probably find a ropey taverna playing Abba songs.

Okay, there are some practical reasons why you probably wouldn't do that on a school night. And sure, it's not like these are the only expensive theatre tickets in town. But the fact is most London theatre shows have a bottom price of £15 or thereabouts; 'Mamma Mia! The Party' starts ten times higher than that.

Of course, dinner theatre is a somewhat different game to theatre theatre. And the fact is that there are plenty of people who can afford it: the London debut of 'Mamma Mia! The Party' is a roaring sellout success already. Masterminded by Abba's Björn Ulvaeus, it's an established hit back in Stockholm. Which is not really a surprise: people love Abba, and 'Mamma Mia! The Party', though not formally affiliated to 'Mamma Mia!' (the blockbuster musical), is pretty much the same idea, except with the plot mostly replaced by food.
After a prodigious wait to get in, we're spirited away to an attractive, convivial mock-up of a taverna on the island of Skopelos, where the 'Mamma Mia!' movie was filmed. The wittiest touch of the whole production is to make it 'post' the film: the walls are bedecked with dodgy mocked-up Polaroids of the cast of the show posing with Meryl Streep et al, and the wafer-thin plot revolves around the premise that British make-up artist Kate (Steph Parry) fell for local restaurateur Nikos (Fed Zanni) when she was working on the film, and stayed.
Most of the show sees them bickering over the burgeoning romance between her nephew and his daughter from his first marriage, which she is all for, and he is against, in very flouncy Mediterranean fashion. It is extremely pantomime, down to the cheesy audience interaction and the jokes by Sandi Toksvig (who has adapted the original Swedish script).
Obviously nobody cares about the plot, though. There is a three-course Greek meal, which is pretty good (really great tomatoes – like, REALLY great) and a lot of Abba songs. There are, to be precise, 35 Abba songs, if you count the fact they do 'Mamma Mia', the song, twice. This is clearly good news if you like Abba, which presumably you do. And the performances are mostly a hoot, performed with a campy élan that sees the waiting staff break out into set-piece dance routines, accompanied by the deployment of various bells and whistles, including, at one point, pyro that comes out of the fountain in the centre of the room.

What can I say? I had fun, but I couldn't get that price tag out of my head: you're effectively paying for an expensive simulation of a cheap night out. Personally, I think it's preposterous, but at the end of the day it's your money, money, money.
Details