Heads up! We're working hard to be accurate – but these are unusual times, so please always check before heading out.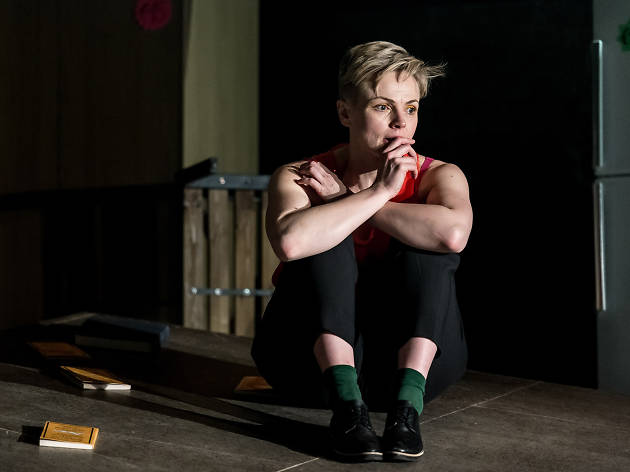 Maxine Peake on capitalism and sleeping with the devil in 'How to Hold Your Breath'
As the screen and stage actress returns to London for a run at the Royal Court, Maxine Peake talks cross-dressing in 'Hamlet' and sleeping with a demon in 'How to Hold Your Breath'
In the last year Maxine Peake has played Hamlet on stage, recorded an album with depraved rock collective Fat White Family, done the voiceover for a scathing documentary about Richard Branson's ghastly tropical lair, Necker Island, starred in the telly dramas 'The Village' and 'Silk', and had a memorable cameo in Brit-blockbuster 'The Theory of Everything'.
It's understandable, then, that she felt knackered when 'Hamlet' – in which she cross-dressed to play Shakespeare's Dane – finished its run at the Manchester Royal Exchange at the end of October. Another actor might have taken time off, but Peake felt she had to plough straight on to the next thing: playwright Zinnie Harris's bizarre, exhilarating new drama for the Royal Court, 'How To Hold Your Breath'.
'There was an interesting thing after "Hamlet",' she says, 'I thought: If I don't get back on the acting horse soon I might not get back on it at all.' As in, give up acting entirely. 'I don't want to sound like an actor wanker, but I needed to see if I had something more to give. When Daniel Day-Lewis gave up on "Hamlet" [he walked out of a 1989 performance at the National, and has never acted on stage since] he said he felt empty, like he'd given everything, and I can see that, it's like running a marathon every night. Although I've never run a marathon. I don't want to patronise marathon runners.'
Furiously chatty, unapologetically socialist, extremely northern and humble to the point of slight masochism, Peake says she'd been hoping a London theatre might have picked up 'Hamlet', but thinks the pitch has been queered by the Barbican's impending production: 'I'm not doing myself down, but you've got Sir Benedict of Cumberbatch doing it, why would you want to come and see me titting about?'
'Hamlet' will in fact screen in selected cinemas in March. But before that is 'How to Hold Your Breath' which stars Peake as Dana, a woman who sleeps with a demon, refuses his offer of cash, discovers a mark left on her body, and decides to track him down, heading out on a surreal road-trip during the course of which the entire Western world falls apart. It is wild, funny, and very, very strange.
'You think you're in one type of play and it isn't. It really is extraordinary,' she says. 'I look at Zinnie and go: where has that come from?'
It's hard to talk about a play that's never been staged: 'How to Hold Your Breath' sparkles madly on the page, but the only easy thing to get a handle on is its politics. From broadly comic beginnings, it becomes increasingly concerned with the way in which we live our lives in the West, as a series of disasters of the sort that only happen 'over there' gradually engulf Europe.
'In the news, a few Westerners die in a plane crash and nobody else seems to matter,' she says. 'This play tries to get across the fact we are not a million miles from disaster. And not just hypothetically – look what happened with the banks. This big dinosaur of capitalism is crawling on its last legs, though we keep pumping it up.'
She loves a rant, but she's self-aware with it, slagging off the Daily Mail then scrupulously admitting that her scholarship to Rada was actually funded by the paper. She almost cries discussing 'Benefits Street' and worries about the lot of younger working-class actors, but says 'I don't like the posh-bashing that's going on now – there's always been actors from Eton and Harrow.' And this most idiosyncratic, indomitable of actors is actutely aware of the irony of the Royal Court and her current accommodation being slap-bang in the middle of Sloane Square, pretty much the nexus of super-rich Britain.
'I keep laughing,' she says, 'because I live in Salford and near me we've got Big Baps, Captain Cod and a tattoo parlour, and you come out here and it's a different world, you could buy a fucking street in Salford for the price of a house. It really makes me sick.
'This government isn't concerned about normal people, and that's what this play is about. But think of the art that came out of the '80s: if the politicians aren't doing it for us, we'll have to do it ourselves.'
'How to Hold Your Breath' is at the Royal Court until Mar 21