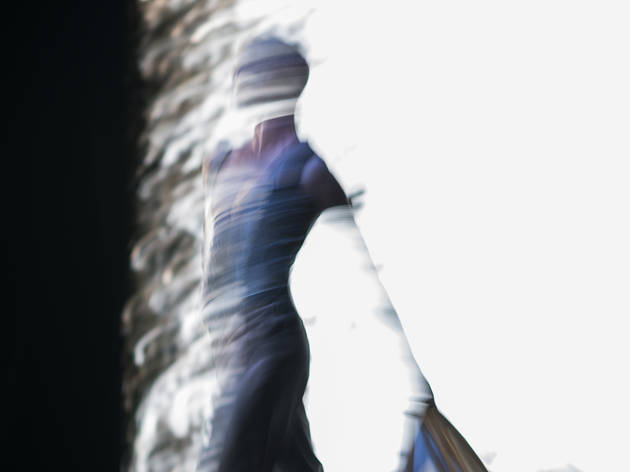 1/11
© Specular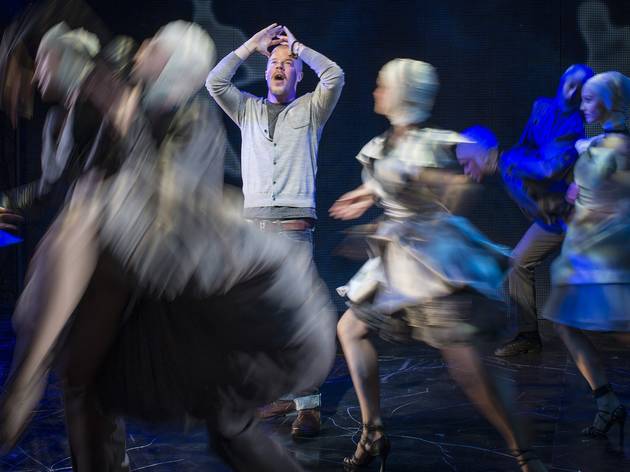 2/11
© Specular
Stephen Wight (Lee)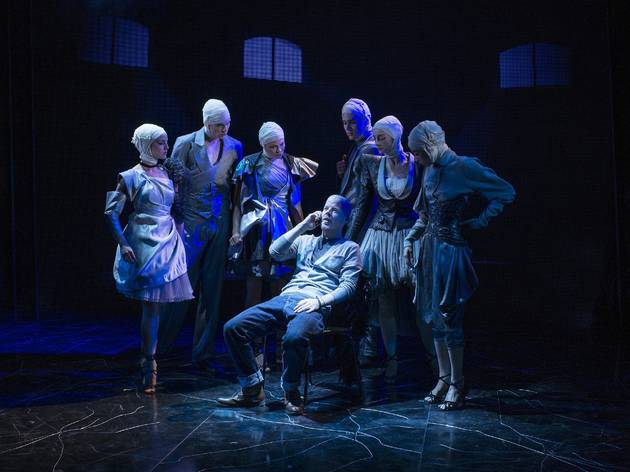 3/11
© Specular
Eloise Hymas, George Hill, Rachel Louisa Maybank, Stephen Wight (seated) as Lee, Jordan Kennedy, Amber Doyle and Sophie Apollonia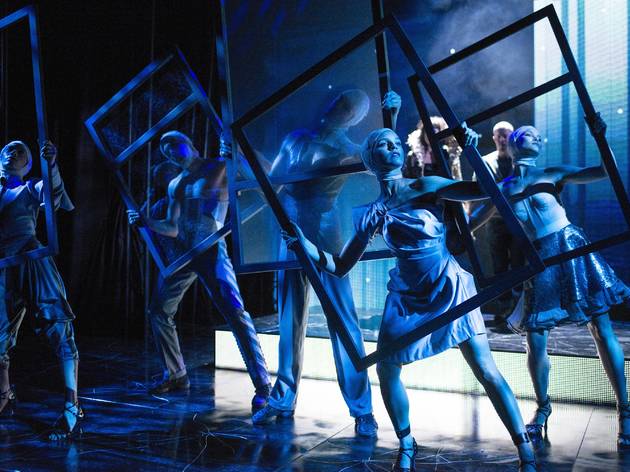 4/11
© Specular
Sophie Apollonia, George Hill, Jordan Kennedy, Eloise Hymas and Rachel Louisa Maybank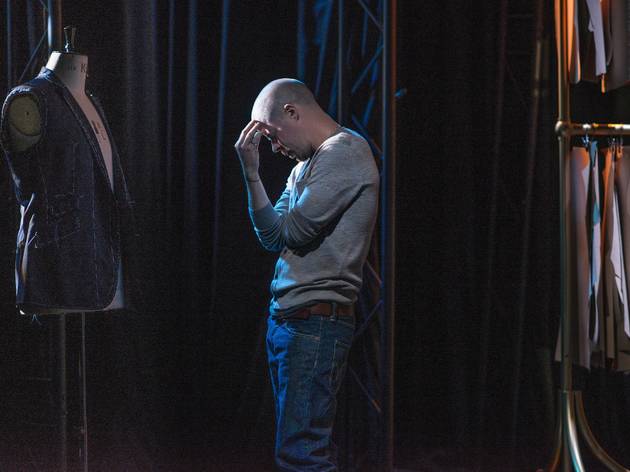 5/11
© Specular
Stephen Wight (Lee)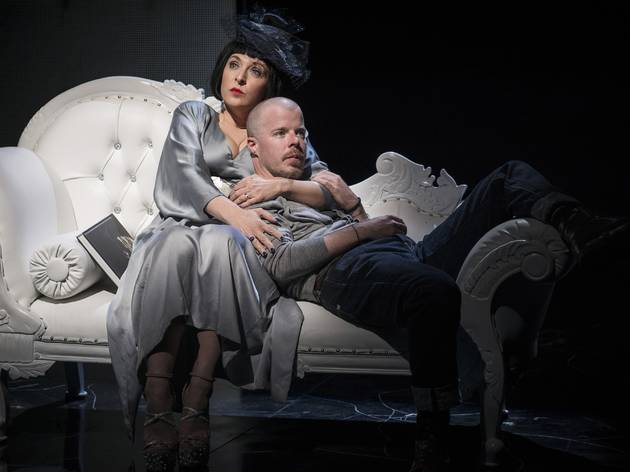 6/11
© Specular
Tracy-Ann Oberman (Isabella Blow) and Stephen Wight (Lee)
7/11
© Specular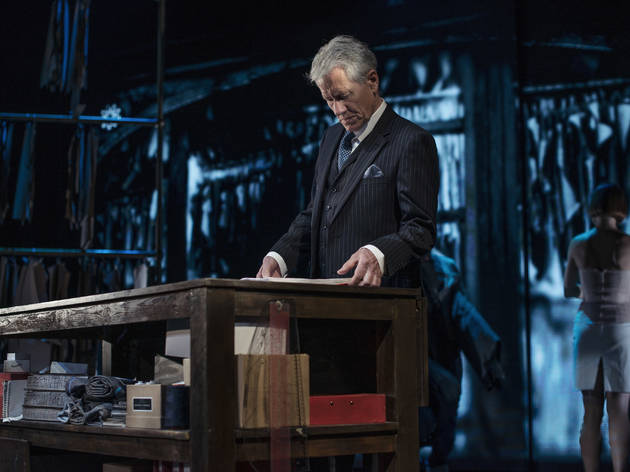 8/11
© Specular
Michael Bertenshaw as Mr. Hitchcock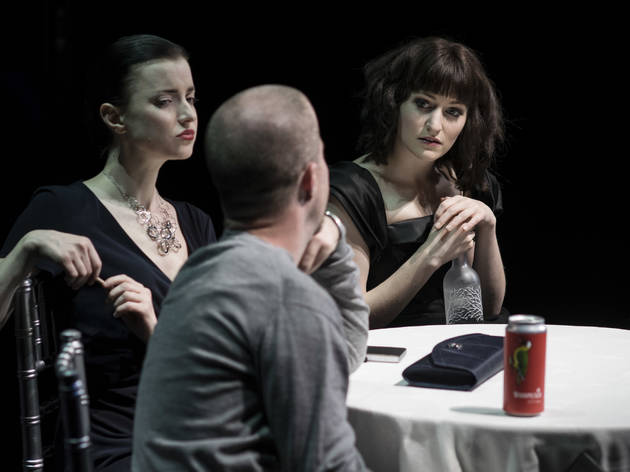 9/11
© Specular
Stephen Wight as Lee (front), Laura Rees as Arabella (left) and Carly Bawden as Dahlia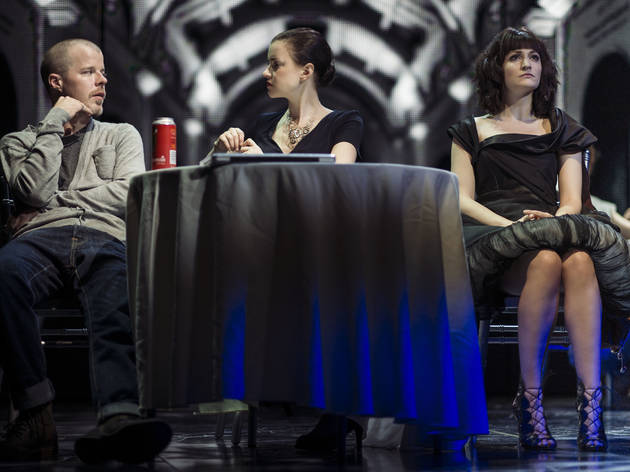 10/11
© Specular
Stephen Wight as Lee McQueen, Laura Rees as Arabella and Carly Bawden as Dahlia in McQueen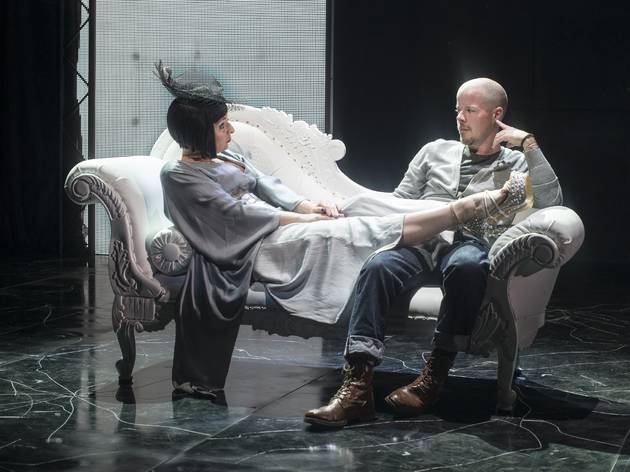 11/11
© Specular
Tracy-Ann Oberman (Isabella Blow) and Stephen Wight (Lee)
Rubbish Alexander McQueen play transfers to the West End; is still rubbish
I basically know about as much about fashion as I do about quantum physics, and this maddeningly opaque biographical drama about the late Lee Alexander McQueen has done nothing to change that.

James Phillips's 'McQueen' got stinking reviews when it premiered at the St James Theatre earlier this year, but has proved bulletproof, scoring itself a West End transfer. That's no surprise: 'Savage Beauty', the V&A's recently concluded show about the designer, was its most successful exhibition of all time, ever – McQueen is hot right now, and no shabby arts journalist is going to change that.

I was primed for a total howler, but in its defence I'd say that if somebody really dramaturg'd the living crap out of this play you might end up with something decent. John Caird's production is stylish – full of lithe, asexual dancers, with great, moody lighting from David Howe. And from my limited knowledge of the subject, Stephen Wight would seem to be very convincing in the title role, a fragile but garrulous genius with a heart of darkness.

The basic problem is that it has no plot, or only the most half-arsed vestiges of one. At the start, Lee is pacing his house, holding the belt that he will hang himself with. But uh oh! Dahlia (Carly Bawden), a kooky American (and probable figment of Lee's imagination), has broken in, looking to steal a dress. Before you know it, the two of them have embarked upon a magical voyage through his memories.

With a few glasses of bubbly and a lot of goodwill, the conceit might have worked if it took you on any sort of meaningful journey. Instead the pair just randomly vogue through a mismatched box of reminiscence: the Saville Row tailors where Lee learned his craft; a smart-arsed interview with an uptight fashion journalist; a heartfelt encounter with his mentor Isabella Blow.

Accepting the clodhopping clunkiness of Dahlia as a device, some of these scenes are pretty solid, in isolation (Tracy-Ann Oberman is great as Blow). But there's absolutely no trajectory or momentum to the whole. It doesn't explore why he killed himself other than in the waffliest of ways. And it doen't tell his life story. It feels like a series of fanboyish fantasy scenarios, each loudly bellowing: HE WAS A TORTURED GENIIIIIUUUUUSSSSSS.

It's heartfelt enough that McQueen fans who, er, don't like theatre much will probably find something to love about it, but really it's not great, a wonky high-street knockoff of a life that deserves the haute couture treatment.
Rating Breakdown
5 star:

0

4 star:

1

3 star:

1

2 star:

1

1 star:

0
The play have some good highlights but overall I would call it average.
My first problem with it… the script. It mainly consists of two troubled souls agonising over their states of mind and consequently, the tone is quite flat throughout. They also attempt some puns which unless you are a big McQueen connoisseur will go unnoticed or worse, will make the story even more complicated to follow.
Second issue? The plot. Nonsensical plot that tries to force out to the audience the residual darkness that hung over McQueen's designs, but doesn't quite succeed at it. The acting consequently is a bit too intense and "shouty" on the forced side of things, making their performance not seem genuine at all.
However, for us the evening was saved by the prowess of the technical team who, in a series of fashion show-style interludes with great atmospheric lighting effects, create both a sense of McQueen's creativity and the darkness of his work. The mannequins, performed by professional dancers that break into ballet dressed in eerie McQueeny outfits, definitely helped create atmosphere where the script and performance fell short and they were without a doubt our favourite bit of the night.
Entertaining evening if you find a reduced prize ticket but I would have felt let down had I paid the full amount.
Yet another poor review from Time Out. I saw this show at the St James and agreed that even though the extremely attractive Dianna Agron needed at least some direction that the show had many redeeming features. I was invited to see the show last week by a friend who like myself has seen both versions. I was surprised that the change Carley Bawden brought to the show. There are new dancers (who are stunning by the way) and the visual content is once again breathtaking. This is a good west end debut by writer James Phillips. We need to support new theatre not the same old texts being re-worked re-imagined re-hashed. How many Hamlets do we need to see in our lifetime? how many versions of the Importance of Being Earnest? lots of shows in the last 12 months have left before their time. Urinetown was one particular example of not giving a great show the chance to breath.