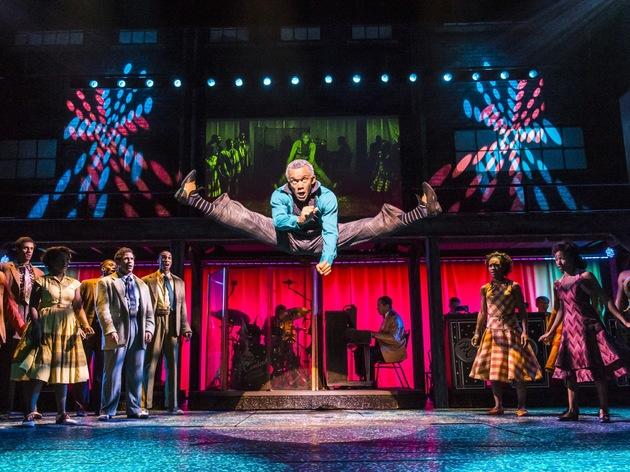 1/7
© Johan Persson
Jason Pennycooke (Bobby)
2/7
© Johan Persson
Killian Donnelly (Huey Calhoun) and Beverley Knight (Felicia Farrell)
3/7
© Johan Persson
Killian Donnelly (Huey Calhoun) and Rolan Bell (Delray)
4/7
© Johan Persson
5/7
© Johan Persson
6/7
© Johan Persson
7/7
© Johan Persson
A new musical of stonking entertainment with a big heart and even bigger singing talent from Killian Donnelly and Beverley Knight.
Matt Cardle now plays Huey until the end of 'Memphis's run
A gaudy explosion of well-intentioned hubris, the utter ridiculousness of Broadway import 'Memphis the Musical' is, mercifully, matched by a big heart and even bigger singing talent.

Loosely based on the lives of pioneering American DJs Dewey Phillips and Alan Freed, 'Memphis' concerns lovable wildman Huey (Killian Donnelly) and his dizzying ascent to number one radio and television personality in Memphis, Tennessee. This he does by becoming the first to play the great black music of the early '50s to an eager young white audience.

So far so good, but in a hysterically unselfconscious gesture, all the songs in 'Memphis' are originals, penned by one David Bryan, a middle-aged white guy with a fun perm whose day job is playing keys in Bon Jovi.

Now, of course Bryan has the right to write about this era, and of course the songs are loving homages to a period in rock and soul history that he clearly adores. But the bottom line is that – even ignoring the whiff of white male privilege – there's a recurrent bathos each time Huey drops a ho-hum Little Richard-ish song instead of the scintillating real deal – the inclusion of even a smattering of period classics would have pepped 'Memphis' up no end.

There are also problems with Joe DiPietro's wonky book. Though the hideous racism of '50s Tennessee is duly stressed, nothing much really occurs to slow the ascent of Huey's star and his relationship with shy black soul singer Felicia (Beverley Knight) until the last ten minutes, in which so much stuff happens so quickly that I left slightly bewildered.

But for all that, Christopher Ashley's production is inescapably fabulous, with two near-faultless leads. Looking like he's fresh from a heist on Justin Timberlake's wardrobe, Donnelly is a joy to watch: rangy, with an anarchic charisma and adorably eccentric chicken dance. Knight's acting is more functional, but her singing is absolutely stupendous – she can belt it out no probs, but she also has tremendous nuance and restraint. It's a real vocal tour de force, and one that certainly elevates Bryan's songs several serious notches. Sergio Trujillo's snappy, aerobic choreography is an extra thrill.

Basically, if you want a brutally brilliant civil rights musical, head across town to 'The Scottsboro Boys'; it you're after a stonking entertainment with less social smarts but lots of warm intentions, book yourself a ticket to 'Memphis'.
Average User Rating
4.7 / 5
Rating Breakdown
5 star:

7

4 star:

3

3 star:

0

2 star:

0

1 star:

0
The addition of Matt Cardle is genius. Although I saw Cillian Donnelly I just didnt understand all the hype. He has a great voice yes but I actually found his performance tired and annoying. Matt brings such a new perspective to the role. Maybe its the fact that he can understand what its like to go from hero to zero in a short period of time after his exploits on X-Factor but this performance cements my opinion that he is one of the best singers currently on the West End. Put him together with the awesomely talented Beverly Knight (that voice is just unbelievable) and you just have an epic musical event. The book still lacks something and the second half feels like a damp squib but the two leads and the superb ensemble make this a must see show. Catch it before it finishes.

Simply the best musical in West End
Saw the show Sat 01 November. Whole show was awesome. A must see.
I absolutely love this. It isn't the the most intelligent piece of theatre, but is has great songs and choreo, with the best band in the West End. 4 1/2 stars.
Go !
Simply loved it
Came out of the theatre with hands raw from clapping, just thinking about who I want to take when I go again. Its that good. In fact if they had passed a few beers around and let the band play on , I would still be there.