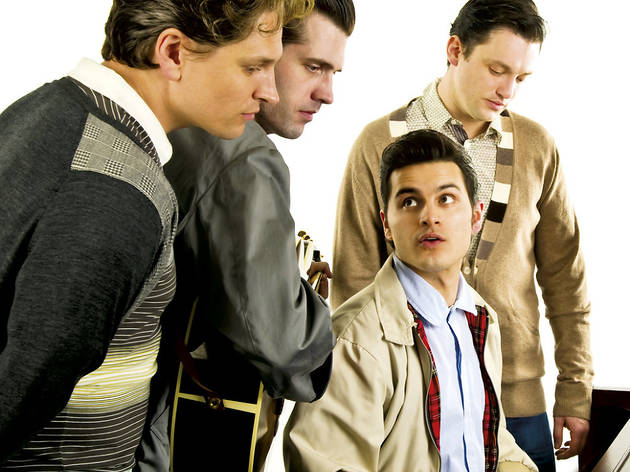 This deluxe jukebox musical is so unapologetically a vehicle for a raft of early rock 'n' roll hits it scarcely qualifies as a musical at all. It's an extremely artful covers gig, and if that's your bag, you'll have a blast.
Colin Escott and Floyd Mutrux's book recreates one night in 1956 in Memphis, when revolutionary
Sun Records producer Sam Phillips gathered together the cream of his musical finds for an almighty jam session. Elvis, by then, had already left the Sun Records building, drifting into the Hollywood superstardom that would kill him; Johnny Cash was itching for a new start with another label; Carl Perkins also wanted out of the Phillips coop. Only the young, madly talented Jerry Lee Lewis was happy to be there, about to release 'Great Balls of Fire'.
The line-up, then, is cracking, and the musical talents of this largely British cast, directed by Eric Schaeffer, are simply barn-storming. Derek Hagen is particularly winning as baritone bad boy Cash, Robert Britton Lyons strums with great rockabilly gusto as Perkins, and Ben Goddard's goofy, outsized Lewis hammers the hell out of his piano.
The book throws in a girlfriend for Elvis, for no discernible purpose other than to add a touch of sparkle to the set. But nobody attempts to spruce up the plot, which centres stolidly and perhaps, in the end, sensibly, on one modestly historical jam session, and the question of whether Phillips will sell Sun Records.
Dramatically, then, this is not shameful, but very far from scintillating. Men arrive, mumble credibly at one another and sing. Musically, however, it's triumphant, and by the night's close, you can guarantee there'll be a 'Whole Lot of Shakin' Going On' in the aisles.