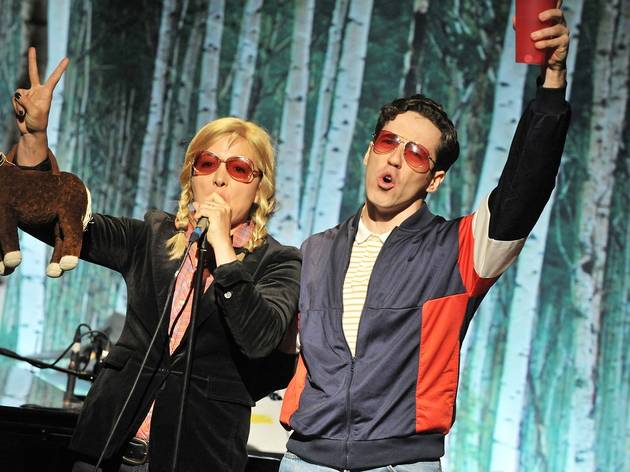 1/9
© Robert Day
Brian Hastert (Joris Rapalje), Libby King (Catalina Rapalje)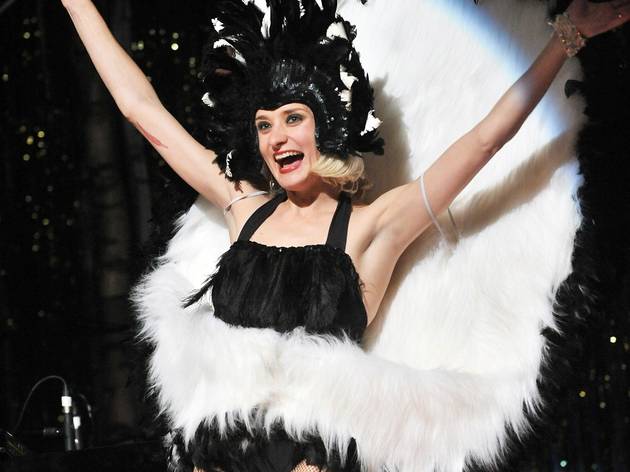 2/9
© Robert Day
Heather Christian (Miss Atomic)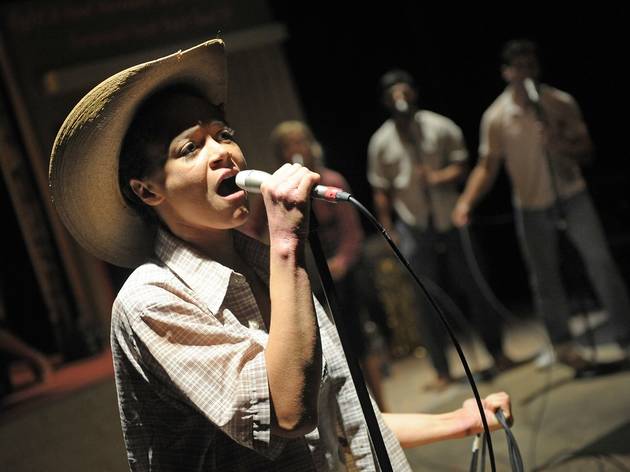 3/9
© Robert Day
Amber Gray (Joan)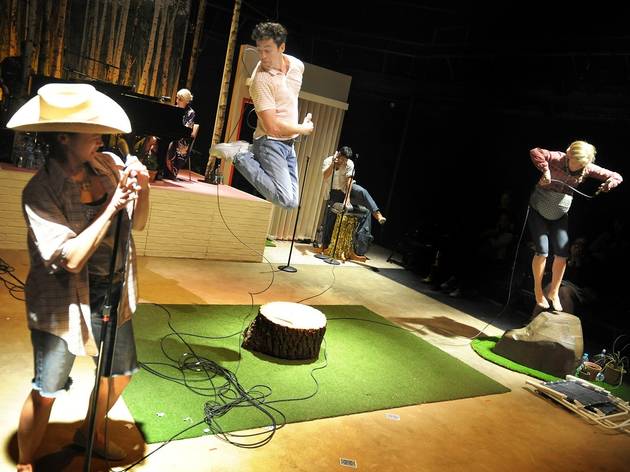 4/9
© Robert Day
Amber Gray (Joan), Heather Christian (Miss Atomic), Brian Hastert (Joris Rapalje), Ian Lassiter (Chris), Libby King (Catalina Rapalje)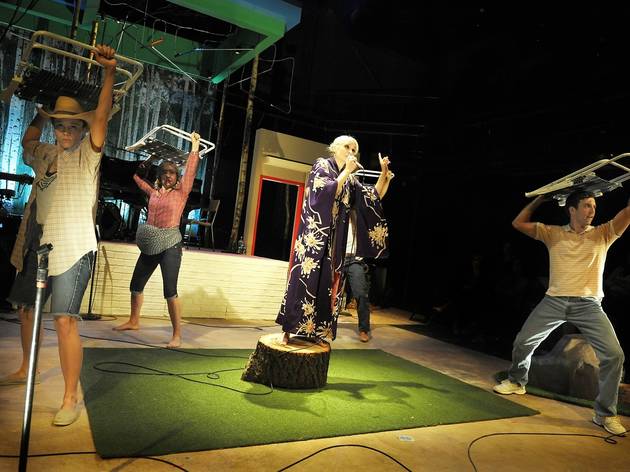 5/9
© Robert Day
Amber Gray (Joan), Libby King (Catalina Rapalje), Heather Christian (Miss Atomic), Brian Hastert (Joris Rapalje)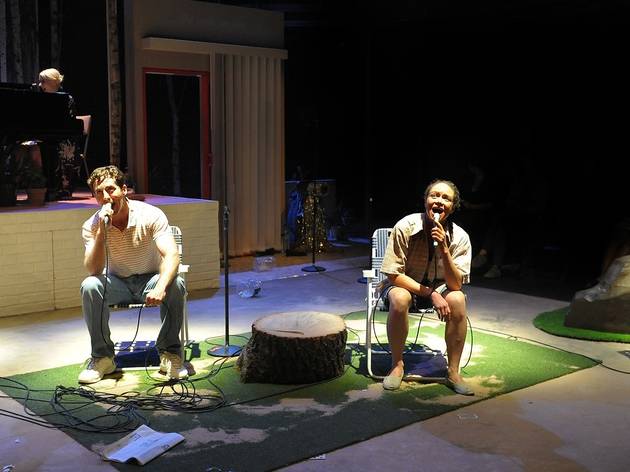 6/9
© Robert Day
Ian Lassiter (Chris), Amber Gray (Joan)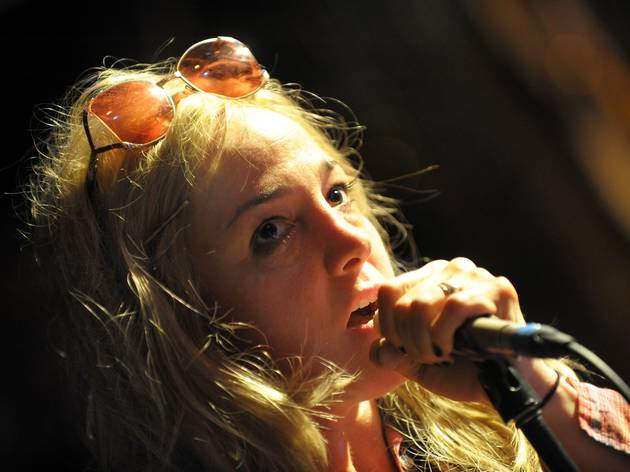 7/9
© Robert Day
Libby King (Catalina Rapalje)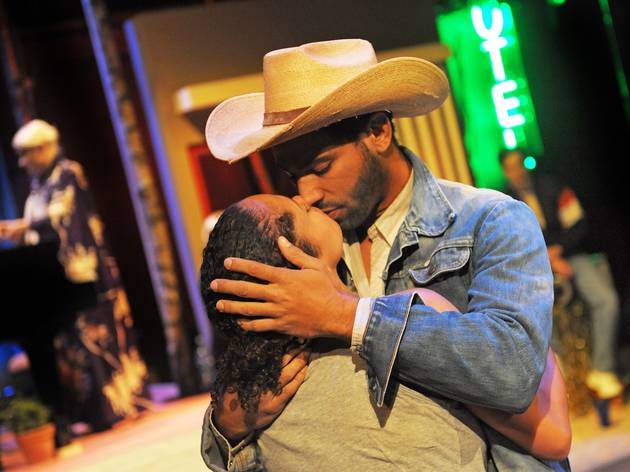 8/9
© Robert Day
Amber Gray (Joan), Ian Lassiter (Chris)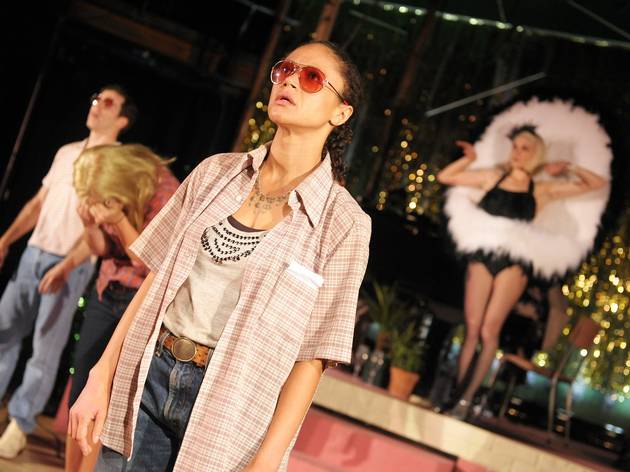 9/9
© Robert Day
Amber Gray (Joan)
American capitalism really is a mindfuck of a subject, and if you're going to attempt to address its entire history in a couple of hours then you really need a mindfuck of a play.
That's a description I'll happily bestow upon experimental New York company The TEAM's gloriously sprawling post-credit crunch parable.
Insofar as 'Mission Drift' offers linear storytelling at all, the devised show centres on a tale of two teenage Dutch emigrants – Catalina (Libby King) and Joris (Brian Hastert) – who meet and marry at an Amsterdam dockyard in 1624. Starting a new life on Manhattan Island, the pair decide they'd rather exploit the wilderness than stay in the safety of civilisation. Centuries later, they're still teenagers and still at it: they have moved to America's final frontier, Las Vegas.
There's a lot more to it than that, most notably the songs. These are mostly provided by Heather Christian, a New York singer-songwriter with a croakingly weird and utterly mesmerising voice, part-Cat Power, part-Portishead's Beth Gibbons.
Sat at a piano in what the script describes as her 'lair', she plays 'Mission Drift's emcee, a demonic cabaret vamp by the name of Miss Atomic. Screeching and snarling, she produces a heady stream of cracked blues, parched balladry and mangled Vegas standards.
Her forceful and disconcerting music doesn't so much comment on the narrative as whip it into a frenzy: 'Mission Drift' is a whirlwind of song and sound and surreal vignettes that conveys the dizzying mania of America's rise with an energy that's part sickening, part exhilarating.
By Andrzej Lukowski
Average User Rating
3.5 / 5
Rating Breakdown
5 star:

1

4 star:

0

3 star:

0

2 star:

1

1 star:

0
History should be taught like this more often. From the soul burning mc Miss Atomic to the talented, energetic cast the hardcore of Route 66 or the first frontier trails are laid right there right in front of you with all the pot holes, hard shoulder and slip road moments that can lead to agony or ecstasy. All done to a musical backdrop that captures the sweat and blood soaked tracks and the Rat Pack hell raising perfectly. Throw in a bit of boom and bust and the lessons are there for all to see in a 2 hour 20 minute warm breeze. Beats learning about it in a class room or via a book and you can taste and smell the history. Thankfully Vegas experienced it's record visitor numbers in 2012 so all the cocktail waiteresses should be back in full employment and Chuck back in business.
elements of this are great - our mc / pianist for example - and the first 10 minutes showed a lot of promise. however is was all down hill from there on. T.O. bills this is as 'experimental' but it's no more so than half the stuff at the NT, just not nearly as sharp, well paced, witty or tuneful. Some good ideas but all came off as a bit "last year at drama school" stuff.