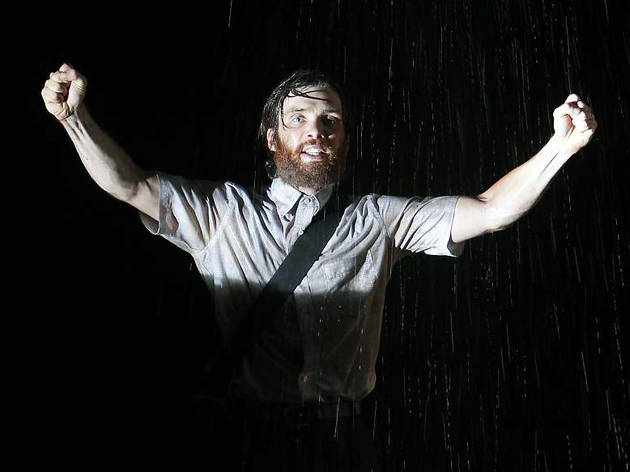 Time Out says
I love Enda Walsh's writing and Cillian Murphy, who has been in and out of it since their mutual breakthrough with 'Disco Pigs' in 1996, evidently does too. Here in this 90-minute monologue, Murphy plays every man, woman, boy and girl in the town of Innishfree with such stunning gusto that you sometimes fear he's going to break his neck.
Whether it's on the gentle slopes of 'Father Ted' or in the more brutal small-town noir of Martin McDonagh, foreigners often note the manic lilt and blackness of Irish comedy, with its appalling charm and its deep roots in a culture of tall storytelling.
Murphy pelts from end to clanging end of a vast, dodgy industrial lockup, enacting one terrible day in the life of pious young sandal-wearer Thomas Magill, with the aid of tapes on which he has recorded his arguments with his neighbours, and a bashed-up telly which speaks with the voice of his mother.
Cameos of locals like moaning mother Mrs O'Leary, whose 36-year-old son eats sugar puffs in his foul bedroom while she slaves, her hands torn to shred by 'the harpic', bring lightning flashes of the outside world. But, as in Walsh's Pinteresque 2006 three-hander 'The Walworth Farce', this takes place in the electric, misfiring hinterland of an inner life that has drifted far beyond normal.
Walsh, who directs this new version of his 1999 play, has teamed up with Adam Silverman (lights), Donnacha Dennehy (music) and Gregory Clarke (sound) to create a staging that perfectly expresses the crazy colours of his writing, in bright piles of Christmas tree lights, broken tapes and, in one corner, a tattered coat upon a stick, a reminder of Thomas's late and heavily-lamented father.
Thomas's hometown 'Innishfree' is a grotty riff on WB Yeats' great hit lyric poem (instead of Edenising rural Ireland as Yeats did, Walsh portrays it gorgeous, filthy purgatory, though the physical violence stays largely outside the great corrugated metal doors, a sentimentalisation of madness that's as partial in its own dream of Innisfree as Yeats was in his).
'Misterman' is indebted to numerous other ghosts of literature past, including the Beckett of 'Krapp's Last Tape' and the Dylan Thomas of Llaggerub. Nothing is original – except for Walsh's electric prose and Murphy's unmissable performance.
Walsh doesn't quite nail his many colours to the McDonagh-ish plot. And the action looks increasingly like Catholic Crimewatch on LSD. But 'Misterman' deserves its hit status in New York and Ireland. The energy and accuracy of Murphy's pell-mell characterisations of everyone in Thomas's head make him the perfect man for this schizophrenic waif of a monologue, which has its eyes fixed on angels in the sky and its hand in a packet of jammy dodgers.
Its flaws don't really matter: it is an exceptional night at the theatre; charming, reckless, manic and tender.
Details
Best selling Time Out Offers