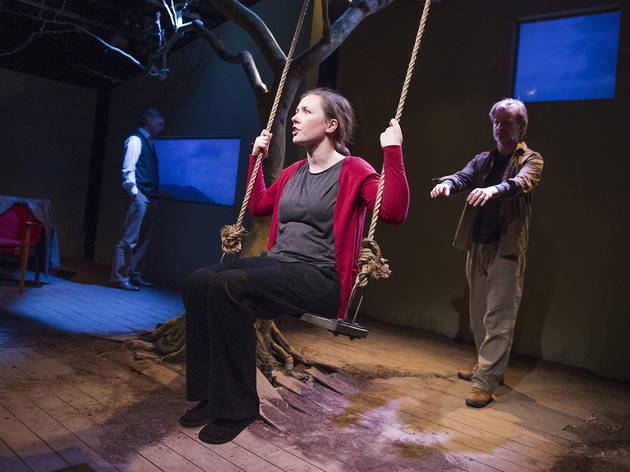 In 1992, playwright Brian Friel was diagnosed with cataracts on his right eye; a year later, he had two operations to remove them. In between, he wrote this play – a meditation on the relationship between sight and understanding, combining intellectual profundity with a gorgeous lightness of touch.
Like Friel's 1979 play 'The Faith Healer', this is a three-hander, told in monologues. Molly Sweeney (Dorothy Duffy) has been blind since infancy; her husband Frank (Ruairi Conaghan), a man who can't help chasing after lost causes, is convinced that her sight can be restored. Mr Rice (Stuart Graham) is a troubled ophthalmologist, self-exiled to rural Donegal after a failed marriage, charged with performing the miracle.
The play's unusual structure takes some getting used to – each character remains essentially separate, and there is little in the way of conventional staging. But Abigail Graham's subtle, considered production, its set dominated by a tall tree and a swing, has found a clever way round this.
Though the characters never communicate directly – thus remaining true to Friel's essential point, about the impossibility of truly communicating the way each of us sees the world, whether sighted or not – they interact at several points, each man lifting Molly up in a slow, balletic movement. It's a touching way of emphasising their connection to her.
Though a little over long, Friel's play is marked by some extraordinary writing, which the cast more than live up to. All three actors are very good, but as Mr Rice, Graham gives one of the best performances I've seen in a while: assured, understated, with all the quiet desperation of a man who has lost everything; a man who can see, but not understand. Laura Barnett