1/5
© Nobby Clark
2/5
© Nobby Clark
3/5
© Nobby Clark
4/5
© Nobby Clark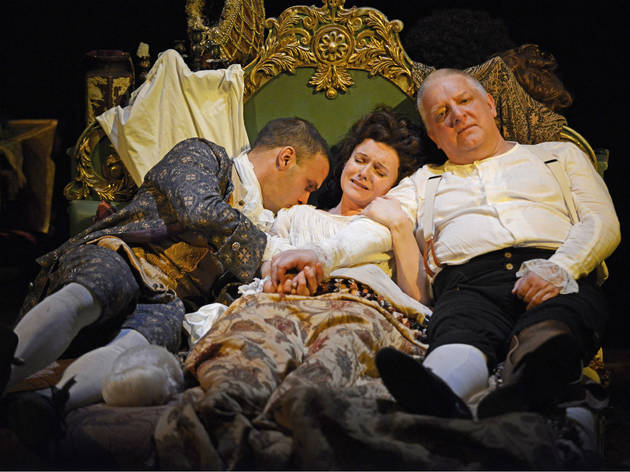 5/5
© Nobby Clark
Simon Russell Beale stars in a messy, intoxicating love letter to the Georgian stage
Mr Foote's Other Leg is transferring to Theatre Royal Haymarket from 28th October.
As a one-legged, cross-dressing, gay, playwright-slash-comedian-slash-actor (and pal to the monarchy), you'd imagine Samuel Foote would make a reasonable splash even in jaded old 2015. So just imagine how he went down in the Georgian era, when he was one of the biggest and most controversial stage stars of the time, confounding the increasingly puritanical theatre establishment with his sexuality, his outrageous satires, and his sheer indomitable will – soldiering on with a wooden prosthetic for over a decade after a near-fatal horse-riding accident cost him his leg.

It's a fascinating life crying out for a great dramatization. But for all its many charms – not least bagging the great Simon Russell Beale as its leading man – Ian Kelly's 'Mr Foote's Other Leg' falls short, largely, I think, because it's an adaptation of Kelly's own biographical history book of the same name. Nothing wrong with history books, but they tend to have a lot of stuff in them, and this is the problem with 'Mr Foote's Other Leg': it's episodic and rambling, covering a great length of time in the history of Foote and his peers without really having a clear arc.

Conversely, that's all part of the charm of Richard Eyre's ramshackle production, which is really about how a gang of loveable misfits – Foote, fellow actors David Garrick (Joseph Millson) and Peg Woffington (Dervla Kirwan) – took London by storm even as the forces of public decency were closing in. There is a real sense of the febrile excitement of the time, as the bickering friends gallop to precarious superstardom and Foote hurtles right over the brink, alienating the society he had so delighted in provoking.

Russell Beale is brilliant as you'd hope, playing Foote as an excitable, competitive, emotional man, irritated by a world that can't keep up with his lightning fast mind, his disappointment in life only exacerbated by the loss of his leg in a silly wager. He has a ball of a time with his many costume changes, and mines the play's richly absurdist humour as skilfully as he does its pathos. But it's not quite a big enough role for him to hold the whole enjoyably messy shebang together.