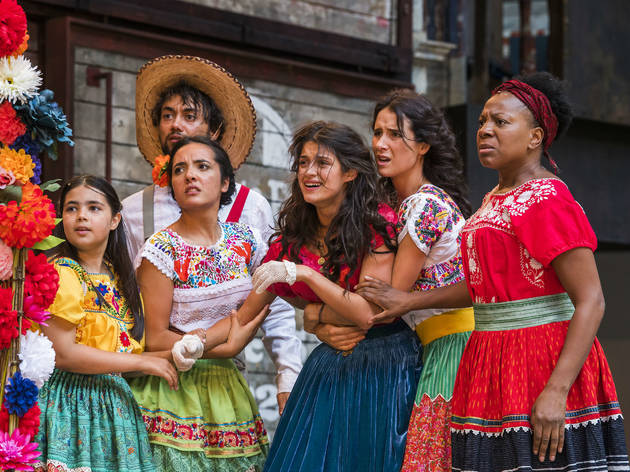 1/2
© Tristram Kenton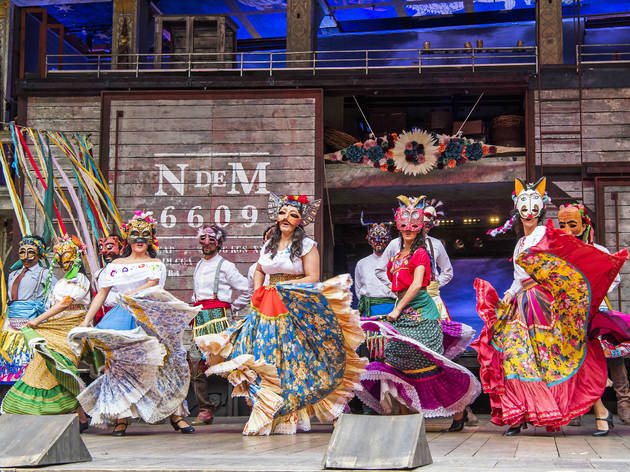 2/2
© Tristram Kenton
Time Out says
Friendly warning! We're working hard to be accurate. But these are unusual times, so please check that events are still happening.
This fiery take on the classic romcom is set in revolutionary Mexico
The Globe doesn't really lend itself to high-concept period productions, because the building itself is already a high-concept period production. Even in the giddiest excesses of the Emma Rice era, it's rare that you come across a show that actually has the gall to pretend that we're anywhere other than the Globe.
But director Matthew Dunster goes for broke with his take on of 'Much Ado About Nothing', which sets the action in 1914 at the height of the Mexican Revolution.
Does it work? Not entirely. Anna Fleischle's wooden shack set – which my friend pointed out looks rather like the South Bank branch of Wahaca – does transform the stage, with the pillars concealed and a mariachi band playing on the roof. But the production doesn't really work out what to do with the rest of the theatre, and there's a sense of the Mexican stuff being drowned out by the faux-Elizabethan building.
There's also something to fret about in the show's identity politics: there is more than a note of stereotype to the flowing dresses and bristling moustaches, and there is something potentially awkward about casting a mix of actors of actual Hispanic origin with others who merely have darkish complexions. Nonetheless, to this privileged white male it didn't feel too egregious, and has certainly allowed a handful of lesser-known actors to have a crack at this famous stage.
And once you get beyond the more ostentatiously director-y bits – the bloated intro, the bizarre repurposing of light relief character Dogberry as a roving American film director – you're left with a pretty rock solid production.
Matthew Needham is enjoyable as an affable, puppy-ish Benedick, but it's Beatriz Romilly who really shines as a shot-swigging, no-shit-taking Beatrice. She has a swaggering brio that feels like an extension of her wit – she finds the world amusing, and it gives her confidence. Certainly she feels like the dominant force in her eventual relationship with Benedick.
Dunster has said he partly chose the Mexican scenario because of the relative gender parity of the combatants. And certainly you can feel that carried on here, both in the shit-kicking attitude of the women – even wet blanket nice girl Hero feels like a badass at moments – and also in the sense that all the romantic goings on are being accelerated by the carpe diem nature of war.
This 'Much Ado…' never really convinces as a concept piece. But you can at least sense that the concept has put a bit of fire in its belly, a glint of steel in its eye.
Details