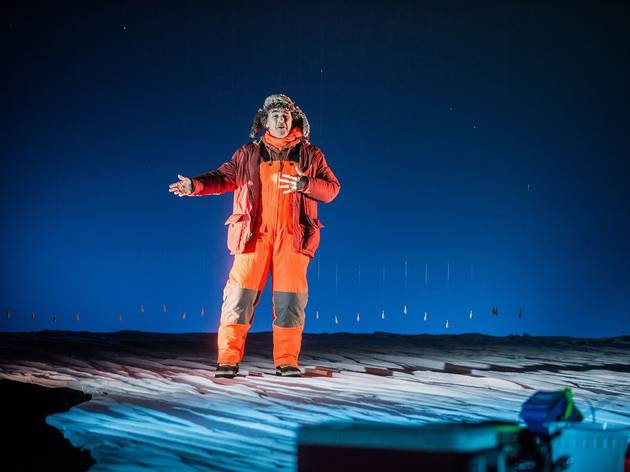 1/3
Mark Rylance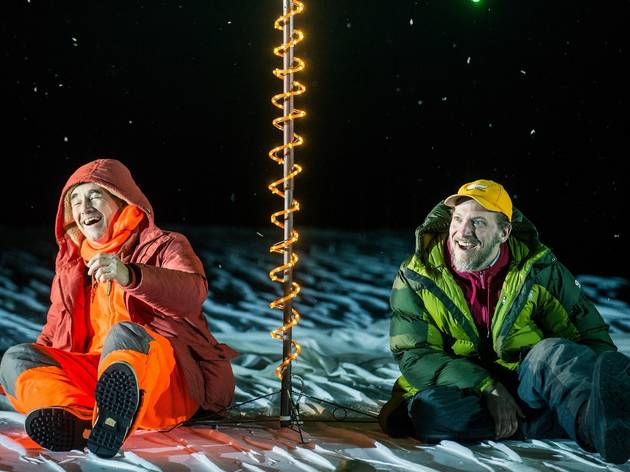 2/3
Mark Rylance and Jim Lichtscheidl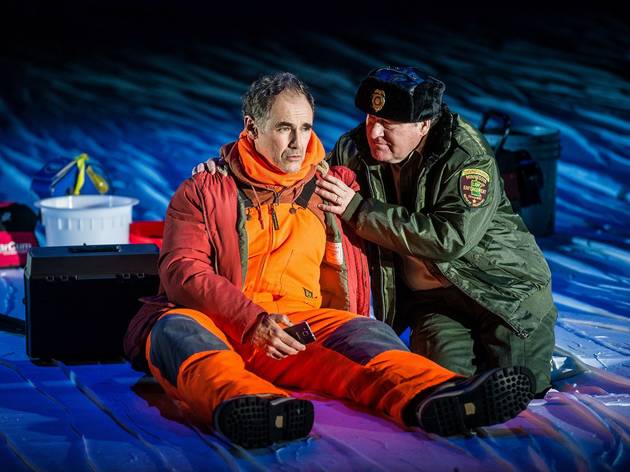 3/3
Mark Rylance and Jim Lichtscheidl
The brilliant Mark Rylance in an oddball comedy, co-written with poet Louis Jenkins
So you're regularly fêted as the greatest stage actor on the planet and you've finally added an Oscar to your groaning shelfful of Tonys and Oliviers. Steven Spielberg has cast you in four films in a row. Do you take a holiday? Write that autobiography? Perhaps tackle one of those juicy Shakespearean roles for older male actors in a bombastic West End production?
Well you might, but not Mark Rylance, who has used his newfound clout to will into existence this endearingly strange piece of theatre, a surreal comedy about two middle-aged Midwesterners on an ice-fishing trip, in which the words are substantially drawn from the wry prose poems of one Louis Jenkins, whose works Rylance has previously performed at awards shows in lieu of acceptance speeches.
Given it substantially consists of short poems, 'Nice Fish' hangs together remarkably well as a story of two old friends on a strained midlife bonding trip. Rylance is utterly magnificent as the hapless, red-nosed, slightly douchebaggy Ron, who chugs Bud, falls over a lot and conspicuously fails to try and catch fish as he drunkenly mumbles Jenkins's oblique little observations. As the much more earnest Erik, Jim Lichtscheidl is inevitably overshadowed by Rylance. But he's an effective straight man, and he gets a couple of showstopper moments: a wonderfully bizarre poem/story about meeting his Swedish family, and the point when he finally loses his shit with Ron.
Claire van Kampen's production is amusing and well judged, with startling blackouts at the end of each short scene underscoring the deadpan humour. And Todd Rosenthal's slightly ersatz set and Sarah Wright's puppets are a delight – at first it all just looks very cute, but as the play drifts on it occurs that this may not all be real, more an existential fable about middle age and mortality and less about an actual fishing trip.
There is no denying that it is pretty silly: if you dress up as a fish, you can bag free tickets to sit conspicuously in one of the boxes; the ending is completely, intentionally ridiculous. If it wasn't for Rylance's brilliance it would implode. But if it wasn't for Rylance it wouldn't exist. He is a very unusual man, but he is undoubtedly a brilliant one.
Average User Rating
3.2 / 5
Rating Breakdown
5 star:

1

4 star:

5

3 star:

1

2 star:

1

1 star:

2
I'm pretty surprised by the negativity surrounding Nice Fish. Absurdist theatre is certainly an acquired taste, and true-to-form, Nice fish plays fast and loose with plot, dialogue and messaging - but that's why I like it so much. A lack of meaning and direction is a theme, and it's being explored in both explicit and subtle ways throughout this script. If you enjoy absurdism's tendency to find deeper meaning in a lack of meaning, there's a lot to chew on here.

Not only that, but Mark Rylance's performance is great. The part doesn't require the same wide range of No Man's Land for example, but Rylance plays on the mixed emotions of his character extremely well. Plus, the puppetry and set-design added to the enjoyment.
If you're looking for a groundbreaking, rollercoaster ride of emotions, this isn't it - but if the idea of a great script and an exploration of the impact of life and memory, it's one for you.
This is quirky, even whimsical story telling but I found it ultimately rather bland & unsatisfying. The set is clever, the cast are excellent & it was a pleasure to finally see Mark Rylance in real life but I didn't connect with the script & found the surreal end rather perplexing. Disappointed by my general feeling of bemusement tainted with a whiff of boredom. However other audience members were guffawing & there was a respectable standing ovation so maybe it's me not the show..
I thoroughly enjoyed this trip into theatre of the absurd and the surreal surroundings and events that take place out on the Minnesota ice (which makes for an unusual and rather lovely set). The two main and several subsidiary characters are full of whacky observations, funny stories and one line quips. In a couple of places these only just avoid polite middle class "coziness" - for example, the jokes about ageing and forgetting things are somewhat predictable and stale - but the largely silver-haired matinee audience lapped them up, so what do I know?!) . But, in the main, the script is more interesting than that and the performers effortlessly take you into a very likeable world of slightly whimsical but strangely meaningful ramblings. As the show progresses, the surreality builds and, for me, the better it gets. Mark Rylance is, as you might imagine, at the excellent end of very-good-indeed. But so is everyone else! He might be the famous-est, but it's by no means a one-man effort. So (as I expected from the pictures outside the theatre) it's different, it's very likeable, it's whimsical, it's odd and it's funny. But what I wasn't really expecting is that it's strangely 'deep', but I can't quite put my finger on exactly why or how. I had been told that the script is (at least in part) a homage to Waiting for Godot - I totally agree, but I found it much (much) more accessible than Beckett and therefore much more fun! Finally, I must mention the theatre itself. The Harold Pinter is a lovely little historic gem of a West End Theatre and the staff are absolutely charming. Thanks to all for a very enjoyable and memorable afternoon.

I have no idea how this play can get such good reviews. A plot is not existent, the acting is flat, the characters are uninteresting, the dialogues are nonsensical, the jokes are bad or nonexistent as well, and - most of all - the play possesses a condescending meta theater element which reveals its self-illusioun of grandour. Terrible play, truly terrible.
I was full of hope reading the excellent reviews, so i took me and my family out to come and watch it, being a little sceptical it seemed odd but due to the excelle t revie s i paid the money and took my two sons and my wife to see this play, after a disaster with the tickets we finally arrived in the bar for a few drinks full of hope to view a masterpiece marked 4,6 out of 5 we were anxious to see it. However from start to finish it did not live up to the expectations iy was downright boring , dialogues were conducted by old jaded men who think they are funny ... no wonder it finished quickly in new York. Most boring play of the century play the kind of rubbish that I would not even get my cat to sit through. The dialogue was dull and slow i dropped off half way through! Please do not waste your money on this self indulgent boring waste of time! I feel decieved and cheated !