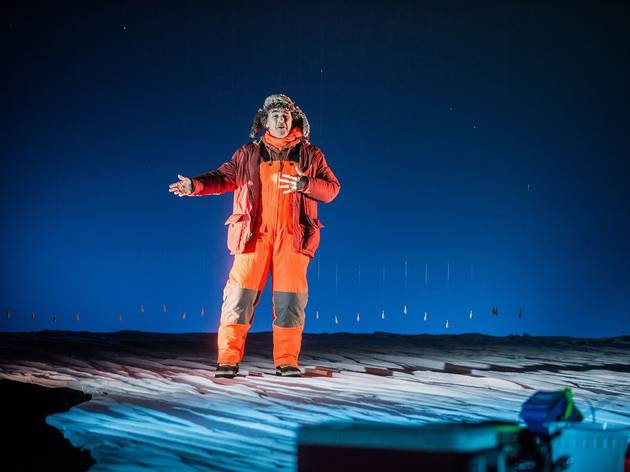 1/3
Mark Rylance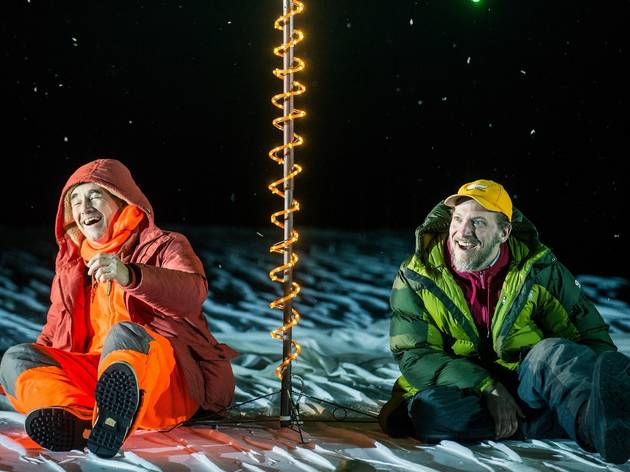 2/3
Mark Rylance and Jim Lichtscheidl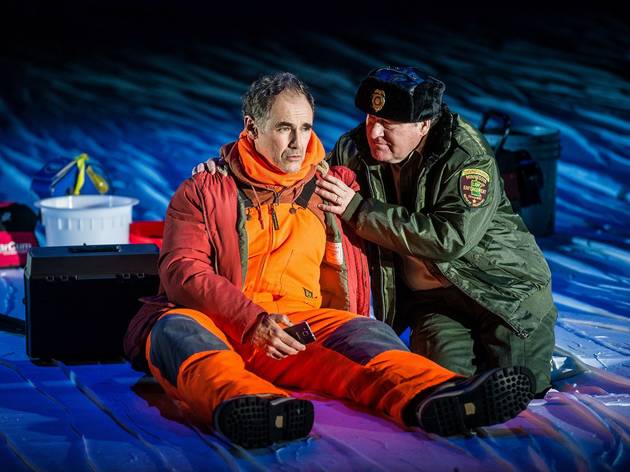 3/3
Mark Rylance and Jim Lichtscheidl
Time Out says
The brilliant Mark Rylance in an oddball comedy, co-written with poet Louis Jenkins
So you're regularly fêted as the greatest stage actor on the planet and you've finally added an Oscar to your groaning shelfful of Tonys and Oliviers. Steven Spielberg has cast you in four films in a row. Do you take a holiday? Write that autobiography? Perhaps tackle one of those juicy Shakespearean roles for older male actors in a bombastic West End production?
Well you might, but not Mark Rylance, who has used his newfound clout to will into existence this endearingly strange piece of theatre, a surreal comedy about two middle-aged Midwesterners on an ice-fishing trip, in which the words are substantially drawn from the wry prose poems of one Louis Jenkins, whose works Rylance has previously performed at awards shows in lieu of acceptance speeches.
Given it substantially consists of short poems, 'Nice Fish' hangs together remarkably well as a story of two old friends on a strained midlife bonding trip. Rylance is utterly magnificent as the hapless, red-nosed, slightly douchebaggy Ron, who chugs Bud, falls over a lot and conspicuously fails to try and catch fish as he drunkenly mumbles Jenkins's oblique little observations. As the much more earnest Erik, Jim Lichtscheidl is inevitably overshadowed by Rylance. But he's an effective straight man, and he gets a couple of showstopper moments: a wonderfully bizarre poem/story about meeting his Swedish family, and the point when he finally loses his shit with Ron.
Claire van Kampen's production is amusing and well judged, with startling blackouts at the end of each short scene underscoring the deadpan humour. And Todd Rosenthal's slightly ersatz set and Sarah Wright's puppets are a delight – at first it all just looks very cute, but as the play drifts on it occurs that this may not all be real, more an existential fable about middle age and mortality and less about an actual fishing trip.
There is no denying that it is pretty silly: if you dress up as a fish, you can bag free tickets to sit conspicuously in one of the boxes; the ending is completely, intentionally ridiculous. If it wasn't for Rylance's brilliance it would implode. But if it wasn't for Rylance it wouldn't exist. He is a very unusual man, but he is undoubtedly a brilliant one.
Details
Best selling Time Out Offers