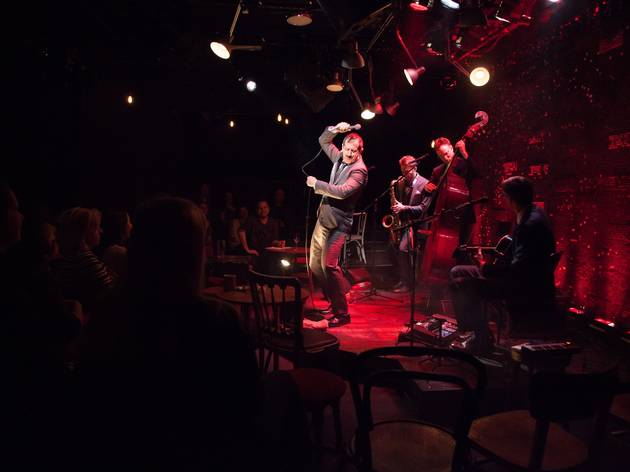 1/5
© Heather Phelps-Lipton
2/5
© Heather Phelps-Lipton
3/5
© Heather Phelps-Lipton
4/5
© Heather Phelps-Lipton
5/5
© Heather Phelps-Lipton
Losing your job is usually no laughing matter, but in this monologue with songs, US performer Ethan Lipton turns despair on its head. In a series of funny, surreal anecdotes (at one point he takes on the character of the last conference room sandwich), punctuated by witty soul, blues and jazz songs, he tells us the story of what happened when the company he worked for relocated to Mars.
The three-piece band that accompanies him are incredibly tight and the music on its own is a treat. In 'Shitstorm Coming' Lipton describes feeling completely inert as he watches an actual storm of shit coming towards him through the windows of his increasingly depleted office. It's characteristic of the tongue-in-cheek humour in many of the songs which, delivered in Lipton's soulful voice, are punctuated by moments of poignant truthfulness.
The several jabs at the US political system – health care, education – place the show somewhere between a personal story and a comment on the country as a whole. But neither stance is quite followed through. By the end, we aren't sure whether losing his job was the worst or the best thing to happen to Lipton, and as a result we feel strangely detached from his story.
Still, this night of impish, topical cabaret-cum-comedy, has an undeniable raffish charm.
By Daisy Bowie-Sell
Average User Rating
4.3 / 5
Rating Breakdown
5 star:

1

4 star:

2

3 star:

0

2 star:

0

1 star:

0
The small setting really suited this show; the music was excellent and a couple of songs are still in my head today. Some of the story is a bit too far out (there's only one good gag about Mars) but Ethan pulls it off. Recommended. Also a tip of the hat to the Gate Theatre for providing captions for the performance.
The show was great, really enjoyed it. Music on its own merit is fantastic and paired with witty storyline makes for a really entertaining evening.
Love this show. Very wry and witty yet warm and personable. Encourage people to see it.