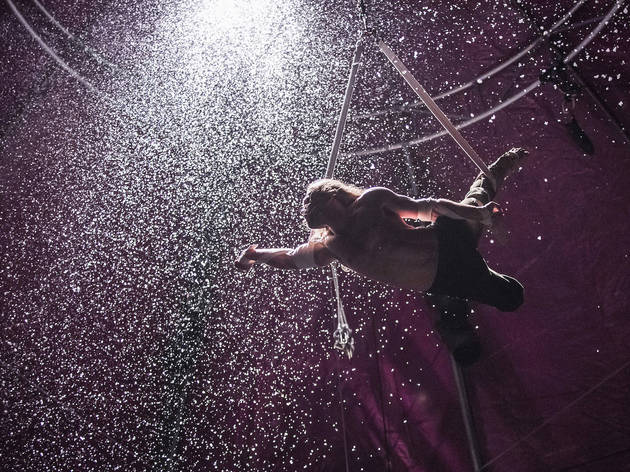 1/2
© Tristram Kenton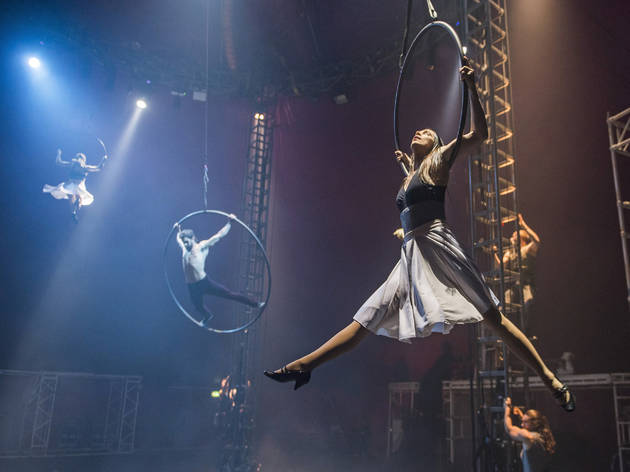 2/2
© Tristram Kenton
Grungy Welsh circus wizards NoFit State Circus bring back an upgraded version of their 2013 show
In the program notes to this returning, revamped collaboration between NoFit State circus and Italian director Firenza Guidi, there's lot of deep and meaningful talk about 'a journey through time' and 'the story of the fragility of our lost selves'.
That's all guff really, because 'Bianco' is an out-and-out, oohs-and-aahs circus show that pushes all the right spectacular buttons, with no cheesy themes or narrative needed.
The show itself is refreshingly stripped-back, with little of the pomp and bombast – clowns, ringleaders, cheap slapstick comedy – that you might normally expect from a family-friendly circus show. 'Bianco' shuns narrative and, apart from a small intro advising 'Here be Dragons' and 'no photography please', there is no spoken content.
Instead, the performances speak for themselves in a succession of increasingly impressive, classic circus tricks, from juggling and tightrope-walking to breathtaking acrobatics and trapeze stunts.
Soundtracked by an excellent live band, 'Bianco' opens in a fit of orchestrated chaos: stray juggling pins here, a wobbly tightrope walker there. But that rawness is endearing; it makes watching people do really difficult, knackering tricks all the more impressive.
The second half delivers a more crafted drama, culminating in a superb duo rope performance using only body weight and gravity, the finale crowned by a snowstorm, a nod to Bianco's festive context. The energy of the endearingly shambolic opening, however, is what Bianco does best. Just don't stand too near the jugglers.
Average User Rating
2.8 / 5
Rating Breakdown
5 star:

1

4 star:

3

3 star:

1

2 star:

5

1 star:

1
Absolutely amazing!!!! It felt like we were part of the show. Standing wasn't an issue as the time flew. All the performers were spectacular, the band was brilliant also. Highly recommend.
Amazing performance and acrobat skills! Really enjoyed it.
Comments below are valid, BUT - you have to be prepared to be 'interactive' and appreciate the 'travelling' nature of the circus act. People are very friendly, although seem drunk :-) Some acts are rubbish (juggler, hoolahoop cage with beads) but some are pure genius! Lots of being herded around like cats which can be annoying.
Overall it's like having kids - LOTS of stress, quite a bit of rubbish, moments of brilliance but overall worth it!
Standing audience constantly moving up and down getting tired after a while. If someone taller is standing in front of you you miss what you paid for and although most of the show happens in a good height for everyone to watch you still can't follow it as you get a stiff neck after a bit. Mainly basic acrobatics that don't worth the money at all and made me left before the show finished. Only amazing part were the musicians.
Good ideas but the acrobatic skills are average I am afraid! I liked the music!
If you have seen La Soiree you are ruined .....who wants to settle for 3 star after you have sampled 5
It's was simply rubbish
The no swag thing was annoying, and the acts were totally rubbish
Do not wage your £25
Bianco offers a new experience of circus-watching, as there are no seats and you can move freely around the tent. This allows you to get closer to the acrobats and performances, however after a a couple of hours it does get a little tiresome to be standing all the time!
The acrobatic performances didn't impress me much, and it was mostly focused on rope and ring work - the juggling and firebreathing were particularly poor and seemed added just to "tick a box". The best part of the show in my opinion was the live orchestra, which was very good.
Bianco was definitely different to any other circus ive ever been to. There are no seats and the show ran for about 2.5hours including 20min intermission, so anyone with difficulties standing for long periods of time might want to reconsider. The show happens around you and every 15mins or so you are shuffled to the side or out of the way to make room for the acts. The novelty was fun at the start but then after the 5th time it felt like being stuck on the central line tube during peak hour being herded around like cattle.
Ive been to probably over 2 dozen circuses in my time and have almost seen it all, from large scale cirque de soleils to family run small performances in the local park. In terms of overall skill and technical difficulty of the moves being performed, this is where the show fails to impress.
Many times I was watching in anticipation for something impressive to happen, but it never came. It felt like a whole lot of nothingness and watching someone do conditioning exercises on loop. Entry level juggling, lyra,trapeze,silks, rope and handstands. Anyone who has ever been to a few decent shows or has a background in gymnastics or acrobatics will definitely find the moves being performed painfully basic and within the reach of most weekend gymnasts / fitness enthusiasts. Perhaps the only act that kept my attention was the tight rope walk, but even still that dragged on for a little too long with the performer running repetitive motions over and over.
In a nutshell, i felt that Bianco was all show no go. If circus is brand new to you and youve never been exposed to any form of acrobatics or gymnastics then you might find it fantastic.
However if you know a thing or two about cirque and are expecting to be amazed by pure talent, strength or skill then give this one a miss and go see Cirque Eloize ID next time its in town.
Real shame though because it had so much potential, the visuals were stunning, the soundtrack and live band did make things feel very immersive.. If only they hired more advanced acrobats to perform higher difficulty tricks, this wouldve been a real winner.