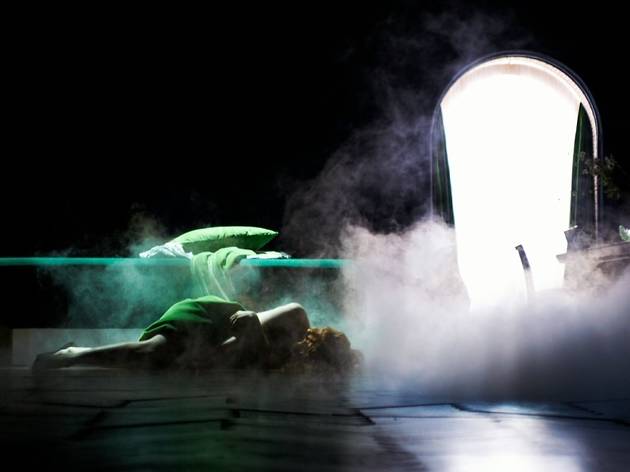 Castles, coffins, Transylvanian peasants and transformations into bats are off the agenda for renowned Polish company TR Warszawa's brooding stage version of Bram Stoker's 'Dracula'. But so long as you're not here for cheap thrills – and you're at the Barbican, ferchrisssake – then 'Nosferatu' should shiver your spine a treat.
It's loosely based around the Whitby-set section of the book, and here the main characters – Mina, Quincey, Seward, Arthur et al – are living together in a sort of immense gothic yuppie pad, all minimalist modern furniture and billowing old velvet curtains that usher in dry ice (and worse).
As the play begins, gorgeous Lucy (Sandra Korzeniak) is fading with a sickness induced by some unseen bloodsucker. But in one of countless departures from Stoker, the bloodsucker (Wolfgang Michael), a knackered old vampire with a thick German accent, proceeds to come round to dinner.
In his dreamlike fashion – with plenty of visual nods to the golden age of horror flicks – auteur director Grzegorz Jarzyna lays out a vision of an exhausted masculinity, a roomful of feeble men with nothing to look forward to beyond a boring immortality.
It is the women – Korzeniak's Lucy and Katarzyna Warnke's disdainful Mina – who provide this creepingly erotic, visually ravishing piece with its real sense of menace, as Jarzyna cannily amplifies the fear of sex that pervaded the novel into something much more dangerous.
Average User Rating
1.8 / 5
Rating Breakdown
5 star:

0

4 star:

2

3 star:

0

2 star:

0

1 star:

6