Heads up! We're working hard to be accurate – but these are unusual times, so please always check before heading out.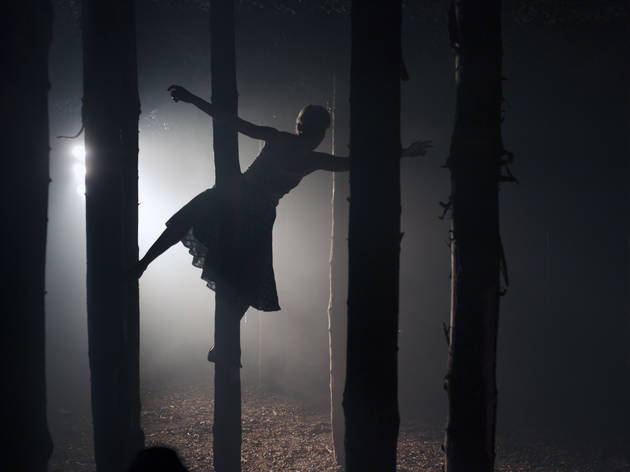 Open the door to The Black Room and Punchdrunk
The inventive theatre company is collaborating with us as part of London's biggest, most mysterious show yet. We reveal some of its secrets
This summer, Time Out became part of the latest creation from Punchdrunk, the epic performance svengalis who take over city buildings and transform them into living, breathing fantasy worlds. Readers who followed clues planted in the magazine and Time Out blog over the last few weeks were led to a website where they could sign up for membership of The Black Room, a secret society that recently arrived in London. A lucky few were instructed to give a secret password to a Time Out vendor and meet a shady stranger in the crowd. They were then presented with a one-on-one show amid the morning commute and given an amulet granting them membership of that secret society which only exists in the world of Punchdrunk's latest show, '
The Drowned Man
'. If that sounds complicated, it's because Punchdrunk's immersive-theatre events are like nothing else: huge, fully interactive environments open late into the night, with eerie music, exotic smells, daring acrobats and a cast of haunted characters. Which is why we decided, on the occasion of their biggest London show, not to do a conventional piece of journalism blathering on about their influences and opinions. We teamed up with them on the streets of rush-hour London to shroud The Black Room in alluring mystery.
The only useful thing it's possible to reveal about a new Punchdrunk piece is its theme (the new one is a riff on Georg Büchner's play 'Woyzeck', set in a 1960s film studio). But you can describe how it feels when you stumble upon one of their shows for the first time, as I did in 2007 when a friend lured me down to Battersea Arts Centre for 'The Masque of the Red Death'. It transmogrified every Victorian nook of the huge old Battersea Town Hall into a reflection of Edgar Allan Poe's grim story about a doomed party. I remember chasing troubled aristocrats up the grand central staircase; rummaging through immaculately faked old letters in one of the warren of back rooms; being looked in the eye, in a surreal moment, by a woman who then read my cards. Most of all, I remember the blowout of the final masque scene, a lavish carnival of music, dance and dying performers. 'For audiences, it's like directing your own film,' explains Punchdrunk founder and artistic director Felix Barrett, a wildhaired, slightly otherworldly chap who has translated his fascination with esoterica and occult symbolism into the cult performance phenomenon of the decade.'They become a living Steadicam and they're shooting their own director's cut of the show. They float down corridors and choose which characters they want to have close-ups with, where they want spectacle. They are in charge.' Consequently, no two people see the same show. Your luck or skill in decoding clues and ferreting out performers (32 of them to 600 audience members in 'The Drowned Man') dictates the experience you have.
To describe Punchdrunk as a cult concern belies the numbers involved: demand for their last big London show (the English National Opera collaboration 'The Duchess of Malfi') brought the ENO's ticketing system to its knees. Since their first warehouse takeovers in the early noughties, they have inspired a multitude of 'secret' spinoffs. The social media community around them is unparalleled: no respectable Punchdrunk fan sees a show just once. And 'The Drowned Man' is the first Punchdrunk piece in a while that is comparatively easy to buy tickets for – because the show, set in a sinister alternate version of '60s Hollywood, takes place in a massive venue: Temple Studios in Paddington, formerly the British outpost of a Hollywood film studio. So what's the obsessive attraction? 'For me, it's about escapism,' says long-term fan Lee Braybrooke.'It's about participation in a detailed world and the fact you can be totally immersed in an almost dreamlike state – something sorely missing in this day and age. It's the level of escapism, the level of engagement and the fact that it's so unlike any other type of theatre.' Punchdrunk's fans don't just see the shows, go home and argue about them on a blog. They study every little detail, sharing tips on what time certain doors open, how to get into hidden areas, how to interact with the strange denizens of the shows and, above all, what the hell is going on in these enigmatically evocative worlds.
To give you an idea of the devotion levels we're talking about, 'Sleep No More' (Punchdrunk's current hit New York show) has its own blogging community. 'After two years, you'd think the blog would be running out of steam,' says New Yorker Evan Cobb, who runs 'SNM' blog Scorched the Snake, 'but interest keeps growing. The show is so large that even people who've seen it dozens of times are still finding new things inside.' Cobb's blog mainly exists as a place for folk to chat about their experiences in the eerie, intricate world of 'Sleep No More', which turns all six floors of a New York hotel into a strange, silent reflection of Shakespeare's gory 'Macbeth'. 'I think Punchdrunk shows are especially meaningful for people who have grown up in the digital world,' says Cobb. 'All our experiences are remote and mediated, transmitted through text and pictures. Punchdrunk asks you to rely on touch, taste and smell, sends you running through dark buildings, literally breathless, and puts characters' heartbreaking stories right in front of you, sometimes in your arms. It's hyperreal, and that's intoxicating, particularly for digital natives.'
Some people never want to leave: keen fans can sign up as a 'keyholder', a sort of supporter of the company who pays an annual subscription in exchange for exclusive encounters.
Punchdrunk's wildly ambitious shows are almost impossible to put on cheaply and aren't really motivated by profit: the secret society collaboration with Time Out is free, for fun, to reach first-timers, to try something new – a performance that enters the miserable reality of your morning commute and takes you somewhere unexpected. The Black Room is the flipside to a pop-up taster the company set up in March: visitors who entered a mocked-up clairvoyant's parlour in Dalston were taken down to the basement and given an amulet to protect them from the monstrous characters in 'The Drowned Man' and give them special access to areas of the Temple Studios performance space. Some of you who followed the clues and joined The Black Room will also experience an arcane initiation ritual to induct you into the sinister secret society that runs the world of the show. If you didn't get in today,
watch this space
for the next recruitment drive. Should you be nervous? Perhaps. But that just adds to the thrill. 'Our dream audience member is someone who doesn't know what they're going into,' says Barrett. 'It's as though you're opening a present and don't have a clue what's inside.'
London can be a weird, atmospheric place at the best of times – how often have you wandered its streets and felt as if you were the star of some mysterious film, a choose-your-own adventure? Some of you got lucky with a free pass to Punchdrunk's adventure. If you didn't, they're waiting for your booking over at Temple Studios. If you dare…
Four brilliantly immersive worlds to get lost in
A hush-hush dining experience that guides attendees to the venue via text messages. The latest culinary adventure is tightly under wraps, but it will be spectacular. Previous nights have thrown diners into a mad puppeteers' workshop, a submarine and Dean Gaffney's Fake Tan Dungeon. Okay, we made the last one up.


This recreation of a seventeenth-century masque (a musical production by masked players) in Whitehall's Tudor-era Banqueting House will randomly select visitors to don costumes and take part. Everyone else will be given masks and made to choose whether they represent 'order' or 'chaos', while they make animal noises in time to a performance by a range of 'dancing nymphs and singing gods'.