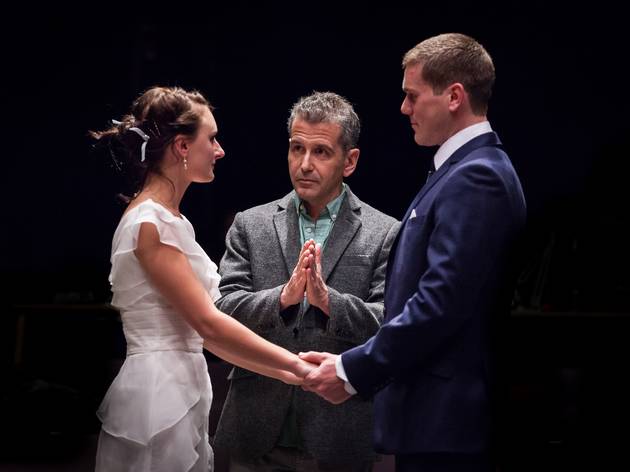 1/9
© Marc Brenner
Laura Elsworthy, David Cromer and David Walmsley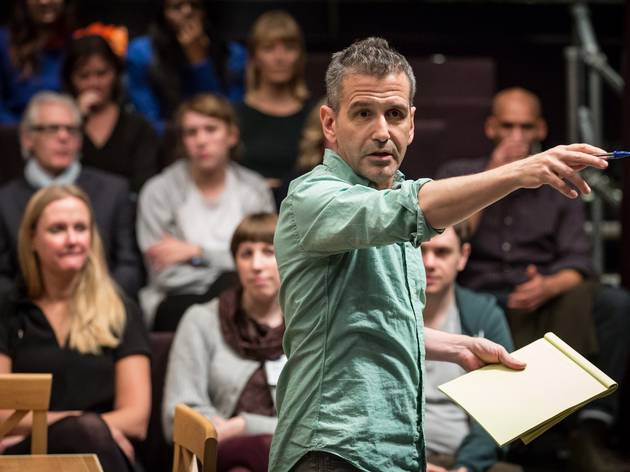 2/9
© Marc Brenner
David Cromer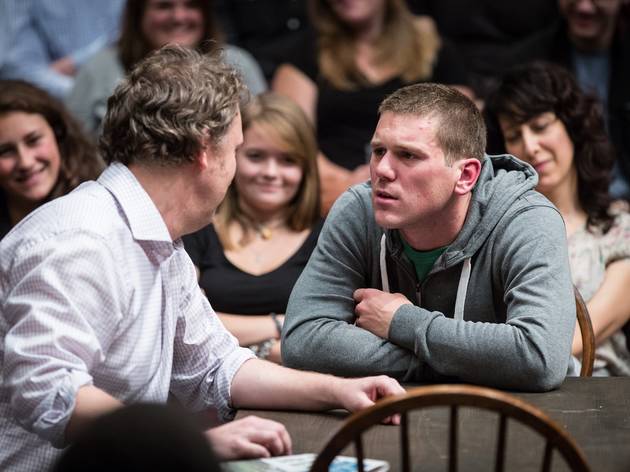 3/9
© Marc Brenner
Richard Lumsden and David Walmsley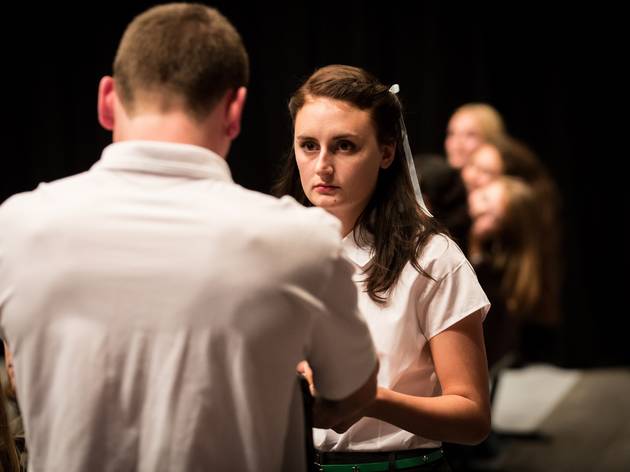 4/9
© Marc Brenner
Laura Elsworthy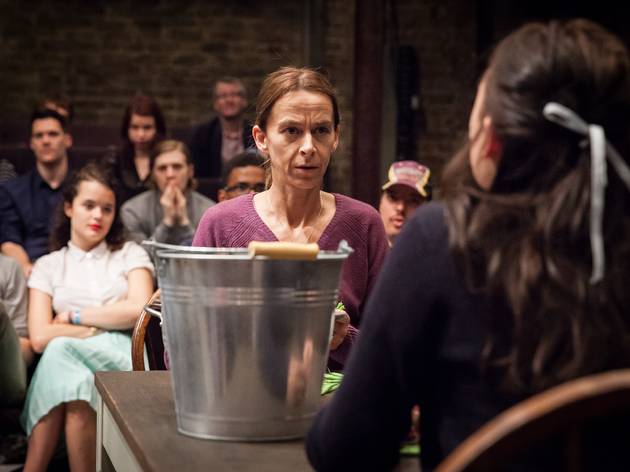 5/9
© Marc Brenner
Kate Dickie
6/9
Laura Elsworthy, David Walmsley and Jessica Lester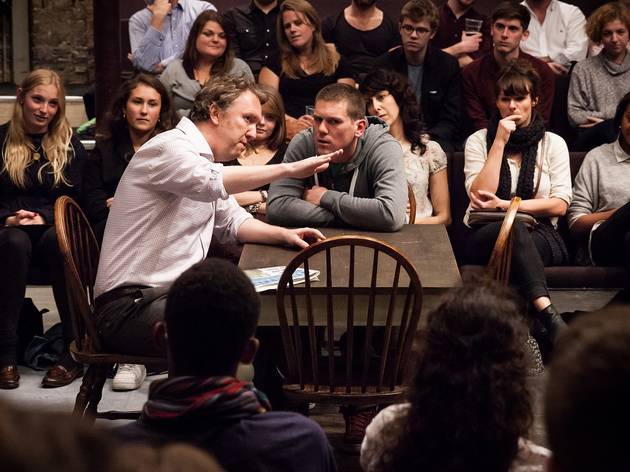 7/9
© Marc Brenner
Richard Lumsden and David Walmsley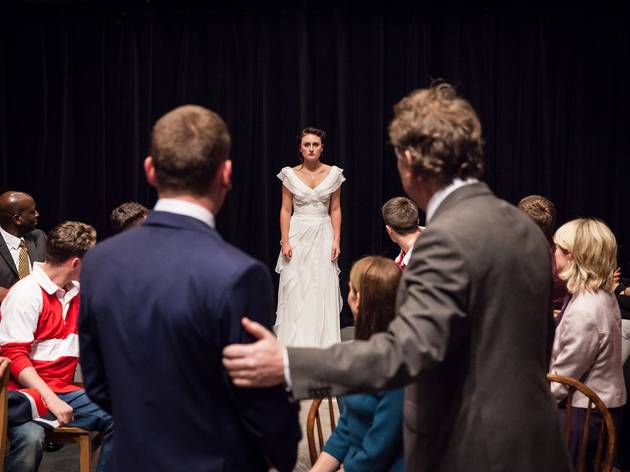 8/9
© Marc Brenner
David Walmsley, Laura Elsworthy and Richard Lumsden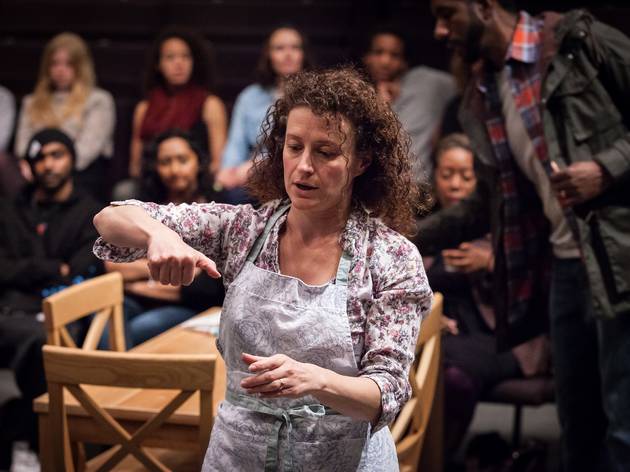 9/9
© Marc Brenner
Anna Francolini
Time Out says
Somebody I know walked out of the Almeida's revival of Thornton Wilder's 'Our Town' after the first act, something I'd say was roughly equivalent to switching off 'Psycho' before Janet Leigh rocks up to the Bates Motel.

Across the pond, Wilder's 1938 meta-theatrical classic is a high-school staple, but its popularity has faded over here. In fact, I was mostly aware of it thanks to the reputation of David Cromer's 2009 New York production, which Almeida boss Rupert Goold has invited him to restage here.

Cromer's hyper-naturalistic production is a drastic departure from usual stagings, but given that London theatregoers are unlikely to have seen another major production, it's probably not worth dwelling on that.

With lights on at full blaze, the Almeida auditorium is configured as a simple tables-and-chairs-in-the-round arrangement to represent the town hall of Grover's Corner in New Hampshire at the start of the last century. Taking on the role of the play's narrating Stage Manager, Cromer rattles through the history of Grover's Corner with the wry enthusiasm of a hip teacher, setting us up to watch a day in the life of the town… in which almost nothing happens. Milk gets delivered, kids go to school, a choir rehearses, there's some cooking; there are no props, no period costumes and, disconcertingly at first, the British cast speak Wilder's folksy dialogue in their own accents.

The first act is a challenging one, vaguely redolent of an unusually avant-garde episode of 'The Archers'. But in the second act, set during and before the wedding of two of the town's youngsters, everything clicks dramatically into place. The emotional nature of the dialogue allows the diverse cast to invest more in it, and it becomes radiantly clear that the lack of US accents isn't an arch device but a way of emphasising the universal nature of what the good people of Grover's Corner are going through: it really is 'our' town.

The fact that Wilder's play is about the cyclical nature of human life – unchanging in its repetitions but all too short for individuals – is brought home by a third act, about death. Consisting mostly of conversations between the dead – many of whom have passed on far too soon – it's a stunning piece of writing, stylistically way ahead of expectations of theatre in 1938. But Cromer adds a coup de théâtre of his own (which I won't reveal) that elevates it from stunning to sublime, and I feel a little sad that my friend the walk-out never got to see it. This is 'Our Town' and you should come on in – everyone is here.
Details
Best selling Time Out Offers