Heads up! We're working hard to be accurate – but these are unusual times, so please always check before heading out.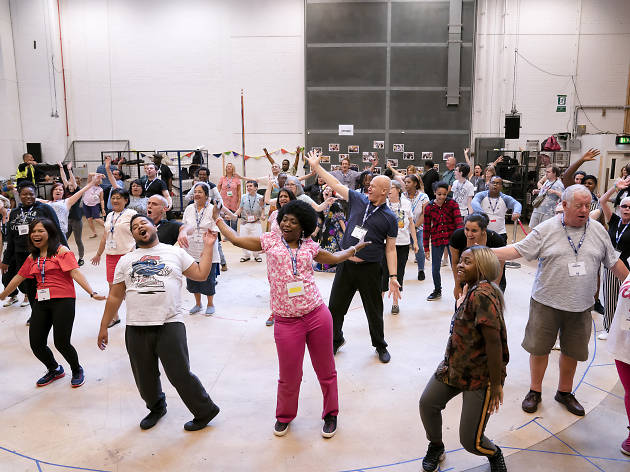 Pericles at the National Theatre: the biggest theatre show of the summer
Starring more than 200 Londoners, the National Theatre's gigantic 'Pericles' is a show on a scale you've never seen before
'It's National Theatre-plus!' enthuses director Emily Lim of the summer's – possibly the year's – biggest and most ambitious theatre production.
If you know 'Pericles', you'll know it as one of those slightly mad late Shakespeare plays that don't get trotted out often, a tale of nautical derring-do that follows the adventures of the eponymous prince as he tries to hold his family together in the face of unimaginable tragedy, and also pirates.
'Like "Finding Nemo" meets "The Odyssey",' is how National Theatre deputy artistic director Ben Power pitched it to Lim when she was looking for a first vehicle for the theatre's new Public Acts programme, a description that sold her on it straight away.
Public Acts involves making community theatre. For 'Pericles' that means that in addition to a small core group of professional actors and musicians, there are another 200-ish performers sourced from community groups incorporated into the play, which has been adapted by playwright Chris Bush. Staged in the National's huge Olivier Theatre, it will be as massive a spectacle as you can imagine. And, as Lim is keen to stress, while there may only be three performances, it's getting the full NT works: fancy set, bespoke costumes, original music – everything.
Why do it? Obviously to make great theatre, but the community remit touches on a part of the NT's mission to be a theatre for everyone.
'It has a civic duty that it should take seriously,' says Lim, whose previous production here was 'Brainstorm', devised with Islington teenagers. 'I think theatre being for everybody means everybody gets a chance to watch it, but that everybody gets a chance to create it.'
Lim and her team have sourced the cast through eight groups from across London, who work with the elderly, the young, the homeless and survivors of childhood trauma. For months they've been running workshops – which will continue for months after 'Pericles' has ended. For safeguarding reasons I'm not given much specific information on the community performers, but I am introduced to Sally and Percy, two members of the 'Pericles' company.
The main thing I get is how much it's meant to them: as much as anything else, the workshops have been enjoyable as social occasions.
'I've made so many friends – it's the best thing I've ever done,' says Sharon.
'This experience has really opened me up, it's so crazy, it's so beautiful, it's so different,' agrees Percy.
Clearly, though, 'Pericles' itself is the big deal, and both are bowled over by the NT's no-expenses-spared approach.
'We are pirates!' says Sally. 'I'm pirate number nine! We've got three costume changes, we're even having costume fittings. It's amazing.'
The logistical challenges of working with 200 amateur performers are as gargantuan as you would expect, and there will only be three performances of 'Pericles'. But far from being a worthy afterthought, it's the biggest, boldest show of the summer – don't miss out.
'Pericles' is at the National Theatre, Aug 26-28.
See more great theatre in London
London's theatre calendars are flooded with acclaimed shows, big names and hotshot directors, and there's no way anyone can see them all. As a starting point, the Time Out theatre team have picked ten shows opening in London this month that you won't regret booking for.