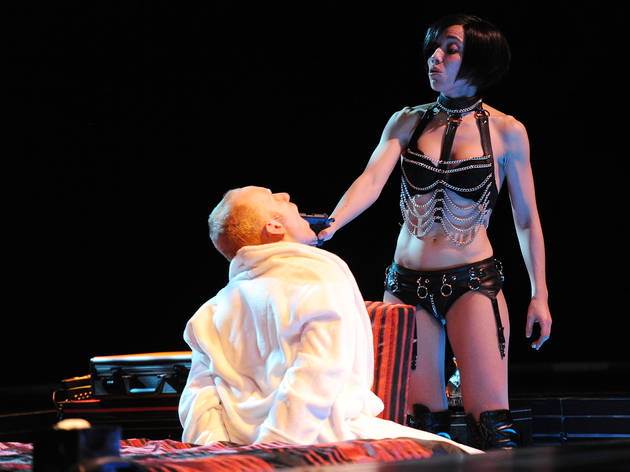 If you're going to see one interval-free, Vegas-set satirical epic this year then I would implore you to snap up tickets for The Team's batshit mental blues musical 'Mission Drift', coming to the National Theatre this summer.
If you're going to see two interval-free, Vegas-set satirical epics this year then I suppose you're probably also going to have to watch Robert Lepage's 'Playing Cards 1: Spades', a rambling in-the-round show possessed of roughly the same length, structure and watchability as a weekend soap omnibus.
French Canadian performer-director Lepage remains revered for the form-pushing physical theatre epics of his '80s and '90s heyday, but the most striking thing about 'Spades' is how conventional it all is.
Sure, it's supposed to be the first part in a projected tetralogy of in-the-round shows based (somehow) on the four suits of the deck of cards. But what we actually get in the standalone show is four mildly quirky storylines, filled out indulgently over two and a half hours. So we have the Danish soldier who is having a meltdown; the illegal immigrant maid whose health is failing but who can't go to a doctor; the uptight Quebecois couple who are 'liberated' by a man named Dick; and the British TV executive and recovering gambling addict who has, in a cruel twist, been sent to Vegas by work.
None of the characters is especially interesting – indeed the oft-scantily clad women are barely characters at all – but Lepage keeps things technically dazzling with his revolving stage and short, slick scenes. And there is something powerful touched upon in his plausible articulation of a modern America in which none of the characters is a passport-carrying American. But 'Spades' stakes very little of itself on big issues, and it's becoming increasingly difficult to shake the belief that Lepage's days as an artistic high roller are over. Andrzej Lukowski