Puppet theatre in London
A puppet show can be more than Punch and Judy – here's our guide to the magical marionettes performing in London right now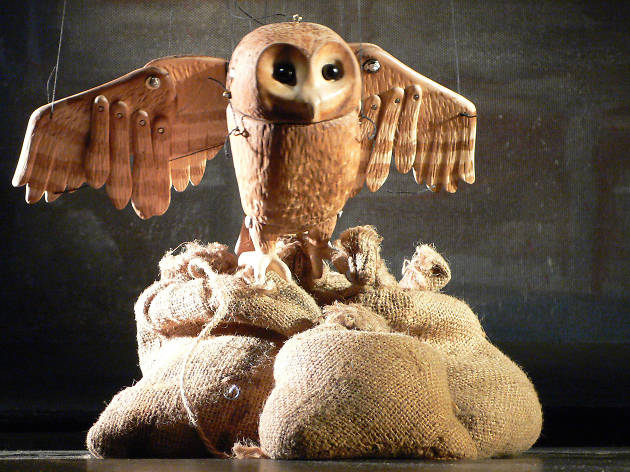 You may not have seen one since your favourite film was 'Pinocchio', but there's no denying the nostalgia-pricking joy of a well-produced puppet show. So where to see one? Here's our guide to the best puppet shows currently playing on London's small stages.
Find a London puppet show
Nope, that's not a typo - Garlic Theatre's refreshing retelling of 'Jack and the Beanstalk' features talking beans, as well as their trademark combo of adorable puppets, jokes and audience participation.
Read more
CBeebies stars 'Sarah & Duck' hit the stage for the first time at Wimbledon's Polka Theatre. They're holding a big top birthday party for the scarf lady who lives in the garden, in a giggle-worthy adventure with puppets, stories and songs. Aimed at ages three to six, all ages welcome.
Read more
  This is one children's show where the adults are guaranteed to laugh as hard as the kids (and probably more). Little Angel's latest production tells the superbly silly and at times wonderfully surreal story of ballet-mad mutt, Biff, whose dream is to become a ballerina and dance alongside his owner, the similarly ballet-smitten Anna. But as Anna's dad, played with enjoyably no-nonsense bluff by Andrea Sadler, insists on telling us: 'Dogs don't do ballet!' It is a view shared by Anna's irrepressible ballet teacher (Ronnie Le Drew), whose Edna Everage-like gusto provokes much hilarity amongst the audience. Biff sets out to prove them all wrong and inspired by a highly comical dream sequence that's a mix between 'Fantasia' and 'Scooby Doo' he sets off to fulfill his dream. Le Drew and Sadler bring the puppet and non-puppet roles to life impressively, and much of the set and many of the puppets are exquisite and cleverly designed. This is a rollicking romp of a show that also manages to subtly pose questions about difference and stereotyping. It's also probably the only place you'll get to watch a dog in a pink tutu dance to Swan Lake this Christmas. Ages 2-6. By Rebecca Taylor
Read more
Puppet duo On The Other Hand perform 'Peter and the Wolf' using a handpainted set and gorgeous traditional puppets. It's the story of a boy who lives on the edge of a huge forest, and escapes a wolf's clutches thanks to a horde of animal friends. Ages four to nine. 
Read more
An interactive theatre show for young children, featuring informal, lively storytelling with music and puppets. Ages 0-6.
Read more
'WOW! Said the Owl' follows a curious owl as she stays awake during the daytime to discover a brand new world of colours. Using a blend of story-telling, puppetry and music this Little Angel production brings Tim Hopgood's book to life. For 2 to 4 year olds.
Read more
Chester Tuffnut isn't your ordinary treemole, in fact he is one of kind! Chester is here to bring happiness and laughter back to the forest, discovering new places, making friends and inspiring everyone to have at least one adventure a day.
Read more
Puppets, sheets and blankets star in this tale of a fussy princess. The Polka Theatre and Banyan Theatre's collaboration is a playful retelling of Hans Christian Anderson's story 'The Princess at the Pea'. Ages three to seven.
Read more
The company depict songs of a great fight, a broken contract and a female smuggler as historic ballads arranged and performed live alongside puppetry and simple illustrations to draw out the tales before your eyes.
Read more