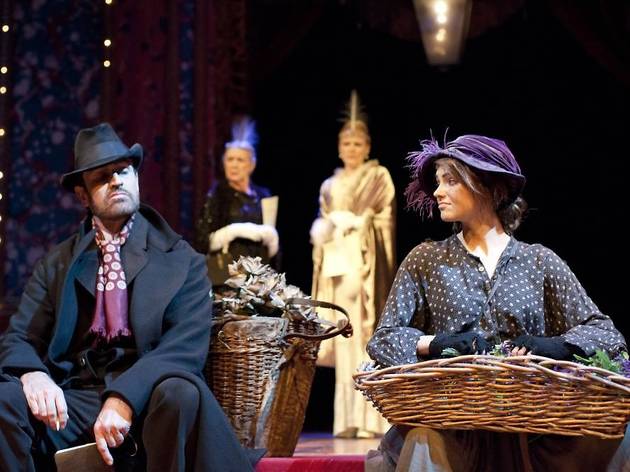 When it comes to the play on which 'My Fair Lady' was based, it's all too easy to find yourself thinking, 'All I want is a tune somewhere.' Director Philip Prowse does oblige, startlingly, with 'Ride of the Valkyries': Wagner's swooping music announces the opening Covent Garden scene with pomp and inky flair; it sets the key for this polished-up, expensively cast, sumptuously Edwardian production.
Prowse's 'Pygmalion' transfers from Chichester, and, in the year since it opened there, Rupert Everett's devilish Professor Higgins has acquired a new mother (Diana Rigg, a splendidly complete explanation for his flamboyant Oedipus complex).
He's also found a new flower girl who has more than a touch of the Valkyries about her. 'EastEnders' and 'Strictly' champ Kara Tointon is a bloomin' luvverly Eliza Doolittle. From the moment she appears, touting violets and torturing innocent vowels on the doorstep of the Covent Garden Opera House, she shows a feisty independence and physical poise that's more than a match for the eloquent sarcasm with which Higgins terrifies fashionable society. She gives a textbook Eliza (Everett's dark, charming, uncosy Higgins is less well rounded, but is a bolder and more interesting departure from cliché).
Their final debate, in which his elegant creation dumps her Dr Frankenstein for the trivial embrace of Freddy Eynsford-Hill, is morally and intellectually gripping. But there would be more at stake if their chemistry were stronger.
Everett's unconventional Higgins and Peter Eyre's gentle, humanising Colonel Pickering are a better-matched pair: jawing in Higgins's book-lined study like the Holmes and Watson of phonetics.
But the production closes with an ill-advised bang, as Everett's Higgins, hunched like a grinning Mephistopheles, makes a fully staged fantasy of Eliza's wedding disappear with a flick of his wrist.
It's a handsome evening whose hidden shallows wouldn't matter if Prowse had only staged 'My Fair Lady' instead...
Rating Breakdown
5 star:

0

4 star:

1

3 star:

0

2 star:

0

1 star:

0
The trouble with George Bernard Shaw's Pygmalion is that, these days, people would prefer it if she married Higgins, rather than soppy Freddy. My Fair Lady corrected the obvious flaw in the play by letting Audrey Hepburn return to Wimpole Street to live happily ever after with Rex Harrison. Common flower girl, Elisa Doolittle is transformed into a passable Duchess within six months as part of a bet between fellow linguists, Pickering and Higgins. Rupert Everett played the part of Higgins with a psychopath's ability to shift from playful to shouty in the blink of an eye. He was a little over-bearing and came across as too heartless. No wonder she didn't marry him. Pickering should pickle his plumptious plosives; he had a wonderful radio voice and he did very well to show Elisa that not all eligible bachelors are blackguards, whatever they may be. Alfred Doolittle entertains us with his views of middle class morality; in the first half he rails against it, revelling in his status as one of the undeserving poor; in the second half he laments his entry to the middle classes with the prospect of everyone tapping him for money. I loved his eloquent explanation that if Higgins would give him five pounds he would drink it by Monday and the professor could be sure that his money would be spent wisely. But he could not accept ten pounds; that was too much, he would be faced with the dilemma of having to save some of it, and that would never do. The star turn was EastEnders star Kara Tointon as Eliza. She played the role in the fashion of Cher Lloyd, who used the professor of fanatics, Simon Cowell, to transform herself in twelve weeks from downtrodden, flower-power, X-factor wannabe to pass off as a Lady Gaga for three minutes. Eliza's vowel sounds were strangled to the extent that it's scarcely credible that anyone has ever talked like that; neither flower-seller nor Duchess. But her jauntiness (and Pippa Middleton's royal wedding clobber) sees her through and the scene where she makes her first appearance as a prototype Lady brought the house down. She was sceptical that her aunt had died from influenza, as had been suggested, on account of the fact that she did not inherit her straw hat. "Them's that got 'er 'at done her in!" The EastEnders writers would have changed the ending and would have had more credible accents, but plays are cool. Go see.