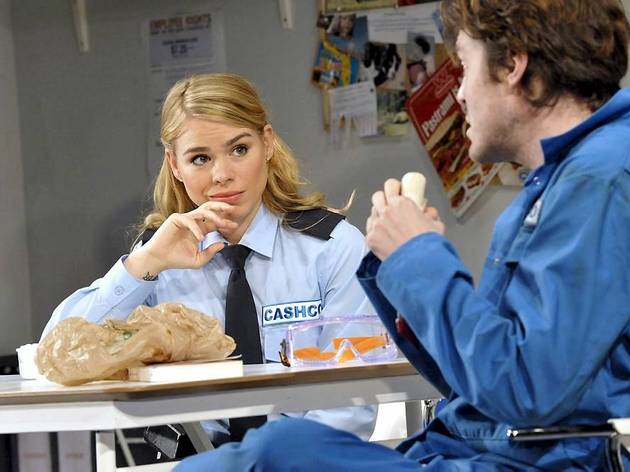 The furious row that begins Neil LaBute's third play about society's obsession with looks is way over the top. Can Siân Brooke's Steph really be quite so enraged because her boyfriend, Greg, was overheard admitting that her face was 'regular', even if he did continue to say that he wouldn't trade her for a million bucks?
It doesn't help that Brooke is by any standards extremely attractive in Michael Attenborough's production, presumably to emphasise that this is more about Steph's insecurity than her boyfriend's comment. After four years of living together, you would think that Greg would know how to reassure her by now.
Indeed, far more shocking than the row, is the fact that Tom Burke's Greg is a decent bloke, not at all LaBute's usual brute. So much so that it's hard to believe that he could ever be best friends with the obnoxious, misogynist Kent, with whom he shares the graveyard shift humping containers at a local warehouse.
Typically, Kent says of his pregnant wife, played by the luscious Billie Piper, 'Long as she hits the gym, like, day after she delivers, we're all fine…' This is from the man who is already shagging the foxy new girl in the shipping department. In an excruciating scene, Piper's Carly puts Greg on the spot, challenging him to tell the truth about her husband's infidelity.
Soutra Gilmour's design is also not to be judged by appearances. It is a revolving drab container, which cleverly opens up to reveal the scenes within. LaBute pursued a similar theme in both 'The Shape of Things' and in 'Fat Pig'.
As ever the dialogue is spot on, although I occasionally missed the visceral energy of his previous plays. But it's a welcome change to have a sympathetic guy on stage, whose feelings for his girlfriend are driven by his head and his heart rather than just his dick.
Rating Breakdown
5 star:

0

4 star:

2

3 star:

0

2 star:

0

1 star:

0
Agree with everything said below! A superb play- well acted, well directed, well designed. Just the right dose of everything. Second half is where you can really feel the subtle, unsaid emotions (amazing dialogues..really) and the quality of acting. I personally could not relate to Steph's character very easily and found it hard to concentrate in the first scene because, although Im a girl and I do care about looks, I can't understand why anyone would get so angry at such trivial thing.. I totally sided with her boyfriend there!
It's a typical Neil LaBute, it's about relationships - not very sexy in these times of 'innovative' theatre and visual spectacle - and it's dialogue reliant. But thank God for something that isn't trying too hard. I cared about the characters, LaBute's dialogue is spot on and you'll be wincing and laughing at the arguments - 'cos they're exactly the same as the ones you'll have had yourself - and the story is a simple one. And what a joy to watch a consummate piece, well cast and beautifully acted and not have to sit through some experimental tosh. I've had it with things like Earthquakes in London and a million other half-baked, promenade/site specific/verbatim/whatever else is the current bandwagon mince - I want to buy a ticket for something that's good, that's thought-out, that's crafted - not something that fulfils the idiotic Arts Council funding brief for innovation - for innovation's sake. Reasons to be Pretty is simple, well-acted, well-written, poignant and funny - and booking out fast. What a relief to see some decent writing and something that hasn't the director's ego splattered all overit for a change.