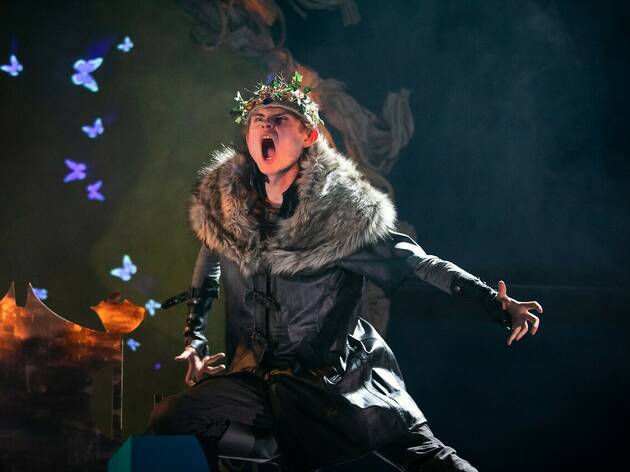 Time Out says
This ambitious promenade spin on 'Red Riding Hood' reopens the Polka kids' theatre after an £8.5m refurb
First things first: 'Red' is the show that reopens Wimbledon's much-loved Polka kids' theatre after a walloping £8.5m refurbishment. It's such an eye-watering sum of money that I really had no idea what to expect, but in effect it's a different building now, complete with a bright, buzzing new cafe, a little shop selling toys and children's books, and an outdoor play area with a cool multistory treehouse in it. Perhaps more relevant, a once fading-looking theatre in an underserved bit of London must now stand as one of the best-equipped kids' theatres in the world.
'Red' is a slightly curious opener, perhaps. A physical theatre (that's no talking, basically) retelling of 'Red Riding Hood' with bits of British Sign Language in it, elements of the story are conveyed by gesture (as well as the easily accessible BSL). Children are curious and broadminded enough to engage with the show on its own terms, especially as 'Red Riding Hood' is a well-known story. It also helps that Hannah Quigley's production looks great. A piece of promenade theatre that takes place in three of the Polka's newly refurbished spaces, Rachana Jadhav's design is gorgeous, and there were audible gasps as we stepped into the second room, a sort of rubbish-strewn swamp with lovely floor-to-ceiling projections and a fun, easily accessible dance element. The last bit, too, clicks into place nicely, with a familiar red-cloaked figure plus wolf nemesis finally making an appearance.
Still, it's quite a different reworking of the story, and while the general shape of the action is fairly apparent, the specifics are often elusive. The opening section introduces us to a character roughly equivalent to the original story's Woodcutter. But we never managed to work out who the man and the baby they spent the entire scene interacting with were. The official blurb to the show says 'the wolves have seized power from Queen Sukotai' but this is a very exact detail: I have no idea if Queen Sukotai was even a character in the show. I just feel like a tiny bit more guidance – be it a voiceover, extended accompanying blurb, or even a slightly simplified story – might have converted the young audience's polite reception into something a bit more whole-hearted.
Still, it's a bold and striking show, and if it's not entirely successful, it's because it shoots for something ambitious and falls a little short. It marks the Polka out as a braver theatre than it used to be: it's great to have it back.
Details
Best selling Time Out Offers