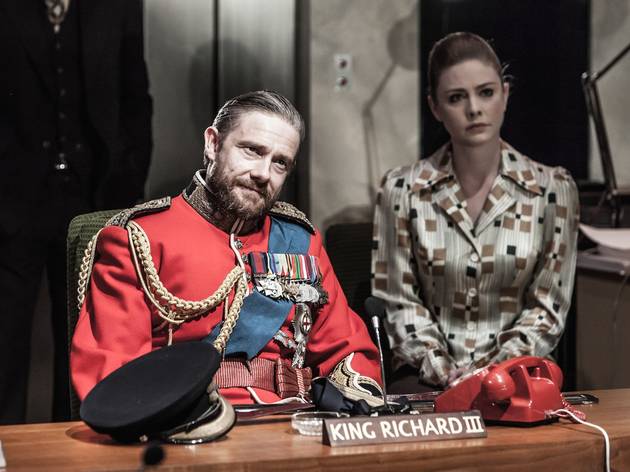 1/5
© Marc Brenner
Martin Freeman and Lauren O'Neil
2/5
© Marc Brenner
Simon Coombs, Gerald Kyd and Gina McKee
3/5
© Marc Brenner
Forbes Masson and Philip Cumbus
4/5
© Marc Brenner
Forbes Masson, Martin Freeman, Philip Cumbus, Jo Stone-Fewings
5/5
© Marc Brenner
Gerald Kyd, Mark Meadows, Simon Coombs
Saying that Martin Freeman's Richard III perfectly captures the banality of evil may sound like damning the everybloke actor with faint praise. But this is a clever interpretation of Shakespeare's ultimate bad guy.
London's last two major Richards were Mark Rylance, the most original actor of his generation, and Kevin Spacey, the most charismatic. Freeman isn't either of those
things, but in Jamie Lloyd's production, he smartly plays to his strengths while deftly puncturing his nice guy image.

Lloyd's trim, lucid 'Richard' is set in January 1979, aka the Winter of Discontent, which has the effect of turning the play's famous opening line into a reasonably good joke. Beyond that, this production's claustrophobic beige, brown and blood-soaked netherworld is more evocative of the USSR at the height of Stalin's Terror than Britain's difficult '70s.

As murderously ambitious nobleman Richard, Freeman is low-key and dissembling, rarely deviating from clipped, neutral politician's speaking tones. He orders the execution of enemies and rivals with all the élan of a man reshuffling his Filofax. And somehow that's terrifyingly plausible, far more than if he were a cackling loon. Moments of 'Office'-style mugging reveal flashes of a different man, but the truth is that this Richard really is an efficient bureaucrat – and that's what makes him so dangerous.

Detractors of Lloyd and his starry 'Trafalgar Transformed' seasons say he makes over-excitable theatre for audiences with short attention spans. And it does take time to settle – stylistically, the early parts shift from political drama to 'Abigail's Party'-style comedy, to supernatural horror. It's kind of knackering, but after a while Lloyd settles on a claustrophobic Cold War thriller, and from thereon it's smooth sailing, a stylish ensemble piece indebted to the likes of 'The Manchurian Candidate' and 'Tinker, Tailor, Soldier, Spy'.

Soutra Gilmour's office set – which makes it apparent that all the action is taking place in a single, cramped building – and Ben and Max Ringham's eerie ambient music function as the perfect pressure cooker for Richard's cynical rise to the English throne, and the bloody deeds that pave his way. Freeman makes plenty of room for his cast mates – other fine turns include Jo Stone-Fewings's palpably dangerous Buckingham and Gina McKee as a regal but deeply afraid Queen Elizabeth.

There is a worry that the prolific Lloyd's hyperkinetic shows are starting to feel a touch familiar. But once 'Richard' takes a cue from its leading man and turns things down a notch, it finds its feet: a cool study in establishment evil.
Average User Rating
3.5 / 5
Rating Breakdown
5 star:

1

4 star:

0

3 star:

0

2 star:

1

1 star:

0
I've been on a sort of a theatre kick the last six months or so, and, honestly, Martin Freeman in Richard III is the best thing I've seen on stage this year. He'a phenomenal actor who splendidly portrays Richard as simultaneously despicable and yet charismatic and even witty. Gina McKee shines as Queen Elizabeth and Maggie Steed is glorious as the oft-omitted Queen Margaret. The rest of the cast are equally brilliant and I was particularly impressed with Jo Stone-Fewings playing Buckingham.
The staging and the production are brilliant. Kudos to Jamie Lloyd for daring to be edgy and setting the play during the Winter of Discontent in 1979; bringing the play to modern day only underscores Shakespeare's genius in making his work have relevance even today. It captures perfectly the horrors of Richard's bloody ascent to the throne and presents them to audience explicitly. And although I've heard several criticisms of the blood and gore in the production, this is precisely why the blood works so well, especially for a work where the murders traditionally take place off-stage.
Even days later, I am still thinking about how excellent the production was and I will probably try to see it again on one of Trafalgar Studios' £15 Mondays. Which, by the way, is a much-needed scheme designed to encourage younger audiences and first-time theatre-goers. It would be great if more theatres made their productions accessible to a broader audience.
Go along if you want to gawp at Martin Freeman and if every time he raises an eyebrow you think it's the funniest thing since Basil and Manuel. This production shreds the play, relies on tricks and gimmicks, fireworks and the unaccountable use of microphones. If Jamie Lloyd understands the play he clearly doesn't expect his audience to. If you don't know the play before you go you won't come out with any more idea of what it's all about. Pity the poor actors who do what they can on an idiotic set, against horrendous noise. The horror of Richard III is in the text - it doesn't need graphic torture scenes and protracted killings to get the idea across - though Lloyd obviously thinks it does. A great waste of good actors, a great venue and a half decent play.