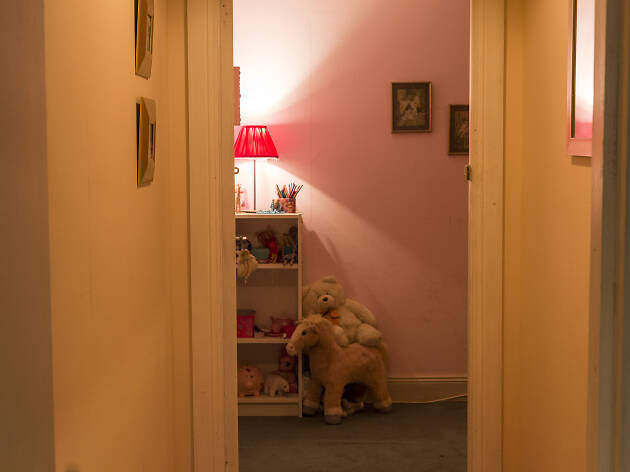 Time Out says
Unsettling, slightly unwieldy installation theatre show set around five Enda Walsh monologues
Sometimes, in a grand museum, you'll see a whole room, contents and all, uprooted and carefully preserved - as a specimen of a certain era of interior design, or a record of a renowned artist's working methods. Irish writer/director Enda Walsh's theatrical installation has a similar feeling, but the five rooms he's created are determinedly ordinary, full of greying teddies or hummocky old carpet. Entering each one means crawling inside someone else's head and world, fleshed out through a pre-recorded, Beckettian audio monologue.
Walsh has assembled a supergroup of Irish actors to tell these stories: Eileen Walsh's narrative 'Kitchen', which unfolds in a bleach-scented suburban home, is a disturbing record of a woman trapped by domesticity with shades of Beckett's 'Happy Days'. Niall Buggy performs 'Room 303', a similarly intense monologue about a dying man locked in a battle of wits with a bluebottle who buzzes over his bed. Both stories are set entirely in the confines of the room they unfold in, and there's a distinct magic about the way their themes of stasis, of being trapped, interact with the stale smells and cramped environments of these painstakingly recreated spaces.
'A Girl's Room' has a different kind of power: in a room cramped with mildewed '90s toys, Charlie Murphy talks about the child's bedroom she can't leave behind, even as she walks out on the parents who neglected her. But the two most complex narratives ('Bathroom' and 'Office 33A') feel a bit less successful: it's a struggle to follow their jumps and starts, their stories which strain against the room's flimsy walls.
The format is also a bit of a clunky one. Each story is a different length, meaning that there's a lot of awkward waiting around between each room. And somehow, the potential of these spaces isn't quite realised: they're only semi-interactive (you can touch some things but not others) and there's not much to discover in them, beyond atmosphere. Still, it's an enjoyably idiosyncratic project, an unsettling addendum to Walsh's hit 'Grief is the Thing With Feathers', currently on the Barbican's main stage. And at their best, Walsh's rooms have the power of a slow-blooming mould, quietly infecting the chambers of your mind, one by one.
Details
Users say