Rosencrantz and Guildenstern are Dead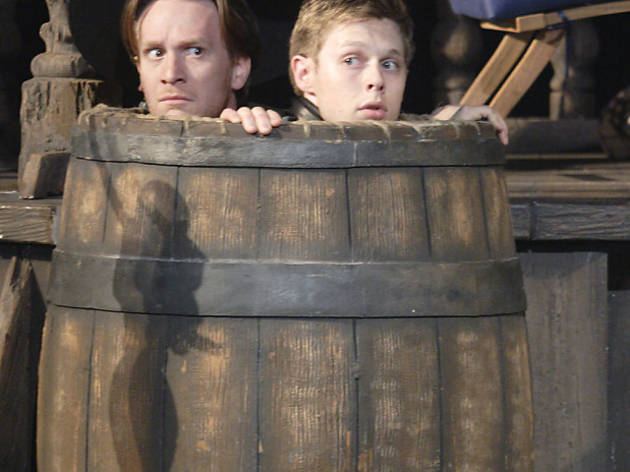 Tom Stoppard's first major play is a student classic. Its cult undergrad appeal is only exceeded by its existential progenitor, Beckett's 'Waiting for Godot', and it's written in the spirit of unusually erudite loo graffiti, scribbling over the Shakespeare tragedy within whose corridors it squats with irresistible cleverness and élan.
In Trevor Nunn's commanding production, Samuel Barnett's Rosencrantz and Jamie Parker's Guildenstern are lost in 'Hamlet' – in skinny jeans from the waist down, their clothes place them wittily half-in and half-out of the Shakespearean action which sweeps them up at will.
Nunn – who would have directed the play's premiere in 1965 had the RSC's new-writing budget not fallen through – never forgets this is a comedy. And he's cast a fine double act in Barnett and Parker: the latter's Guildenstern is philosophical, pensive and confounded, while Barnett's Rosencrantz rises to glorious heights of withering scorn. The duo's Wimbledon of words is a joy – they lob questions and answers over an imaginary net like Socratic Andy Murrays.
There's often more rhetoric than wit in Stoppard's early plays and the sheer dazzling fictional conceit does wear thin at times: this is, flamboyantly, a play within a play within a play within a play; its authenticity is subject to diminishing returns.
But Stoppard's talent for staging paradoxes is already highly visible and given marvellous expression by Simon Higlett's set. Its boarded roof narrows to an optical vanishing point, and the glittering major characters from Shakespeare's 'Hamlet' enter and exit through receding arches which curve away like neverending reflections in parallel mirrors: just the kind of postmodern glass, in fact, that Stoppard's precocious play holds up to the theatre.