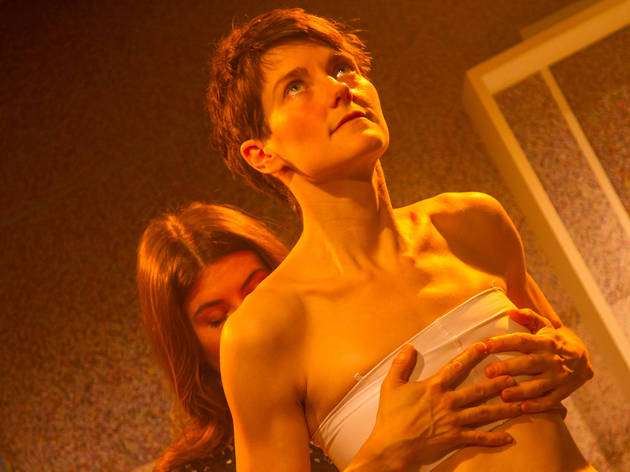 1/5
© Piers Foley
Alice McCarthy and Anna Martine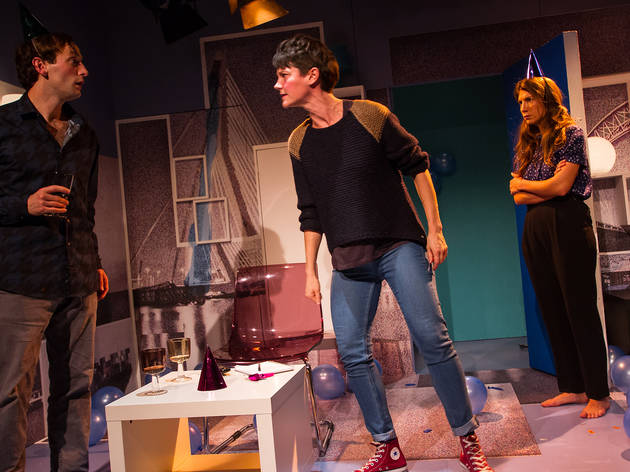 2/5
© Piers Foley
Ed Eales-White, Anna Martine and Alice McCarthy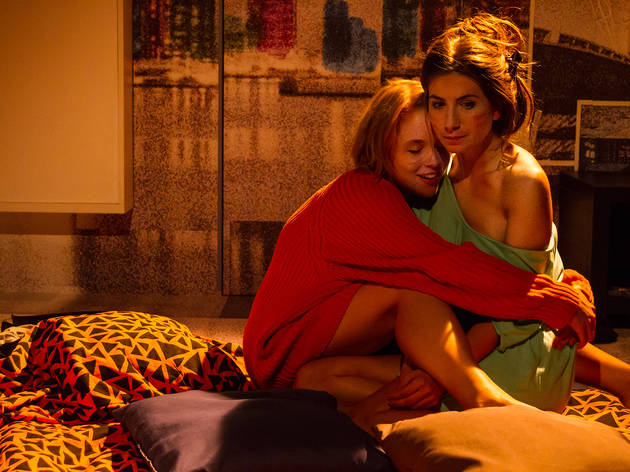 3/5
© Piers Foley
Jessica Clark and Alice McCarthy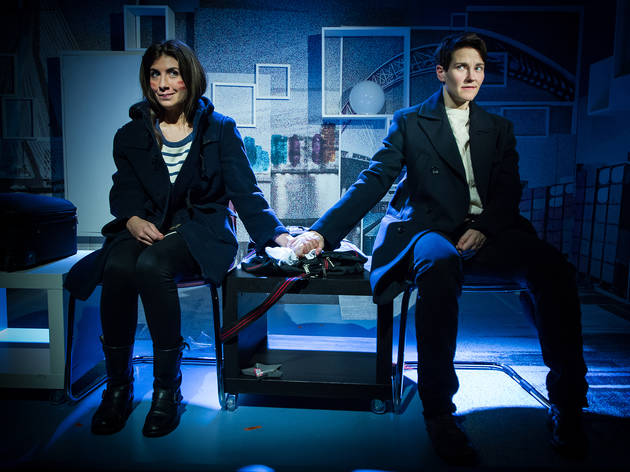 4/5
© Piers Foley
Alice McCarthy and Anna Martine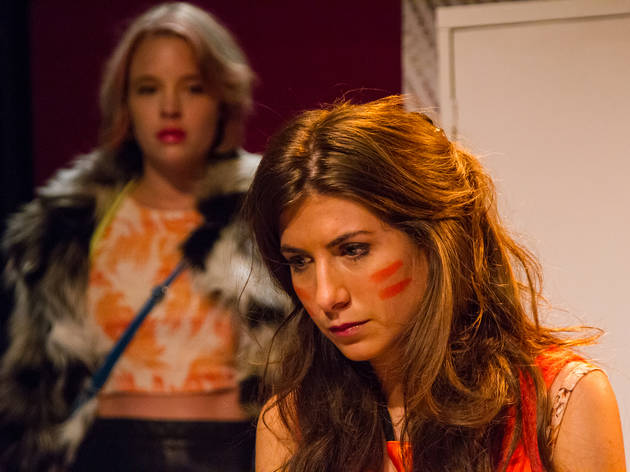 5/5
© Piers Foley
Jessica Clark and Alice McCarthy
Affecting drama about a lesbian couple facing big life decisions
'Rotterdam' will transfer to the Arts Theatre in June 2017. This review is from the 2015 run at Theatre503.
Congrats, millennials, I think we've made it. This tender little gem from 'Margaret Thatcher Queen of Soho' writer Jon Brittain is about a lesbian couple, one of whom reveals she's transgender. And it's the most normal thing in the world. It doesn't ogle or leer, it doesn't present Alice and Fiona as weird or anomalous. It humanises and empathises – and forces its audience to do the same.

It's New Year's Eve in Rotterdam. Alice (Alice McCarthy) is about to come out to her parents, while Fiona (Anna Martine) has a bigger bombshell to drop. Dutch partygoer Lelani (Jessica Clark) helps Alice open up and smoke weed, like some gay-manic-pixie-dream-girl.

Brittain has written four wonderful characters, the central couple giving McCarthy and Martine the chance to put in two powerful performances. Alice is nervy and neurotic, Fiona stony and cynical.

Martine plays Fiona as a firecracker who, in becoming Adrian, is suddenly forced to be vulnerable, to be scrutinised and re-assessed by all his friends even when he's not sure what he's doing himself.

While the play sensitively probes the difficulties of being gay and of being transgender, Brittain never lets the seriousness drown out the humour. Laughter comes particularly from Ed Eales-White's sweet and innocent Josh, Fiona's brother, a brilliant comic aside in what could otherwise be a po-faced work.

Brittain's play is another reminder – warm, witty and wise – of the stupidity of thinking that there are only two genders. He has an eye for tenderness, like two women sharing smoke from a joint, and an ear for the undulations of couples' conversations.

Even if only on a small Battersea stage, it's great to see trans issues getting not only more exposure (just look at the wonderful Rebecca Root in BBC 2's recent sitcom 'Boy Meets Girl') but more respect too.
Average User Rating
4.5 / 5
Rating Breakdown
5 star:

13

4 star:

5

3 star:

3

2 star:

0

1 star:

0
I liked the story and the theme of the play. Found the first half quite uncomfortable with all interactions between characters involving a lot of yelling and like everyone was constantly on 5th gear in how they communicated. I enjoyed the second half of the play more than the first. The content was thought provoking and I liked some of the characters, but would agree on comments below about 'over acting' and that I thought it made the play feel a bit one-dimensional and tiring. Great to have some theatre exploring trans issues from female-to-male perspective!
Loved this play. Toes the line between comedy and seriousness really well - laugh out loud funny at some points and definitely saw some tears from the audience at others. Deals with some important issues in a very honest way. Great acting from the four cast members throughout. Enjoyable from start to finish, highly recommended.