Sancho: An Act of Remembrance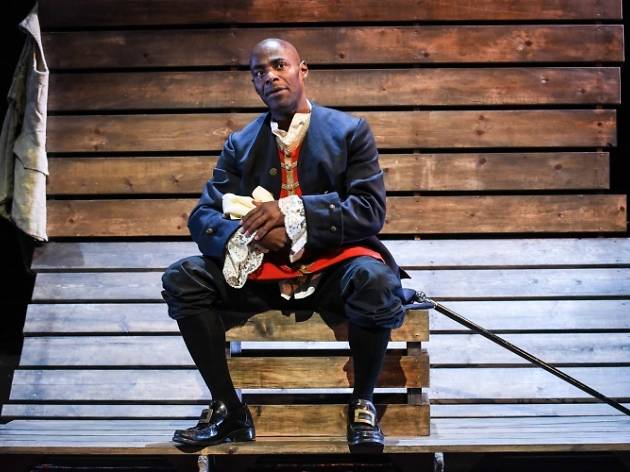 Time Out says
Actor Paterson Joseph's fine solo play about forgotten black Briton Ignatius Sancho is restaged at the Lyric Hammersmith
This review is from Wilton's Music Hall, 2018. 'Sancho' will be restaged at the Lyric Hammersmith in front of a socially distanced audience in 2021.
Paterson Joseph (aka Alan Johnson the cool boss in 'Peep Show') announces, in the opening moments of his solo show, that 'I wrote this play because I wanted to be in a costume drama'. And even if stale casting practices shut him out of roles in telly's endless Austen adaptations, 'Sancho' provides a golden opportunity for him to dress up, and delve into a neglected story of an eighteenth-century black British gentlemen.

Ignatius Sancho's life unfolds more like a picaresque novel by the likes of Laurence Sterne (his hero and mentor) than a true story. He was born into slavery, then taken up as a kind of pet or plaything by three middle-aged women. They wouldn't let him read, so he ran away, aged seven, where he was found weeping on Blackheath by a kindly nobleman who secretly educated him. His adventures from then on point to the parlous status of black people in eighteenth-century London – the same rarity that meant they were prized as servants also meant they were dehumanised, stereotyped as child-like or docile, or treated with horror by passers by. And that they lived with the constant threat of being sent to America's unimaginably brutal slave plantations.

This menace adds depth to Joseph's fluid, witty approach to his eccentric subject. He's lisping, proud and corpulent as Sancho, who grew from precocious child, to ambitious valet, to married shopkeeper and man of letters. Then he morphs into his pompous employers, his hilarious wisdom-dispensing, richly Caribbean-accented wife, and the literary lions of Georgian London who he kept up correspondence with.

Biographical one-man-shows have a kind of built-in shortcoming: any shock or suspense in the story is muffled by the certain knowledge that their hero survived, became great, then grew old and philosophical. The need to conjure up a whole world means that real people are flattened into caricatures. But Joseph is such a charismatic performer, and the story so interesting, that this almost doesn't matter.

Dear BBC guys: Please make a costume drama about Sancho now. I'm pretty sure you know who to cast.
Details
Dates And Times