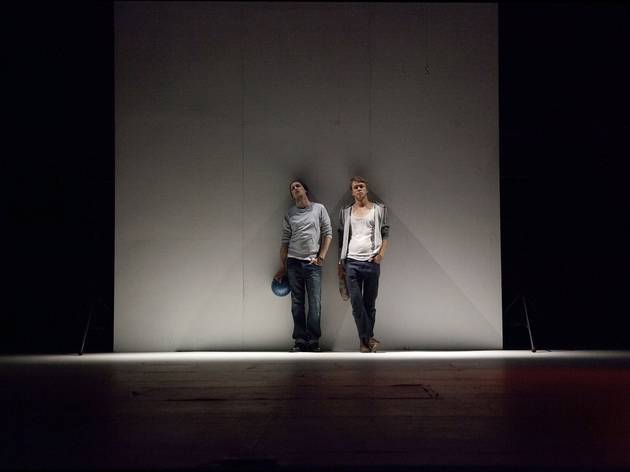 1/3
© Alexandra Davenport
2/3
© Alexandra Davenport
3/3
© Alexandra Davenport
Spoiler alert!– in about 20 words' time this review will reveal the identity of the first show in the Lyric Hammersmith's 'Secret Theatre' season (confusingly code-named 'Show 2'), so if you don't want to know what it is, best stop reading now.
Anyhoo, 'Show 2' is 'A Streetcar Named Desire' by Tennessee Williams, something you'd have clocked immediately anyway, given the title is in the second line of the play.
Part of the rationale for the Lyric's Secret Theatre rep season – performed in a reduced-capacity main house while the theatre is being refurbished – is to shield the productions in it from the weight of preconception. In that respect, 'Show 2' is a success – 'Streetcar…' is one of the key texts of twentieth-century American theatre, and if the Lyric had announced that it was doing it months in advance it would have been A Big Deal.
Instead the low-key presentation allows director Sean Holmes to get away with an intriguingly Anglicised take on the Deep South classic without big names or too much fuss.
It wobbles at the start: Holmes is normally a master of atmosphere, but this 'Streetcar' begins in a manner that seems deliberately flat. The cast talk, naturistically, in their English – or in one case, Estonian – accents, on a barely embellished white set, and at first it all flops out rather lifelessly.
After a while, though, I confess I found myself entirely won over, thanks largely to Nadia Albina, who plays the central role of Blanche DuBois. She is a little too young and a little too good looking, but she brings an understated nerviness to the tragic 'Southern' belle, and grows exponentially in persuasiveness as the night wears on.
She is also missing the lower half of her right arm, and inevitably this is passed on to her character – her Blanche explicitly can't dial the phone, or open a Coke can. It's possible I'm being monstrously innappropriate in saying this, but for me the sense that her Blanche is under a terrible, self-imposed pressure to pretend she is not only young and pure but also physically fully capable added a deep layer of poignancy.
Whatever the case, she is riveting, a nuanced, girlish and funny Blanche who goes on an engrossing journey, from wilfully low-key to agonisingly vulnerable.
If this production had been A Big Deal I'd guess we'd have got greatly improved light and sound design and better thought-through use of the minor characters, whose scenes have an afterthought-ish quality.
But after an uphill start, this barebones 'Streetcar' really gains momentum, jettisoning all of Williams's melodramatic baggage and mannered Southern poetry in favour of something pure, crystalline and heartbreaking.
By Andrzej Lukowski