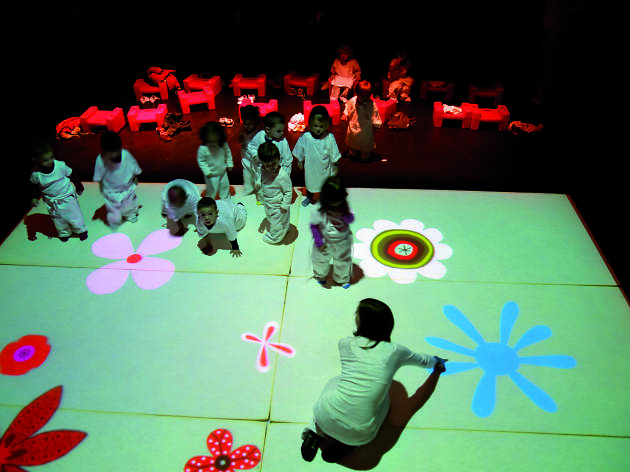 Interactive toddler show 'Sensacional' is indeed sensational
A lot of light- and sound-based theatre for the very young tends to be difficult to distinguish from the sort of 'sensory' stuff you'd find down your local playgroup.
But 'Sensacional', a show for 18-month to three-year-olds, is something a bit more special. Parents are sat around the perimeter of a big white square, while offspring don white trousers and tops and step on to the square itself.
In the Unicorn co-production with Catalan company Imaginart, has only one human performer who takes in the role of dancer, MC and adult playmate.
But really it's all about the projections: blooms of flowers, shoals of fish, flocks of ducks and more besides vividly come to animated life on the floor. Even to jaded adults it looks really cool, and for the tots it's a bit like being thrust into a living cartoon or video game – my son had a high old time gallumphing around chasing flashing mushrooms.
Some of the younger children seemed a little overwhelmed by it all come the end, but my jazzed-up three-year-old requested an immediate return visit, which is probably more enthusiasm than I have demonstrated for any theatre, ever.
It's also worth noting that there's a soft-play set-up in the Unicorn foyer while 'Sensacional' is on, meaning there's a blessed outlet for that toddler energy even if you get there early.