Heads up! We're working hard to be accurate – but these are unusual times, so please always check before heading out.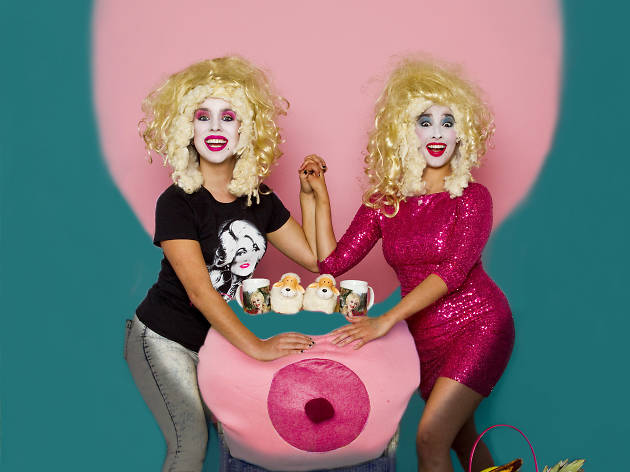 Sh!t Theatre: 'We're dressed as literal giant tits'
Sh!t Theatre's hit show 'DollyWould' is all about Dolly Parton – here's why
Hilarious, anarchic theatre duo Louise Mothersole and Rebecca Biscuit made their name with shows about feminism ('Woman's Hour') and the housing crisis ('Letters to Windsor House'). Their latest show is all about Dolly Parton, and it's coming to London after rave reviews at the Edinburgh Fringe. Here's why the huge-haired country music heroine has got their creative juices flowing.
She's a songwriting genius
Rebecca Biscuit 'She's the biggest selling female singer-songwriter of all time. We tried to learn her songs for this show, and we just had to give up...'
Louise Mothersole 'Songs like "Jolene" are so complex but she makes them sound so easy.'
She's a feminist icon (whatever she says)
RB '"I am not a feminist" – that's a direct Dolly Parton quote. But no matter how much she protests, she's a completely empowered, complex human being, and in that way I would claim her as a feminist. She is so business-smart. And she turned down Elvis when he tried to cover "I Will Always Love You", which was a massive deal back in the '70s because he was fucking Elvis.'
She's become a symbol
LM 'One of the stories in the show is the famous one where she once entered a Dolly Parton drag queen look-a-like competition and lost.'
RB 'That was sort of the main crux of the ideas in the show. That the symbols of Dolly have overtaken real Dolly so much that you can put tits and blonde hair and rhinestones on anything and it is more Dolly Parton than Dolly Parton is.'
There's more to her than mammaries
RB 'This is a really silly fun show. It's also about immortality, plasticity, decay, linking Dolly Parton to Dolly the cloned sheep. But some people do just enjoy the fact we're wobbling about with our boobs out dressed as literal giant tits.'
She'd (probably) love the fact that there's a bonkers live art show that's
all about her
LM 'I think she would, anyway. She's the first person to take the piss out of herself, and we know she likes things where the subject is her.'
RB 'We decided we would make the show so it wouldn't be a problem if she ever came to see it. It's not a taking-the-piss show. Although one of the early shows we did, we got a letter from a crazed Dolly Parton fan in the audience...'
LM 'What she said was, "You say that you love Dolly Parton. I don't see the love!" But it's most definitely there.'
'DollyWould' is at Soho Theatre. Until April 12