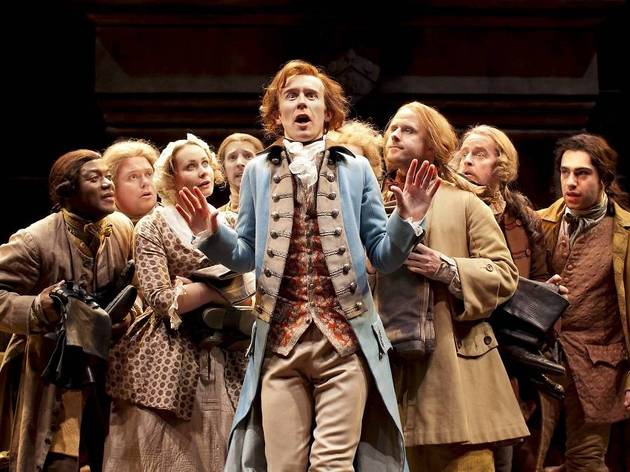 Oliver Goldsmith's 1773 classic 'She Stoops to Conquer' shows its age in some respects but it still has a cracking premise. It's a comedy of mistaken identity, in which lusty young toff Marlow is duped by local ne'er-do-well Tony Lumpkin into believing that wealthy country couple Mr and Mrs Hardcastle – actually his prospective in-laws – are the eccentric owners of a rural inn.
If only Marlow viewed all classes with equal respect, he could have survived Lumpkin's jest unscathed. But alas no: while he's on his best behaviour in polite society, he treats the lower orders with the easy contempt of the trueborn English gent.
Jamie Lloyd has great fun at Marlow's expense in this terrifically funny revival: arguably Goldsmith didn't intend him to be that bad, but here Harry Hadden-Paton's Marlow and BFF Hastings (John Heffernan) come across like a pair of over-entitled city boys out on the razz. They treat the Hardcastle family home like a plaything, mock Steve Pemberton's uptight Mr Hardcastle, and Marlow performs a hilariously revolting little mating dance when he meets Kate, his potential fiancée, whom he believes to be the barmaid.
Totally obnoxious but too naive to be hateful, Hadden-Paton's is one of many fine comic turns: ex-'Corrie' actor Katherine Kelly seriously impresses as a tomboyish, drily amusing Kate; David Fynn is an outstanding slob as Tony; and Sophie Thompson very nearly eclipses them all with a fantastically bizarre performance as Mrs Hardcastle. Her accent – an insane mangling of West Country and RP – is virtually a character in its own right.
Although the whole production is nicely bound together by kitschy movement from Ann Yee and fun songs by Ben and Max Ringham, it all feels more like a series of great turns than a truly coherent comic whole.
There's a feeling Lloyd and cast are occasionally spoofing the play as much as staying true to Goldsmith's intentions, making the ending a bit awkward (do we actually want Marlow and Kate to get together?). Still, it's one way of getting 'She Stoops to Conquer' to tickle modern funny bones, which this revival undoubtedly does.
Average User Rating
3.3 / 5
Rating Breakdown
5 star:

1

4 star:

1

3 star:

0

2 star:

0

1 star:

1
Sophie Thompson gives a performance with such little evidence of acting talent that the jaw drops! What is that accent??? And why are the actors miked with the sound at such a painful level that the ears are left ringing? Is the calibre of actor now being employed at the NT so low that they were not taught to project? Are there no voice classes at drama school any more? By miking the actors the NT take away the energy level required to fill the Olivier Theatre (he will be turning in his grave), thus denuding the performances and leaving the actors with only cheap physical business to try to lift a thoroughly dull evening. This is an appalling production of a wonderful play. Stay away!!!
A hoot! A strong performance by all, though hats off to a particularly brilliant performance from Sophie Thompson
A joy from start to finish.