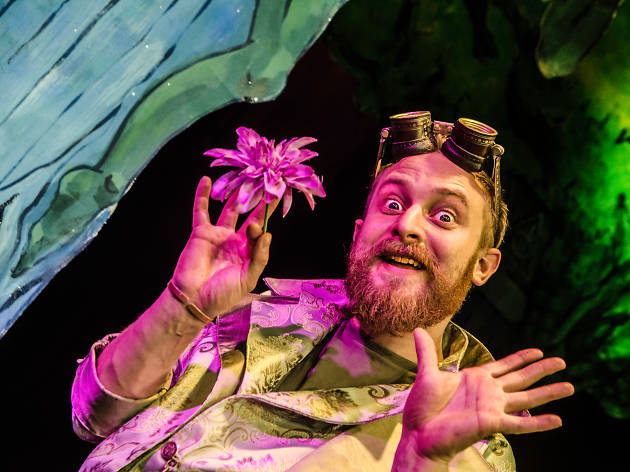 Time Out says
'A Midsummer Night's Dream' + booze. Lots of booze
No, not 'Jeremy Kyle: The Musical'. Transferring from cult success at the Edinburgh Fringe is 'Shit-Faced Shakespeare', an anarchic adaptation of the Bard's 'A Midsummer Night's Dream' where one member of the cast gets tanked up before curtains up.
Our compère for the evening sets the scene for this compact comedy version of the play, where the – let's face it – boring Mechanicals sub-plot your teacher told you was important and all that fairy king and queen nonsense has been cast aside so we can focus on four lovers romping in the woods. The additional twist being that one of the four actors in the hormonal quartet has necked two Stellas, a large volume of vodka and squash, and a tin of pre-mixed Woo Woo – they're a classy lot, these thesps.
It's left a surprise which member of the cast is pissed-up, though the game is given up when he swaggers and smirks his way across the stage and lets his debauchery turn this into what must be Shakespeare's raunchiest number (it's the kind of behaviour that would get you Bard, geddit). Improv is top-notch and although our dear Lysander makes for a lovable drunk, it's the rest of the cast's razor-sharp reactions that carry the play. The only character outside this tangled love web is a well-hung, steam-punk Puck, who helps maintain the daft momentum, although littering his scenes with a few too many ejaculation gags.
Proceedings not-so-gently unravel over the course of an hour in a way that makes you feel just as deliriously drunk. A great night out to get proper pucked up. It's what Willy would have wanted.
Details
Average User Rating
3.1 / 5
Rating Breakdown
5 star:

1

4 star:

4

3 star:

3

2 star:

3

1 star:

1
We had a great experience - the play was hilarious. A lot of people have said the drinking seemed 'put on' but that's what any drunk person in front of a room full of person would do - they'd play up! We found it hilarious - it's a great concept and is genuinely brilliantly executed. I was sceptical at first, but she was clearly absolutely hammered and it worked! I found it better than regular Shakespeare, but I guess it's probably not for stuck up Shakespeare fans..
It was alright. Not bellyachingly ho ho ho ho ho funny, more meh he he he and a bit ha ha ha. The Mrs fell asleep, but then again I'm not sure if that means the show's a bit rubbish or she is. ;-)
A funny skit stretched too long to continue to be funny.The show opens well however as it continues the jokes seemed slightly forced. An enjoyable way to spend an evening but unfortunately not 'laugh out loud' funny.
Sh*t-faced Shakespeare is a great and simple concept. Basically one of the cast members (all of who are classically trained) is drunk....
This was one of the funniest plays I have seen - but only because it was hilarious watching one of the actresses completely paralytic. The other cast members were great at improvising to continue with the play. I couldn't actually follow the plot that well as they went off on a few tangents throughout the production. I would recommend if you are in need of some laughs!!
The theatre that it was held in isn't my favourite as there is a restricted view of the stage if you are seated behind somebody tall. In addition, it is very old and not very clean...
An amazingly brilliant drunken twist on one of Shakespeare's classics. If you are not already familiar of what this type of play is, basically one of the actors is made to get blind drunk before the performance and again during the performance when the audience think they're sobering up. Although the actor was clearly quite drunk, I did feel at times that it was a little put on. However that aside, the performance was hilarious and I was laughing throughout. If you are not already familiar with the plot, it's best advisable to read up on it before as the performance I saw went wildly off script!
Took a friend to see this. I wasn't offended by the crude humour as I enjoy things like Book of Mormon and other rude plays but this was just plain unfunny. It definitely felt like the 'drunk' cast member was putting it on a fair bit. Actually walked out after 30 minutes and decided to spend the time I would have been cooped up in there exploring something better. I would save your cash and NOT go to see this.
Shakespeare and alcohol......a brilliant combination. Loved it! Go see for yourself. May contain strong language but hilarious. Highly recommend it.
One of the most bizarre plays I have ever seen. The premise is simple - find some classically trained actors to do a Shakespeare play and then get one blind drunk before the curtains go up... The night I went, the 'lucky' actress was the one playing Hermia. I do think she exaggerated the drunkenness a little but she was clearly quite drunk - not helped by the three/four drinks she had during the play. Not much Shakespeare involved, though you do get the gist of the play. If you're a fan of Drunk Histories, this is one for you.