Showstopper! The Improvised Musical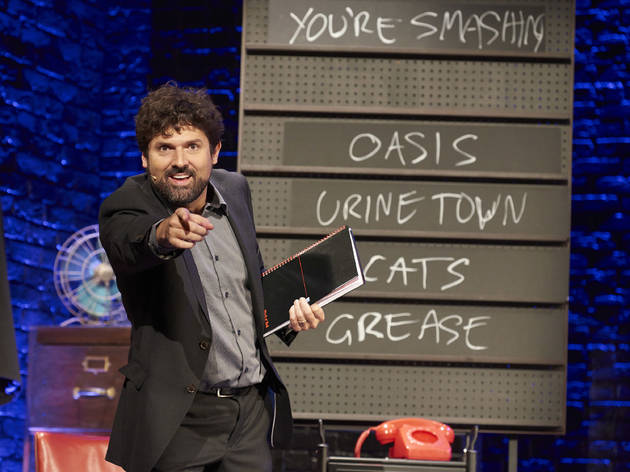 1/8
© Geraint Lewis
Dylan Emery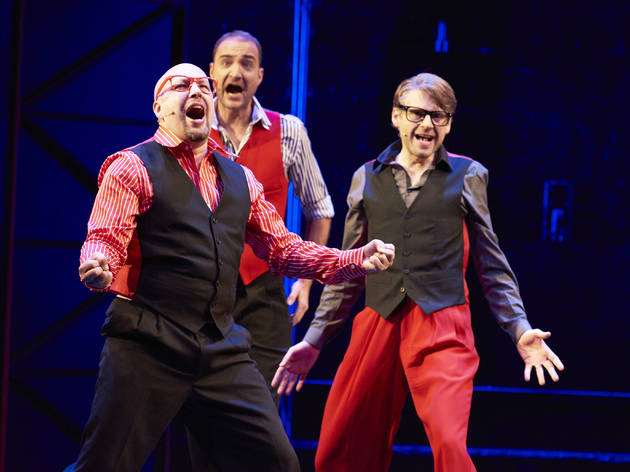 2/8
© Geraint Lewis
Adam Meggido, Justin Brett and Andrew Pugsley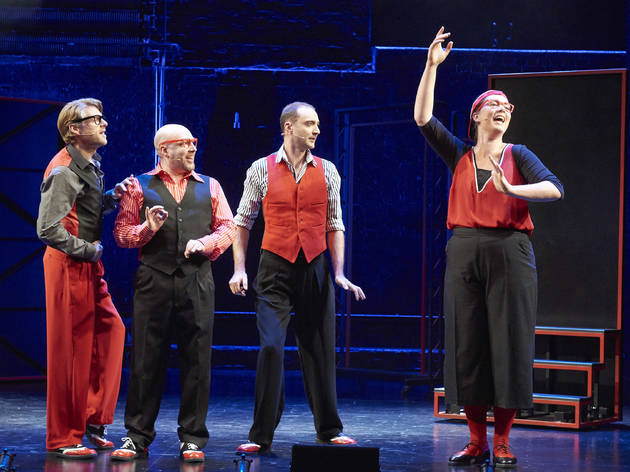 3/8
© Geraint Lewis
Andrew Pugsley, Adam Meggido, Justin Brett and Lucy Trodd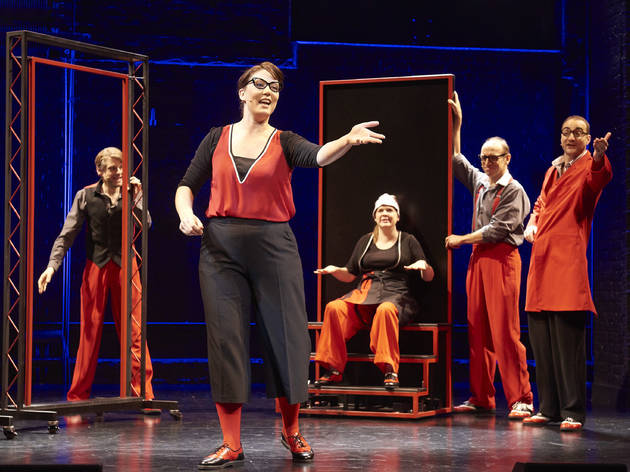 4/8
© Geraint Lewis
Andrew Pugsley, Lucy Trodd, Ruth Bratt, Phillip Pellew and Justin Brett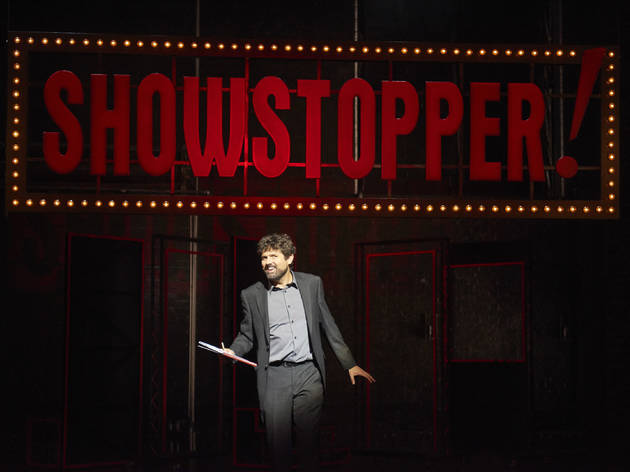 5/8
© Geraint Lewis
Dylan Emery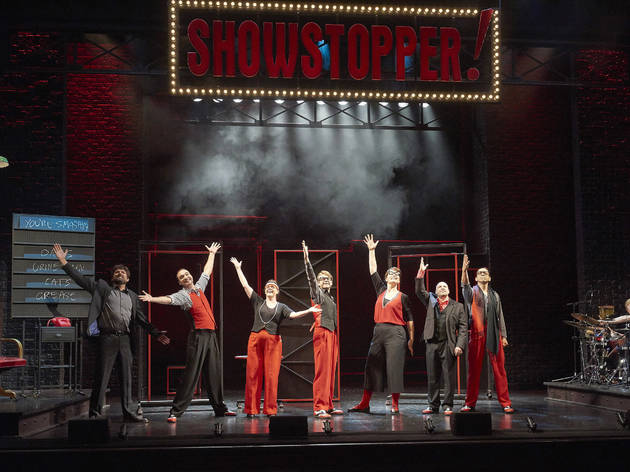 6/8
© Geraint Lewis
Dylan Emery, Justin Brett, Ruth Bratt, Andrew Pugsley, Lucy Trodd, Adam Meggido and Philip Pellew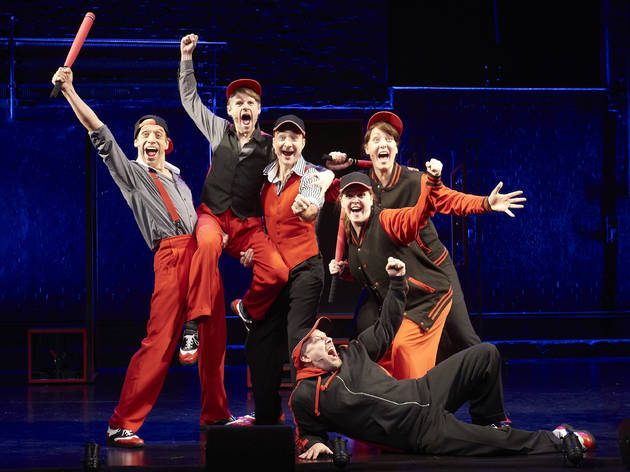 7/8
© Geraint Lewis
Philip Pellew, Andrew Pugsley, Justin Brett, Ruth Bratt, Lucy Trodd and Adam Meggido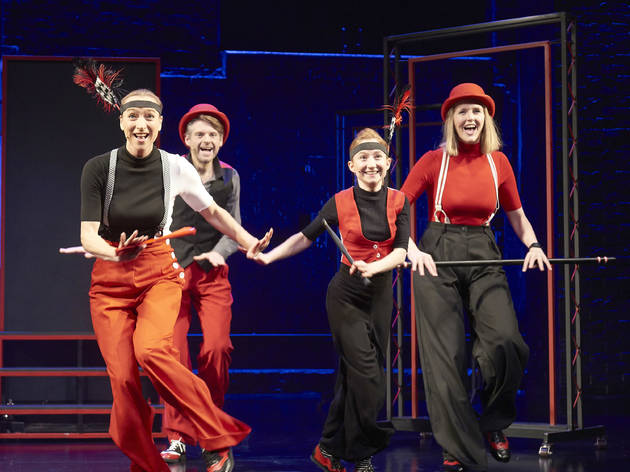 8/8
© Geraint Lewis
Sarah-Louise Young, Andrew Pugsley, Susan Harrison and Pippa Evans
This crowd-pleasing improv juggernaut finally makes it to the West End
'Showstopper!" will transfer to the Lyric Theatre for a series of 10 Monday performances between February and July in 2016. This review is of the 2015 run.
I've always thought of improv as a thing Americans are into in lieu of actual comedy. But the heartwarming success story that is Adam Meggido and Dylan Emery's 'Showstopper! The Improvised Musical' is as British as an argument over how to pronounce the word 'scone'.

Partly that's to do with show's current framing device, whereby the avuncular Emery very reservedly takes audience suggestions on what sort of musical his crack troops are going to whip up that evening (politely batting away the less, er, family-friendly ideas).

But I think the greatest thing about 'Showstopper!' –which arrives at the West End after eight years of cult success – is that at heart it's a bit crap… and that's the fun of it. At the performance I attended, the phenomenally skilled performers on stage knocked up a musical about Northern Irish fairies ('Puck Off!'). In many ways, it was atrocious, incoherent nonsense. But that's what's so funny, really, watching them muddle through the ludicrous task set for them, occasionally absolutely flooring you with a song pastiche so perfect it's no wonder the programme has a section devoted to conspiracy theories about it all being a set-up. The cast gamely knocked out a 'Stomp' style number (which they'd be well within their rights to have refused, 'Stomp' not even being a musical), a Gilbert & Sullivan patter song and a very funny 'Les Mis' parody and it all feels gloriously precarious and fresh.

At two hours long, it does have a tendency to bog down in plot cul-de-sacs that might have been avoided by a shorter show, and it's probably a given that it's laden with gags that only musical theatre nerds will get. But it is, above all, a tremendously good time, and when it clicks, it's absolutely magical.
Average User Rating
4.5 / 5
Rating Breakdown
5 star:

7

4 star:

4

3 star:

1

2 star:

0

1 star:

0
Brilliant! I loved it from the moment it started until the end. Really funny! They are very talented and very creative.
A must see, really. R.
Absolutely fantastic show. Ingenious and creative. As an audience member you feel like you're part of the team!
Go and see this!
Showstopper might be the riskiest stage production I've ever seen. Usually for a comedy show of this scale the comedians involved are the draw, and they have set material - most of the audience is already on board. Here, it's the idea that's appealing: a completely unique theatre experience. Improvised comedy, improvised songs, improvised story, never to be repeated. It's remarkable how well it works, and a testament to the talent involved that it's so easy to reccomend. If the show you see is anything like the one I did, it'll be consistently funny, with some of the jokes coming from your very own audience, and extremely memorable despite its thrown-together nature. I'd say it's one for those who love the Play That Goes Wrong, only it's (likely) more re-watchable.
The only show in London that is 100% different every day and absolutely brilliant! Did you always dream about directing a play? Do you always think about entertaining ideas? Well in this show you can help direct the play, choose how it will develop and enjoy your own creation with talented artists that will make your make your ideas real in a blink of an eye! I'm already thinking about seeing it again!
A great improvised musical .. They performed the VW factory workers setting
Amazing!
Such a fun night out. I can't believe that the cast managed to improvise 2 hours of show which actually ended up having a story which made sense, even with the twists thrown in with the audience. The great thing about this is whilst many shows are great the first time they aren't as good the 2nd or 3rd time you have to take the visitors somewhere in the west end. This however everytime will be different, the story last night was based in the Daily Mail office and was a power struggle 3 way love triangle.
Buy tickets and go as soon as you can!
I hope this sticks around for a long time.