Showstopper! The Improvised Musical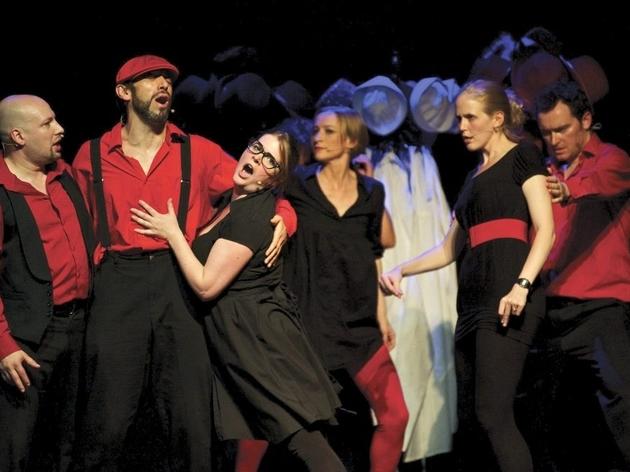 The West End's going stale from a lack of fresh musicals, so it's great that the team of indefatigable zanies behind 'Showstopper!' is bringing a new one every Tuesday for the next six weeks. This is an irresistibly silly show where half a dozen actors and a couple of musicians turn an elevator pitch into a full-fledged entertainment – with help and hindrance from a mouthy, half-cut audience that is sometimes as inspired as the improvisers.
'Showstopper!' was a hit at Islington's King's Head and it does look a bit lairy and underdressed in this more gilded setting. But it takes pastiche to a new and precarious height: on the night I saw it, the talented cast somehow confected a musical romance about eighteenth-century undertakers in the style of 'The Threepenny Opera', 'The Rocky Horror Show' and Messrs Gilbert and Sullivan.
On-stage author Dylan Emery keeps the tension high by stopping the action and raising the bar with sadistic élan (one actor has to dream up a rhyming song in German). A masochistic-erotic love song between two undertakers, entitled 'Lay Me Out', is a triumph. It doesn't always work: the plot is often lost – though I've seen worse in well-rehearsed musicals. But the fact that this lot can do off-the-cuff comedy in six-part harmony is reason enough to applaud.