Heads up! We're working hard to be accurate – but these are unusual times, so please always check before heading out.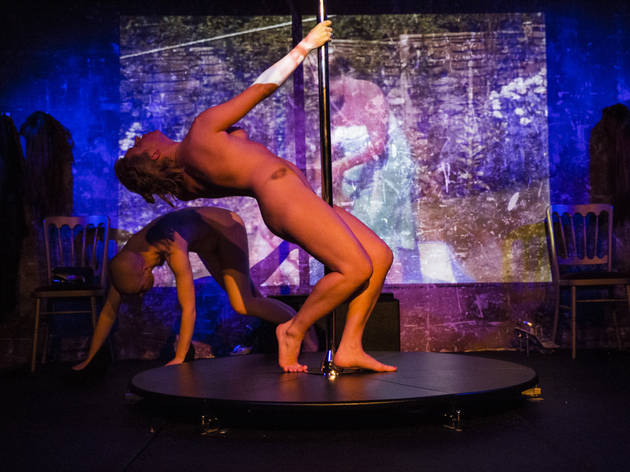 The compatibility or otherwise between sex work and feminism has been a matter of heated debate for decades now; the message from this gutsy show is that it can work, for the right woman.
Amy and Rosana Cade are sisters; when we first meet them they almost look like twins – same hair, same builds, same leather underwear, same stripping routines. Yes indeed – the room has been set up as an impromptu strip club, complete with pole, and the show begins with the pair giving a lap dance to two audience members – a slightly excruciating experience at politically correct Summerhall.
Having taken off all their clothes, the pair then also shed their wigs as they introduce themselves. Shaven-headed Rosana is a radical lesbian artist; blonde Amy is a sex worker. They chat, matily and largely in the nude, about their lives and childhoods, their schooldays and sexual experiences.
Being confronted by two naked people, talking about sex with assurance and candour, completely comfortable with each other despite their drastically different lives, smiling at old home movies of themselves as children, is a pretty powerful statement. The tremendous sense of ease on the stage, and Amy's calm, measured charisma, is wholly convincing. As she talks us through the decisions that led to her becoming a a porn actor and escort, it's very difficult to discern any denial or victimhood in her voice, and the letter she reads that she wrote to her mother to explain her choices is staggeringly eloquent.
It's very effective, but my bugbear with the show was a narrative one – despite initially presenting the sisters as equals, Rosana seems increasingly like an afterthought, and all but stops talking about herself in the second half. I think I'd missed the initial point that the show is Amy's story, with her sister there for affirmation, but it's a frustration – or was for me – that after introducing two interesting characters, it simply stops telling the story of one. 'Sister' gets its message across brilliantly; but as a work of autobiographical storytelling it feels a bit unbalanced.
By Andrzej Lukowski
The latest Edinburgh Fringe theatre reviews