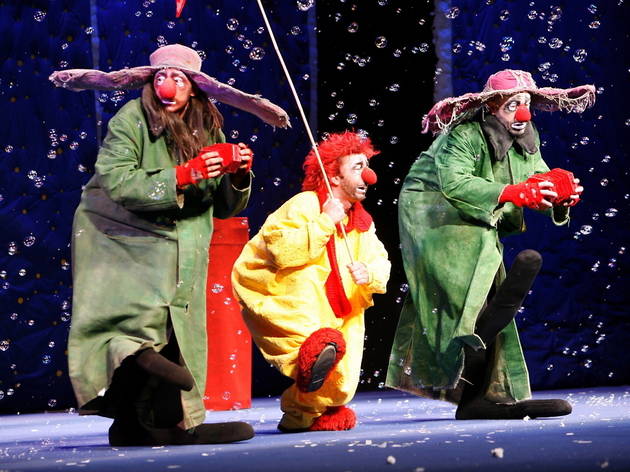 This clown show is a totally magical Southbank Centre festive tradition
'Slava's Snowshow' returns over Christmas in 2017. This review is of the show's 2014 run.
Some people are wary of Christmas for good reason. Others – and this camp could really do us all a favour by giving themselves a stern talking to – bemoan things like 'the fuss' and 'those pesky pine needles that fall off the tree'.
Well, even these embattled souls – as well as those more traditionally ga-ga for festive frippery – would find it difficult to withstand the full-bore Beckettian lunacy of 'Slava's Snow Show', an experience that doesn't as much blow away the Christmas cobwebs as blast them into cold, deathless oblivion.
There are such familiar festive entertainments as balloons, clowns, snow, bubbles, but this is as far away from normal, practiced hogwash of childhoods yore as is imaginable. Bridled anarchy holds sway at every turn, and yet proceedings never trip over into silliness, indulgence or mindless mugging.
Leading the line is veteran Russian performance artist Slava Poulin, whose quieter moments gives the show a precious respite in which to gather its energy for the next assault of roaming clowns, blaring opera music or – for the rambunctious, rapturous finale – a swirling, blinding blizzard of joyous, unconfined chaos.
A blast. In every sense.
RECOMMENDED: More Christmas shows in London
Find more festive fun with our guide to Christmas in London
Average User Rating
2.8 / 5
Rating Breakdown
5 star:

6

4 star:

2

3 star:

5

2 star:

4

1 star:

7
What a perfect magical experience! Saw it with a three-year-old and my I-hate-clowns husband. We were all mesmerized, both by the simple poignancy of the smaller pieces and the sheer extravaganza of the interactive spiderweb, blizzard and balloons finale. Absolute joy!
We went to see Slava's Snow Show yesterday and the whole family ( aged 7, 17, 19, 50 and 53 ) were blown away ! I mean literally blown away. I am quite a miserable Christmas hater but this was wonderful. Thankyou Slava. And you don't have to be a clown lover either.
Slava's Snow Show is an incredible mix of childish fantasy, Brechtian melodrama and anarchic audience participation that always leaves me breathless. This really is one of the most beautiful and haunting events of the year - for clown lovers of all ages.
Depressing confusing and rubbish. Show starts with a clown in a noose. Finale is the only fun part
Total Rubbish. Very melancholy. Whole show is clowns walking around the stage in trains. Seriously hard to believe that people get paid for such poor production. Very poor value. Save your money and go and see a lighter, brighter show in the West End.
Me and my hubby have been on this show 3 years ago. Amazing show for someone who understands that the clowns are not only to make you stupidly lough. Slava Polunin is not the clown. He is an Artist.
Taking my little son with me this time.
Fantastic show! Don't believe the negative reviews below. This is a fantastic family show, my kids loved it. The seats we got from timeout were really good - fantastic value for money- just go.
Time out is normally a trusted guide, but on this they were do off the mark. Dull and time wasting, a total rip off. For something aimed at children, it couldn't have been further off the mark. Does the time out reviewer know the meaning of Christmas or children's entertainment?!
We spent £147.00 on a family of five seeing Slavas Snow show today ages 11 to 42. What a load of rubbish and a total waste of my money. I wish I could have got a refund! No one understood what was going on and a lot of people left half way through. Worst money I ever spent!
I took my 10yr old son to see Slavas Snow Show..via time out offers..overall I found the show to be lacking in costume variety..weak story telling..performance..I found the whole show to be of minimal content on every level and the show was very short..not value for money in my opinion..lazy performance, unclear story lines, director did a bad job in making it child appropriate a bit serious..just wasn't simple fun..a bit dark and boring..with props that were rubbish..the only bit of fun was when there was a bit of audience participation ..would not recommend..even at the discount pice..
Totally awful waste of time and money. If there was any point to this then the director has not managed to get it across through their chosen medium. My partner and our 10 yr old son were gobsmacked at how lazy the whole production was. Even worse was the morons in the audience who were laughing at stuff that was just stupid, the family next to us felt the same way and the mum said that people were trying to get into it for their children, that or they simply don't get put that often. I think the good reviews can be explained by the reviewers being in the most expensive seats next to the stage and to them forgetting that normal Jo public are not theatre snobs and just want to be entertained. The whole thing was disjointed and the scenes simply made no sense, plus the clowning around just wasn't good. And it's not that we were seeking a traditional panto or anything, I'm a veteran of things like Archaos, Mutoid Waste and Cirque du Soleil etc and it horrifies me that this lazy rubbish is mentioned alongside some classics of leftfield alternative theatre. Save your money
Utter mindless rubbish. What a waste of money.
The snow show was average. There wasn't a clear plot, though certain scenes were amusing. The ball finale was memorable. Only clown lovers would find it all amusing .
The show was quite good but I never really understood what was going on. It's a good show if you really like clowns.