Snow White & The Seven Dwarfs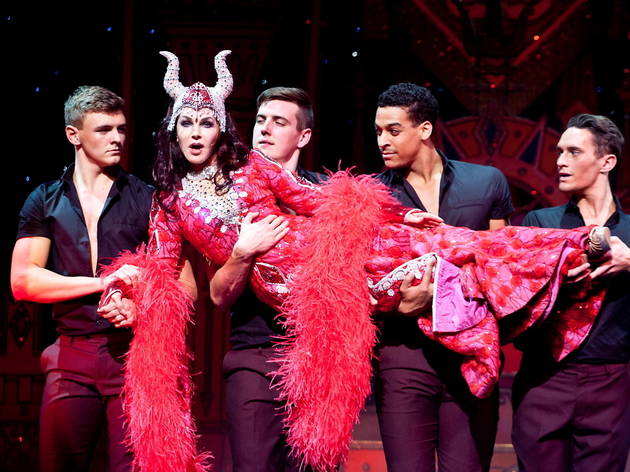 Jarred Christmas is a panto natural. The kiwi comic's perma-joshing henchman Herman gets all the best lines in this version of 'Snow White', and delivers them with shouty aplomb. Vitally he gives the adults something to chuckle at when the main action gets a bit too Disney, cracking wise about the likes of football derbies, Wetherspoons and soap operas ('New Zealand "Neighbours" would' be just two blokes in a field saying "where is everyone?"').
Herman's boss is Queen Morgiana, evil stepmother to Snow White. She's played by the age-defying Priscilla Presley who, on occasion – and entirely understandably – appears slightly confused about what she's doing in a theatre in SW19 being shouted at by six-year-olds. Still, she gets into the spirit of the thing, rustling up plenty of boo-generating malevolence despite being forced to speak almost exclusively in rhyming couplets.
The plot sticks largely to the original tale, with the occasional detour: there's a 'Moravia's Got Talent' contest, a ton of 'Glee'-esque song and dance numbers (including a fun-filled rendition of 'Gangnam Style') and an overly-long audience participation bit at the end when everyone's getting ready for the final scene.
Warwick Davies does sterling work as the Segway-riding leader of the seven dwarves and Lizzy Jay-Hughes makes a suitably adorable and sweet-voiced Snow White.
The kids love it all, jeering, groaning and 'Don't eat the apple!'-ing with vigour. And among the requisite acres of ham, bags of cheese and sledgehammer-subtle gags there's enough here for the parents too.
Average User Rating
4.1 / 5
Rating Breakdown
5 star:

8

4 star:

1

3 star:

1

2 star:

0

1 star:

2