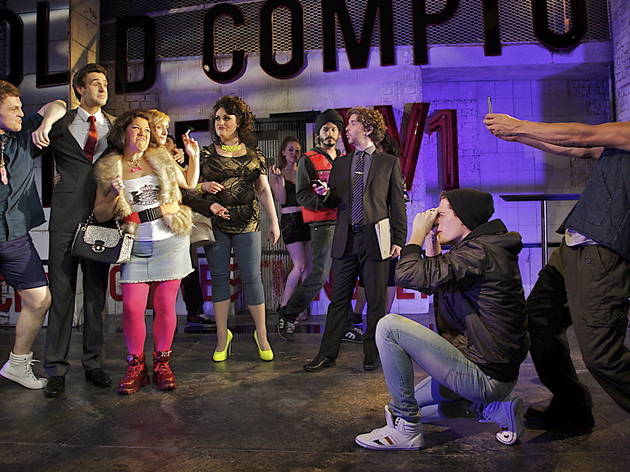 A gay musical version of 'Cinderella' in the middle of summer? They do call it the silly season, after all, and the sillier this musical from 'Betty Blue Eyes' team George Stiles and Anthony Drewe gets, the more raucously entertaining it is.
Sadly it's neither as giddily irreverent nor as genuinely enamoured of Soho as its cheeky, kaleidoscopic opening number 'Old Compton Street' suggests, rapidly bogging down in a cloying, improbable love story. Here our star-crossed lovers are Robbie (Tom Milner), a cheeky-chappie rent boy, and James Prince (Michael Xavier), a nice-guy London mayoral candidate who has been seeing Robbie behind his fiancée Marilyn (Jenna Russell)'s back.
You'd think she might be perturbed to discover this, but no: 'Soho Cinders' climaxes with the saint-like Marilyn graciously accepting the new turn of events and urging Robbie and James not to feel the least bit guilty.
It's nauseating stuff, but it might have worked if it dispatched with a fraction of the filthy élan found elsewhere in Jonathan Butterell's production. Although they don't do a lot to reassure you of Stiles and Drewe's feminist credentials, Suzie Chard and Beverly Rudd are brilliantly appalling as Robbie's oversexed ugly sisters.
Gerard Carey chews the scenery up a treat as James's Machiavellian spin doctor, and gets by far the best musical number in the cackling 'The Tail that Wags the Dog'. And while Stephen Fry may be the universe's most overexposed human being, that's to the good of his amusingly ribald pre-recorded turn as the show's omniscient narrator.
Unfortunately, irreverent comedy and saccharine love story are an awkward combination, and matters aren't eased by drab costumes and a dearth of set-changes. There are laughs to be had, but there'll be much better Cinderellas come panto season.
Rating Breakdown
5 star:

3

4 star:

0

3 star:

0

2 star:

0

1 star:

0
Charming, funny, brilliant. You must see this!