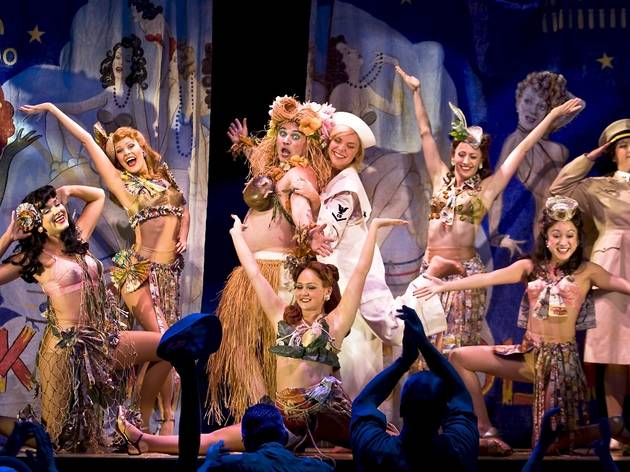 Time Out says
Netting a walloping seven awards at the 2008 Tonys, the Lincoln Center Theater's revival of 'South Pacific' has been hailed as something akin to the musical Second Coming over in the US. And that's sort of what it is: Bartlett Sher's production marks the first Broadway revival for Rodgers and Hammerstein's World War II-set classic since its original 1949-54 run. So why does a show American critics lost their collective nuts over seem diminished here?
Director Sher opts for a lightly naturalistic tone in this portrait of romantic hi-jinks and racial tension on the Pacific Rim. His approach underscores how unpleasant the self-defeating racial prejudices of Samantha Womack's klutzy, Arkansas-born navy nurse Nellie really are. But it robs 'South Pacific' of the sparkle of Joshua Logan's original Broadway production without really making much of a point beyond bringing it into line with modern morals. London has had plenty of versions of 'South Pacific's over the years, and Trevor Nunn's hard-edged 2001 NT version was more illuminating than this one. Sher puts in some deft touches, such as having his ensemble of US sailors (aka the Seabees) sit about in segregated groups. But only the bitter anti-racism song 'You've Got To Be Carefully Taught' bites.
The British recasting, though, is perhaps the bigger issue. Womack is a little too introverted as Nellie, but she looks and sounds the part, and her mannered tones slide beautifully into the likes of 'A Cockeyed Optimist'. Brazilian baritone (and Broadway cast survivor) Paulo Szot is a little stiff as Nellie's French planter love Emile, but his voice is rich and resonant, swallowing our hearts with a monumental 'This Nearly Was Mine'. Together, though, they have little chemistry, which makes three hours of will they/won't they drag in places.
Still, if this 'South Pacific' doesn't measure up to the hype, it's no turkey. The 25-piece orchestra is virtually worth admission alone, the soaring minor keys wafting through the theatre like luxuriant tropical thermals. Michael Yeargan's sets are vividly transportive but still retain a ramshackle charm. Loretta Ables Sayre (another Broadway transplant) is funny and not a little sinister as manipulative local wheeler-dealer Bloody Mary. The Brit ensemble are persuasive and endearing as a bunch of tough but loveable marines. And let's not for a second forget how transcendently brilliant some of these songs are. Classy – but no revelation.
Details