Spoiling review
Traverse Theatre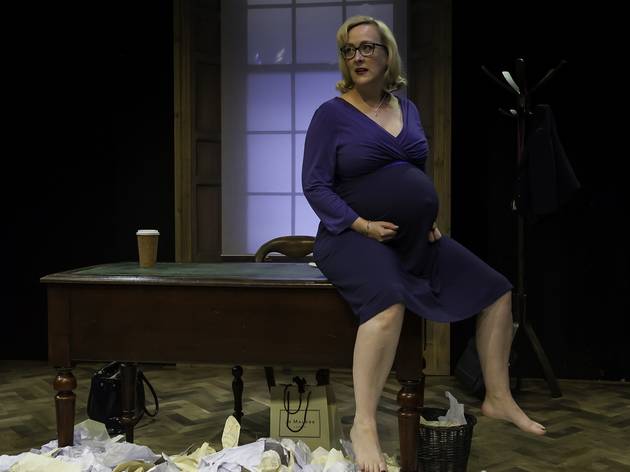 Those in the market for a spot of fiery Scots separatist rhetoric will perhaps enjoy this chippy two-hander from Dundee-based Northern Irish playwright John McCann. But like last year's misfiring 'I'm with the Band', I can't help but feel the powerhouse Traverse Theatre has again blown an opportunity to contribute a really substantial work to the Union debate.
The politics of McCann's play are unashamedly partisan. Set in the aftermath of a successful 'yes' result, the central conceit of 'Spoiling' is that a Tory-led Britain would try and immediately shaft an independent Scotland. A touch straw mannish, but it's not exactly outside the realms of possibility. As much as anything, 'Spoiling' is a salutary reminder of the extent to which dislike of the Coalition has been a factor in the referendum debate – the English sometimes forget that an independent Scotland would conceivably be free from Tory governments, forever.
The problems come with the form: McCann's text and Orla O'Loughlin's production both meander bizarrely between surreal allegory and tough political satire. Gabriel Quigley stars as Fiona, the foreign secretary of the newly-independent Scotland. A sort of sweary saint, she's a former Macmillan nurse with a heart of gold and a mouth like a sewer whose earthy charms helped rally the 'yes' vote and score a famous victory. But now, as she prepares to address the world's media, the Scottish government has handed her a meek genuflection of a keynote speech, whereas she wants to loudly point out the perfidy of bullying Britain.
As straight satire it doesn't really work. Creating a fictional super politician to credit with a 'yes' win feels bizarrely crass when the real referendum is only a month away. And the character of Mark (Richard Clements), the super-smooth government apparatchik deployed to stop Fiona going off message is equally improbable, switching from unflappable party loyalist to Fiona's BFF over the course about 10 seconds.
Clearly 'Spoiling' is meant to function allegorically too. The mysteriously pregnant Fiona is an embodiment of Scotland's ideological spirit, of its hopes and dreams for a better future. Mark is Northern Irish, and a fairly straight suggestion from McCann that his countrymen ought to shake off the shackles of Union as well.
But the broadness of the allegory doesn't gel at all well with the fierce political satire; it tries to be realist and surrealist simultaneously, and just comes across as clunky. Ironically, 'Spoiling' comes across as a mishmash of conflicting ideas, locked in an unhappy union.
The latest Edinburgh Fringe theatre reviews