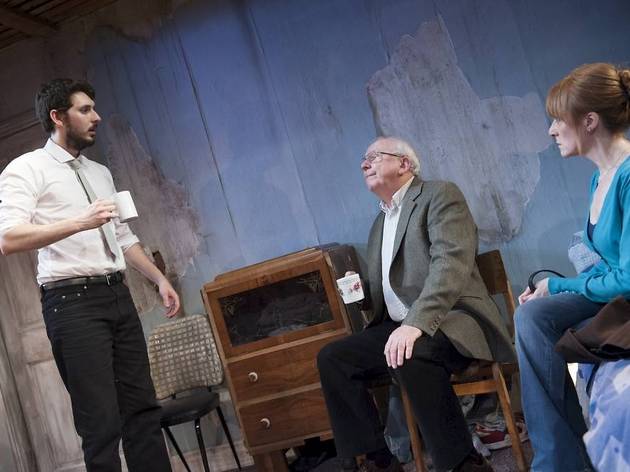 You go to the theatre in hope of entertainment or enlightenment. Rob Hayes's new black comedy, neatly directed by Tom Attenborough, nobly tries to achieve both in 90 minutes and ends up delivering neither.
Hayes and Attenborough are both young talents to watch – as is 'Inbetweeners' star Blake Harrison, who plays Keith, the violent ex-alcoholic whose request for forgiveness from his foster parents Judith and Alan (the ninth step of his 12-point recovery programme) brings them into his squalid flat and extended schizoid recollections of their unremittingly grim previous life together.
There are flashes of intrigue in the writing: for example, when Keith comes over all James Hogg and reads out a lyrical account of why he was justified in smashing someone's head in with a hammer – his 'righteous' tool. It is a welcome enlargement on the mundane vocabulary of everyone's misery. But the flashbacks of an unreliable narrator would be a better structure for a novel than a play: they lack drama.
Plausibility is fatally lacking: from the flimsy weapons which are eventually used, to the idea that Judith and Alan would have been allowed to foster a series of kids while a stab- and rape-happy twentysomething lived for years in their attic. Keith is irredeemable from the start – which may be a sadly accurate judgement about the lives of some abused children, but leaves little at stake dramatically.
Despite the cast's efforts, you never believe in this dysfunctional family. Their recriminations are strident, their backstories overdetailed and underpowered, their tension unresolved and their sufferings unpitiable.