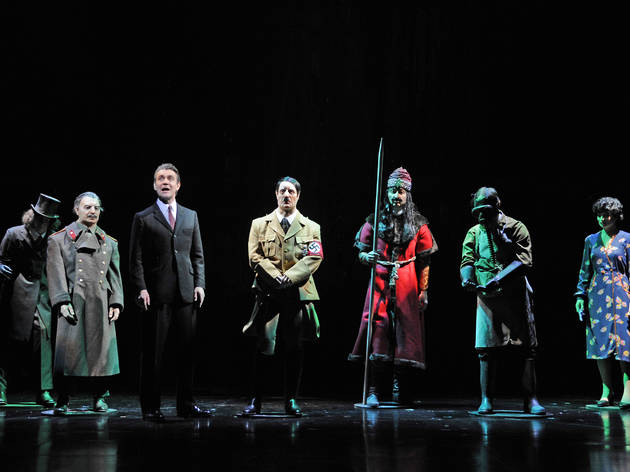 1/8
© Nobby Clark
Third left, Stephen Ward (Alexander Hanson)
2/8
© Nobby Clark
Christine Keeler (Charlotte Spencer) and Mandy Rice Davies (Charlotte Blackledge)
3/8
© Nobby Clark
Christine Keeler (Charlotte Spencer) and cast
4/8
© Nobby Clark
Christine Keeler (Charlotte Spencer) and John Profumo (Daniel Flynn)
5/8
© Nobby Clark
Stephen Ward (Alexander Hanson) and the cast
6/8
© Nobby Clark
Christine Keeler (Charlotte Spencer) and Mandy Rice Davies (Charlotte Blackledge)
7/8
© Nobby Clark
Christine Keeler (Charlotte Spencer)
8/8
© Nobby Clark
Mandy Rice Davies (Charlotte Blackledge)and Stephen Ward (Alexander Hanson)
Time Out says
Andrew Lloyd Webber has, rather terrifyingly, got his sexy back for this priapic curio of a musical. 'Stephen Ward' concerns the society osteopath of the same name: now largely forgotten, but in 1963 scapegoated for the Profumo Affair, having fatefully introduced Secretary of State for War John Profumo to showgirl Christine Keeler.
Webber has made it clear that he believes Ward's conviction for living off immoral earnings was an establishment hatchet job. He wouldn't be the only one; in any case Ward's actions were clearly tangential to the married Profumo's decision to hop into bed with an 18-year-old he barely knew.
Unfortunately, 'Stephen Ward' sets about proving its hero's good character about as convincingly as a millionaire helping out at a soup kitchen. The first half is essentially a dirty-old-man fantasy, as Alexander Hanson's avuncular, charismatic Ward swings his way through the '60s Ð suavely luring the barely legal Keeler (Charlotte Spencer) away from her mother, and twinkling like a kindly grandfather as he introduces her to her latest shag. He's a charming chap who keeps his nose clean and his kit on Ð refusing Keeler's advances like a gentleman, the only person at the orgy (yes, there's an orgy) not to partake.
And to begin with it's quite enjoyable, in a guilty pleasure way. Richard Eyre directs at a great clip, there are some joyously campy flourishes Ð notably the opening, where a deceased Ward introduces himself from Blackpool Chamber of Horrors where he is displayed alongside waxworks of Hitler and Stalin Ð while Webber and lyricists Christopher Hampton and Don Black sprinkle it with some hummable pastiche pop songs. Moreover, Spencer is a terrific Keeler, sexy, precocious, vulgar and vulnerable; the odd bits of clanging dialogue aside, she lights up the stage.
The second half, though, is a bore. Spencer virtually drops out, and we're left with a self-righteous slog through Ward's trial and conviction. There's much huffing and puffing about establishment nastiness and Ward's blamelessness, but the manner in which this man Ð a prime candidate for a good Yewtree-ing if e'er there was one Ð is presented as some sort of saint is borderline offensive.
You don't go to an Andrew Lloyd Webber musical looking for subtlety or empathyÉ you go for singing cats, or singing trains, or singing dictators, or singing Jesuses, or singing phantoms. Ward is a fascinating figure, but far too complex and human to bear up to this brash analysis, no more credible or rounded than that waxwork Hitler.
By Andrzej Lukowski
Details