'Strictly Ballroom the Musical' review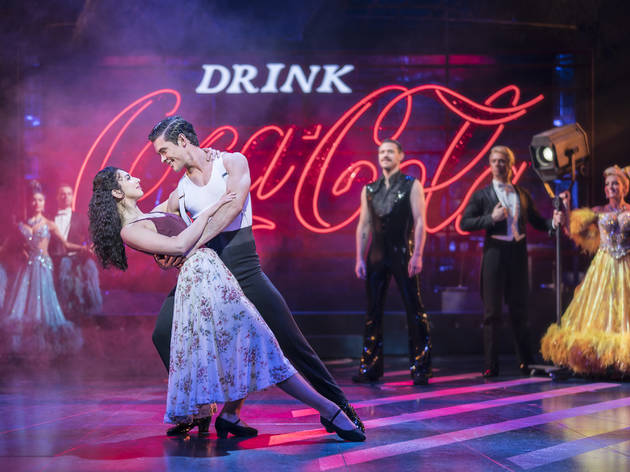 1/6
© Johan Persson
Zizi Strallen as Fran and Jonny Labey as Scott Hastings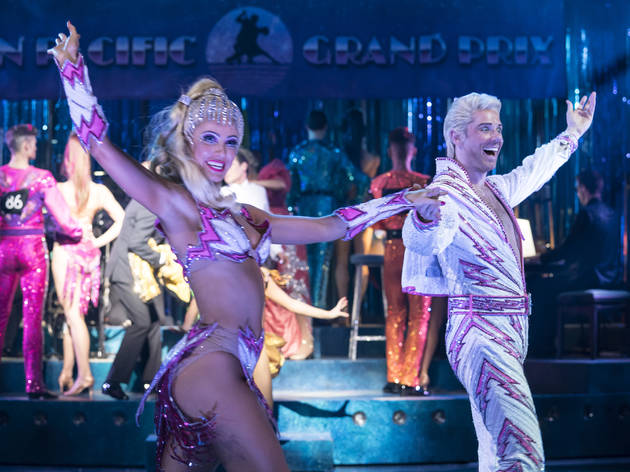 2/6
© Johan Persson
Charlotte Gooch as Tina Sparkle and Gary Watson as Ken Railings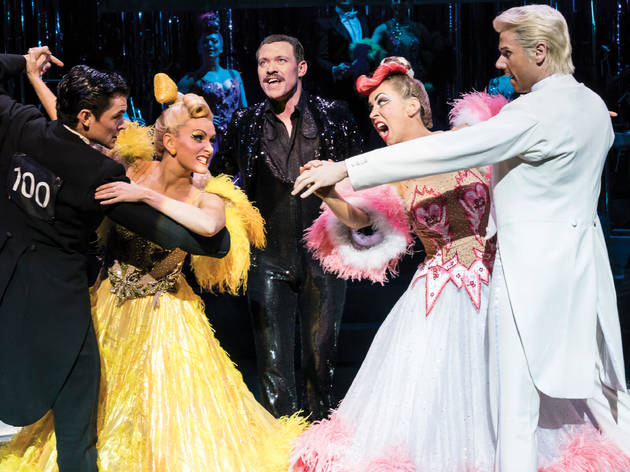 3/6
© Johan Persson
Jonny Labey, Lauren Stroud, Will Young, Michelle Bishop and Gary Watson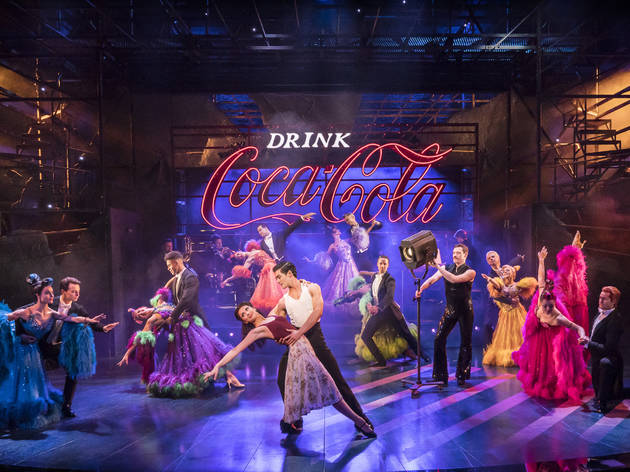 4/6
© Johan Persson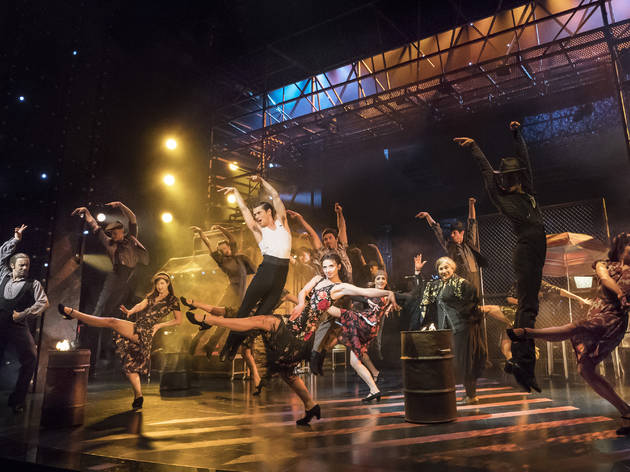 5/6
© Johan Persson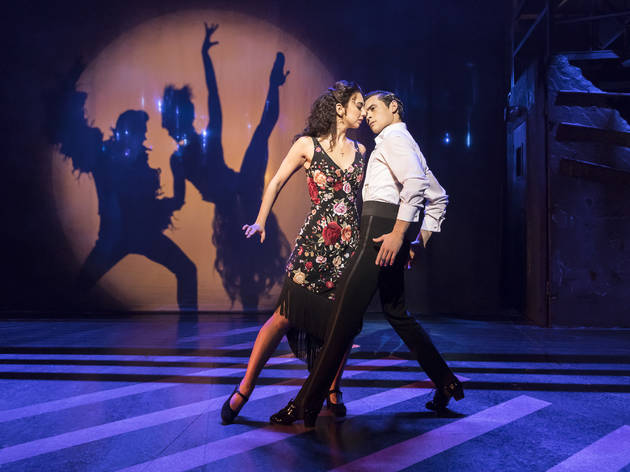 6/6
© Johan Persson
Zizi Strallen as Fran and Jonny Labey as Scott Hastings
Time Out says
A joyously eccentric musical take on Baz Luhrmann's fabulous dancing yarn
There's so much that's weird about 'Strictly Ballroom - The Musical' that it's hard to know where to start. First up, it's not really a musical at all. There's barely a new song in sight – instead, the score is an ingenious piecemeal of hits, from Whitney Houston to REM to Robyn. And it's sung almost entirely by Will Young, dressed up as a sort of haunted retro compere (think Che in 'Evita') with a handlebar moustache, spandex and, at one point, rollerskates. Perhaps the rest of the cast can sing too, but they've got bigger fish to fry: acclaimed choreographer Drew McOnie's production puts all the focus on tirelessly energetic, amped-up ballroom routines and shamelessly exaggerated physical comedy.

Baz Luhrmann's original 1992 movie is already pretty arch, mixing high-haired satire of the cut-throat world of amateur ballroom dancing with a kind of 'Dirty Dancing'-style sweaty romance between snake-hipped champion Scott and nerdy beginner Fran. Most of this heterosexual sensuality has been expunged from this version (adapted from one by Lurhmann), but its exploration of thwarted ambition and creative gatekeeping lives on.
Established musical theatre star Zizi Strallen makes her mark with a lovable vein of physical comedy, trembling with suppressed passion and morphing from stiff puppet to expert dancer. But Jonny Labey is less convincing as her maverick idol-turned-squeeze Scott, and the pair's romance suffers from the fact that they never actually sing together, in a slightly baffling waste of Strallen's talents.

It's a decision that's part of director Drew McOnie's laser-focus on the dance. And the ballroom scenes are appropriatelly spectacular. The stage is flooded with couples wearing costume designer Catherine Martin's masterful get-ups: each tinted a different rainbow hue, shimmering with sequins and gently vibrating ostrich feathers. The dancers smiles' are as fixed and cartoonishly wide as a troupe of leaping dolphins. And their physical skills tip over into the narrative scenes. Adapted by Craig Pearce, the text cleaves pretty tightly to Luhrmann's original, but the comic performances are dialled up to 11: Scott's spurned former dance partner Liz (a memorably funny Lauren Stroud) expresses her grief at the volume and pitch of an air-raid siren.

Will Young's voice can do it all – ethereal Whitney Houston covers, matinee-idol macho – but even so, the show relies heavily on his singing to add depth to the whippet-fast, chihauhua-light plot. The night I saw it, he marked the curtain call by sinking to the floor in a puddle of camped-up exhaustion. Still, if 'Strictly Ballroom' is indeed a bit tiring, it's got enough talent and relentless invention to make it exhilarating, too. It's halfway between a tribute to and a very, very silly send-up of a much-loved movie, whose cava-swilling fans will leave the theatre with a skip, slide and hop in their step.
Details
Average User Rating
4.3 / 5
Rating Breakdown
5 star:

11

4 star:

11

3 star:

3

2 star:

0

1 star:

0
One word sums up this show - FABULOUS! What an amazing time my friends and I had watching this for my birthday. It's a feast for the eyes - colour, glitz and glamour plus a really funny script that had me laughing out loud! There was such a brilliant chemistry between all the actors, especially the leads which really brought the story to life for me and had me crying happy tears on more than one occasion. Go and see this show if you can, it really is one of the best shows in London!
Never seen or even heard of the film, however after some convincing I agreed to see this musical and I must say that I'VE LOVED IT. I would watch it again, again and again. It's electrifying, funny and emotional, a true rollercoaster of emotions, always with rhythm and great soundtrack.
For me one of the best musicals in London and a must see for the summer.
Love the original Baz Luhrmann film & this show more than does it justice! A bright, camp dollop of Australian sunshine on the West End stage! Sadly Will Young didn't perform at the show I saw. It was his understudy who was still outstanding. The songs will really suit Will's voice & I must try to go again since I'd love to see him in this. It's frustrating when shows are advertised with celebrity performers since even though the shows was fantastic you are disappointed not to see the billed big name. All the leads are great- particularly the actress playing Fran. The songs are performed beautifully & the dancing is fantastic. This is funny, fresh & feel good.
Fantastic! A great night out! Will Young is terrific!
I was lucky enough to get tickets to a preview of this show and I absolutely loved it!!
It pays close tribute to the beloved film but with some added extras. Will young is brilliant as Wally. His voice is beautiful! I loved every minute. It was filled with laughs, dancing, love and lots of sparkle. I highly recommend you go see it. You wont be disappointed.
I'm a big fan of Baz Luhrmann's work but have never heard of Strictly Ballroom - so I went in knowing nothing.
If you're expecting a classical West End musical, look again. Here, the singing is, for the most part, done by only one person (Will Young), your MC/narrator/host for the night. This gives the show sort of a cabaret-feel, not necessarily to its disadvantage. The audience is involved throughout the evening. You get to dance, sing along and enjoy a light-hearted, West Side Story meets Moulin Rouge-type production.
Short dialogues, LOTS of sequins, plenty of beautiful costumes and sets leave you dazzled - Strictly Ballroom is a fab night out for nothing too serious. The story is quite predictable and some lines are just a bit too cheesy for me, but all in all it's still hours of fun.