Heads up! We're working hard to be accurate – but these are unusual times, so please always check before heading out.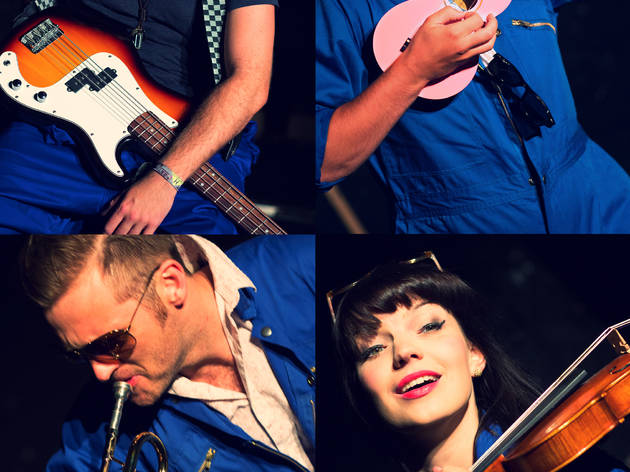 Symphony review
Assembly George Square Gardens
An indie rockin' triple-header from three of Britain's hottest young playwrights, Ella Hickson, Nick Payne and Tom Wells's 'Symphony' isn't the most substantial play any of its co-authors have ever written, but it is an awful lot of fun.
Devised a couple of years ago to tour the summer festival circuit, the show's USP is that the cast not only act but perform together as a four-piece band – guitar, bass, keyboards, drums – whipping up a tuneful live racket between and during the three playlets.
There doesn't seem to be any official line on who wrote what, but it's fun to play guess the playwright. The first short, which stars Iddon Jones (lead guitar) as a unflappably optimistic asthmatic banned from all contact sports but with dreams of PE glory, is surely by Wells, mining similarly delightful terrain to his 'Jumpers for Goalposts'. The last, in which a schlubby chap (Jack Brown, bass) meets and dates a nice girl (Katie Elin-Salt, keys) under unusual circumstances and buggers it up under prosaic ones has a blokey patter to it that's suggestive of Payne. And I guess that leaves the slightly crueller, slightly more whimsical middle play – in which a shy loser (Liam Gerrard, drums) plucks up the courage to talk to the girl he sees on his morning commute each day (Elin-Salt again) with unforeseen consequences – to Hickson.
Really, they're solid extended vignettes on familiar themes (the second and third pieces cover pretty similar turf). But it's hard not to be won over by the sweet, skilled cast and the sheer energy of Joe Murphy's production – these are all stories about being young and naive, and what's younger or more naive than forming a band? Clattering joyously through Ed Gaughan's music, there's an irresistible sonic fizz to these charming losers' lives.
By Andrzej Lukowski
The latest Edinburgh Fringe theatre reviews