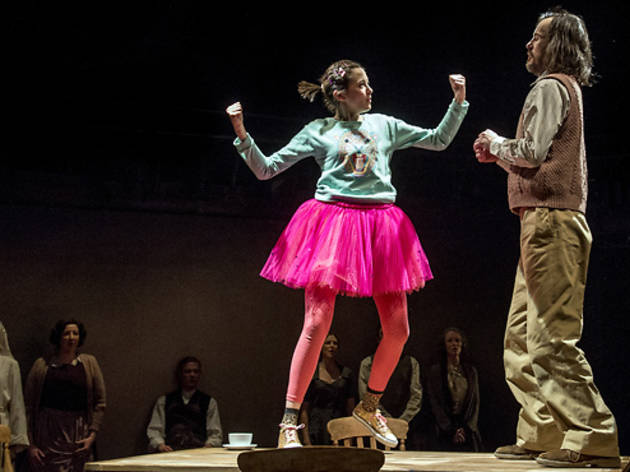 Time Out says
Friendly warning! We're working hard to be accurate. But these are unusual times, so please check that events are still happening.
The most striking thing about the National Theatre's new, temporary venue The Shed is that despite the chimneyed red exterior and mouth-wateringly hipster programming, once you get inside it's a fairly bog-standard black-box affair. In fact, it looks an awful lot like a smaller version of the currently under refurbishment Cottesloe Theatre – those chimneys don't actually do anything.
Still, while I'd hesitate to characterise the 200-seat Shed after a single show, it does feel much more intimate than the 400-capacity Cottesloe, and the perfect home for Tanya Ronder's loveably lo-fi new play 'Table'.
Born out of three years of intermittent workshops conducted between Ronder, director Rufus Norris and sundry actors, 'Table' is a quietly epic saga that follows the fortunes of the Best family, from Victorian Lichfield to present-day south London.
And all this is seen through the, er, 'eyes' of a table, crafted by tragic patriarch David (Michael Shaeffer) in 1898 as it is passed down from Best to Best, gradually accumulating scars and blemishes – physical 'memories' of times gone by.
The fact that the different scenes are set in different times and were devised in different workshops by different people is both the play's strength and weakness. For a short play, it covers a lot of ground, but strong writing, a great ensemble, brisk, subtle direction from Norris and a binding barebones aesthetic (the table is pretty much the entire set) keep things ticking away nicely.
Moreover, the four-ish overlapping stories are all engrossing, while the device of a physical object as a sort of emotional repository indubitably works, as the Bests suffer and suffer and suffer and finally find a sort of peace.
But for all Norris's deftness, this 'Table' feels a little unbalanced: the two sections set in Lichfield have a brooding, earthy power, but they're over disappointingly quickly, with much more time given to broader acts set in an African convent and a pretentious Herefordshire hippy colony.
It's a bit wonky and you can see the joins, but where that might have been a problem in a glossier venue, it all feels somehow appropriate in the Southbank's cosiest (and rosiest) new address. Andrzej Lukowski
Details